Press Release
Johns Hopkins APL's Van Wie Awarded von Kármán Lectureship in Astronautics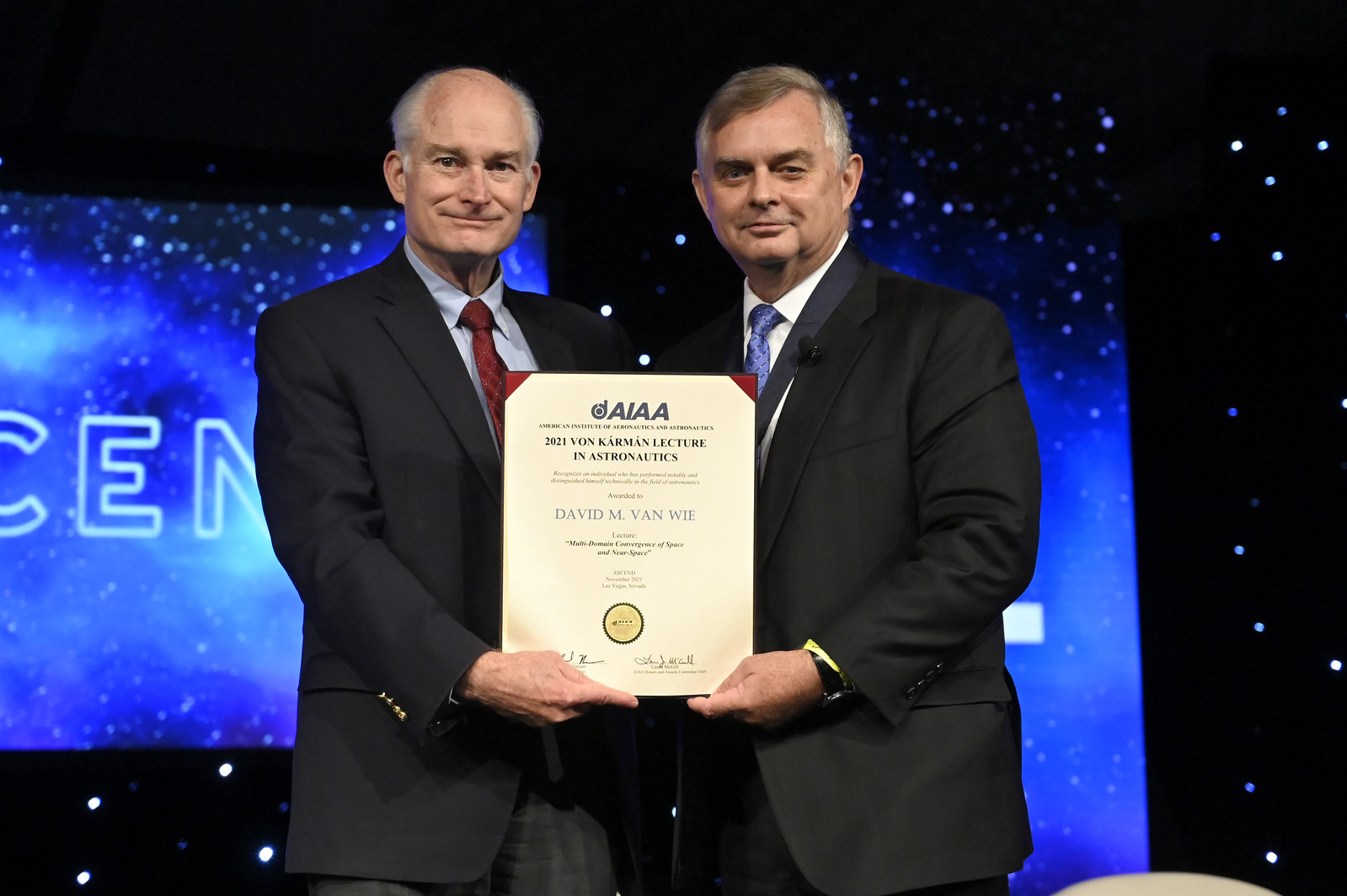 David Van Wie, the head of Johns Hopkins APL's Air and Missile Defense Sector, accepts his award from Paul D. Nielsen, AIAA von Kármán Lecture in Astronautics Awards Chair. Van Wie, an American Institute of Aeronautics and Astronautics (AIAA) fellow, was awarded the 2021 von Kármán Lectureship in Astronautics from AIAA.
Credit: American Institute of Aeronautics and Astronautics
Thu, 11/18/2021 - 11:57
David Van Wie, an internationally renowned expert in aerospace engineering and head of the Air and Missile Defense Sector at the Johns Hopkins Applied Physics Laboratory (APL) in Laurel, Maryland, was awarded the 2021 von Kármán Lectureship in Astronautics from the American Institute of Aeronautics and Astronautics (AIAA). Van Wie accepted his award and delivered a talk on the multi-domain convergence of space and near-space on Nov. 16, at the AIAA ASCEND Forum in Las Vegas.
Named for Theodore von Kármán, an authority on aerospace sciences, the lectureship honors an individual who has performed notably and distinguished themselves technically in the field of astronautics.
"It is both a great honor and a humbling experience to be able to present a lecture named in recognition of this great leader," Van Wie said. "Theodore von Kármán is a legend in the aerospace field for his contributions to the theory of supersonic and hypersonic flows, his establishment of leading organizations that still exist today, and his dedication to serving on and leading important government advisory groups. I'm so fortunate my career has continuously intersected with the path he set as a trailblazer in this field."
"This is a very well-deserved award for Dave, who joins a long line of distinguished von Kármán honorees," said APL Director Ralph Semmel. "Dave has been a leader in his field for decades, and his continued exceptional contributions to aerospace and astronautics are a point of pride for the whole of APL."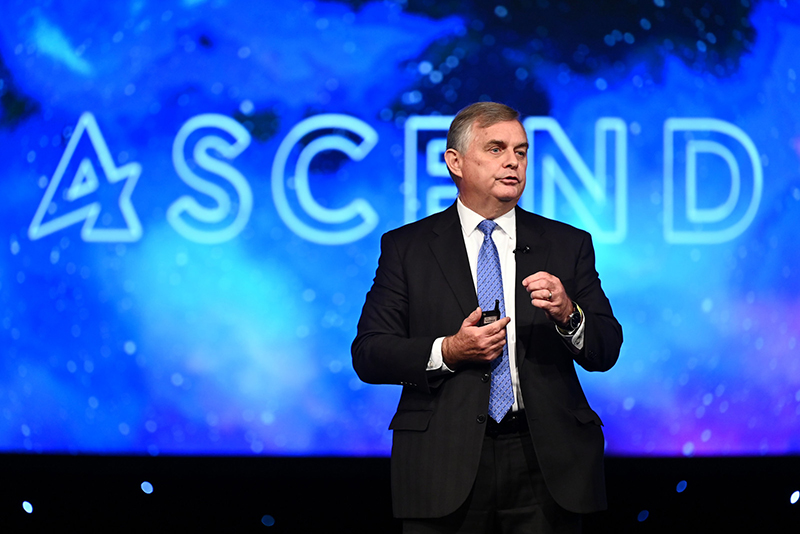 Van Wie's talk focused on the convergence of space and near-space activities that are becoming increasingly complex, the substantial uncertainties of environmental impact of operation and the robustness of engineered systems designed to operate in these domains, as well as the significant unresolved developmental challenges in making systems robust and operations routine.
"The future of operations in these domains is uncertain," Van Wie said. "There is a future where it expands for the good of humanity and a future where the environment is so polluted that operations cannot occur and benefits are not realized. Dedicated effort will be required to ensure the first outcome. While we are early in defining the value of these domains, we are late in addressing the long-term impacts that can potentially result."
As head of the Air and Missile Defense Sector, Van Wie is responsible for strategic planning and execution of programs that advance the nation's ability to defend itself and others against surface, air, hypersonic and ballistic threats. As the nation's largest university affiliated research center, APL performs research and development on behalf of the Department of Defense, the intelligence community, NASA and other federal agencies.
An AIAA fellow, Van Wie is a member of the National Academy of Engineering and a recipient of the Air Force Award for Meritorious Civilian Service.
Van Wie, who is part of APL's Principal Professional Staff, has also served as a member of the Air Force Scientific Advisory Board and the National Academies of Science, Engineering and Medicine Aeronautics and Space Engineering Board. He has conducted studies for the Defense Science Board, Air Force Studies Board and Naval Studies Board with research topics including conventional prompt global strike, boost-phase missile defense, defense against cruise and ballistic missiles, unconstrained warfare and hypersonics.
One of the nation's foremost experts in hypersonics, Van Wie has published more than 140 papers on high-temperature fluid dynamics, hypersonic air breathing propulsion systems and plasma aerodynamics. He holds a research faculty position in the Department of Mechanical Engineering at Johns Hopkins University's Whiting School of Engineering and has lectured extensively in the Department of Aerospace Engineering at the University of Maryland on space propulsion, aerodynamics and high-temperature gas dynamics.
Media Contacts
The Applied Physics Laboratory, a not-for-profit division of The Johns Hopkins University, meets critical national challenges through the innovative application of science and technology. For more information, visit www.jhuapl.edu.