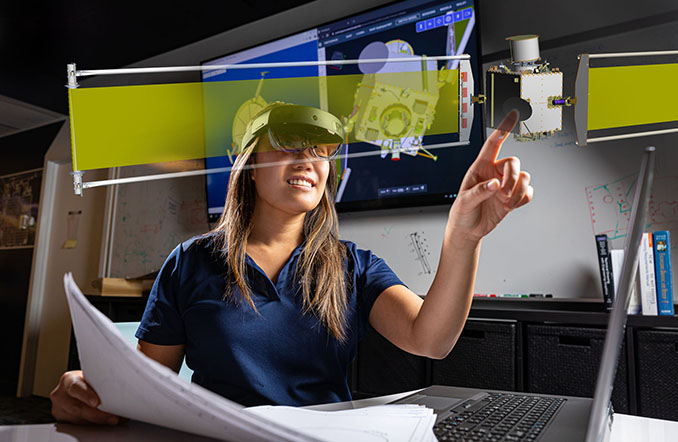 Career Opportunities
New and Recent College Graduates
Launch a Dynamic Career Journey
We offer a rare opportunity for new graduates. When you begin your career at APL, not only will you have an immediate impact on projects that advance the frontiers of science, but you'll also be joining an organization that is committed to your success! Join our Young Professionals Network to meet new people and learn about professional development opportunities, or apply for BLAST, APL's development program for early career staff members.
Early Career Opportunities
If you're about to graduate or have recently graduated with a bachelor's, master's, or doctoral degree, a host of rewarding full-time opportunities are available to you at APL. We foster an atmosphere of inspiration where the coworkers you pass in the halls are innovators, creators, and world-changers. We're always looking for the brightest new minds to make critical contributions with us. Sound like you?
Launch Your Career
Discovery Program
The Discovery Program is the perfect way to launch your career. Our two-year rotational program offers a unique opportunity to experience APL's wide array of technical challenges. Each Discovery Program experience is tailored to align your interests to projects in need of your skills and expertise. With each rotational assignment, you'll broaden your knowledge, develop your skills, and discover the many ways you can influence the future.
The Discovery Program is open to all STEM (science, technology, engineering, and mathematics) graduates with bachelor's, master's, and doctoral degrees. We look for individuals with high academic achievements, strong technical experience, and the ability to thrive in a collaborative team environment. To qualify, you must have a minimum 3.5 overall GPA and U.S. citizenship.
Apply to the Discovery Program!
Recruiting Events

Connect with us at an upcoming recruiting event to learn more about career opportunities at Johns Hopkins APL.
It's a great feeling coming into work every day knowing that I'm doing something meaningful and that my career growth, interests, and goals are valued.
We're Proud to Be a 2023 Handshake Early Talent Award Winner!
Focus Areas
Search Opportunities by Area of Interest
Explore career opportunities for new and recent college graduates by area of interest.
Join Our Talent Community!

Joining APL's Talent Community is a great way to learn more about the Laboratory, our culture, and future opportunities.