Press Release
Johns Hopkins APL Earns Third Straight Selection to Fast Company's Best Workplaces for Innovators List
Researchers Behind Johns Hopkins Coronavirus Resource Center Honored as Fast Company's Innovative Team of the Year
Wed, 08/04/2021 - 16:45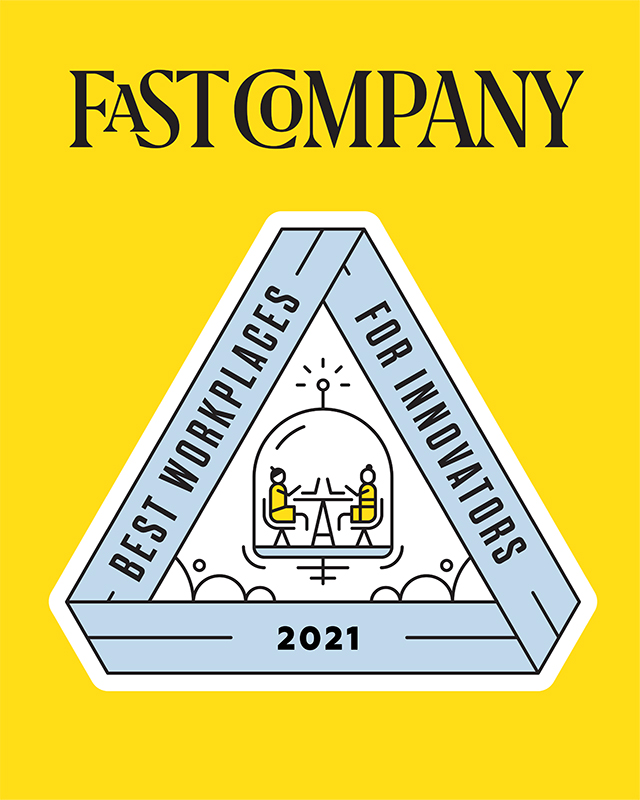 For the third consecutive year, the Johns Hopkins Applied Physics Laboratory (APL) secured a spot on Fast Company's Best Workplaces for Innovators list, slotting in at No. 17 among businesses and organizations around the globe honored for demonstrating a deep commitment to encouraging innovation at all levels.
The data analytics team behind the Johns Hopkins Coronavirus Resource Center (CRC) and its COVID-19 dashboard was also recognized as Fast Company's Innovative Team of the Year, for work performed in close collaboration with the Center for Systems Science and Engineering in the Whiting School of Engineering and scientists and engineers from the Bloomberg School of Public Health, the Centers for Civic Impact, and across Johns Hopkins University and Medicine. APL researchers provide essential data collection, curation and aggregation — including important analysis and illustrative visualizations of that data — for the site, which delivers the most accurate information available on the pandemic.
This is the second straight appearance of an APL group in the Innovative Team of the Year category, which recognizes teams that take advantage of their workplace's pro-innovation environment to build something extraordinary. In 2020, APL's Building Leaders, Accelerating Science and Technology (BLAST) development program was recognized as a finalist.
Developed in collaboration with Accenture, the 2021 Best Workplaces for Innovators list was selected and ranked by a panel of eight judges who evaluated nearly 1,500 applications from organizations around the world. Those joining APL on the top-100 list include Moderna at No. 1, IBM at No. 5, Boston Scientific at No. 8, General Motors at No. 29, St. Jude at No. 48 and Google at No. 61.
In an unprecedented year, APL's contributions to the nation's COVID-19 response — from enabling on-site SARS-CoV-2 virus genome sequencing to developing the engine behind the aforementioned CRC and much more — along with the Laboratory's focus on enabling innovation through diverse and inclusive teams and its ability to continue making critical contributions while adapting to the virtual environment were all factors recognized in its placement on the list.
"The unprecedented challenges of the past year required equally strong levels of collaboration, and we're extremely proud of the entire Johns Hopkins response to the pandemic," said APL Director Ralph Semmel. "This award is acknowledgment of those efforts but also of the great results the Whiting School of Engineering, the Lab and our university partners have produced through strategic investments in innovation and fostering an environment where bold thinking and experimentation fuel solutions to the nation's toughest problems."
"This newest list of the Best Workplaces for Innovators honors those organizations that found ways to collaborate and invent despite the challenges posed by the pandemic, ensuring employees were at the forefront," said Stephanie Mehta, editor in chief of Fast Company.
From APL's innovations in pioneering defense, biomedicine, and space engineering and science programs, to its robust Independent Research and Development program and Project Catalyst — a multitiered innovation microgrant system that provides funding and entry points for a broad range of ideas and experiments — APL's approach is based on the premise that the next game-changing idea could come from anywhere in the Laboratory, any staff member or any team.
APL's history of creating innovative solutions to challenging technical problems dates back to 1942, when the newly founded Laboratory developed the variable time fuze that helped turn the tide of World War II. Today, the Laboratory's critical programs span deep sea to deep space to deep learning.
In addition to landing a spot on the 2019 and 2020 Best Workplaces for Innovators lists, APL also previously appeared on Fast Company lists of top innovative companies for breakthroughs in space and health care and on its World Changing Ideas Award list for four different concepts.
The Applied Physics Laboratory, a not-for-profit division of The Johns Hopkins University, meets critical national challenges through the innovative application of science and technology. For more information, visit www.jhuapl.edu.