Press Release
Johns Hopkins Researchers Tap Bluetooth Technology to Keep Health Workers Safe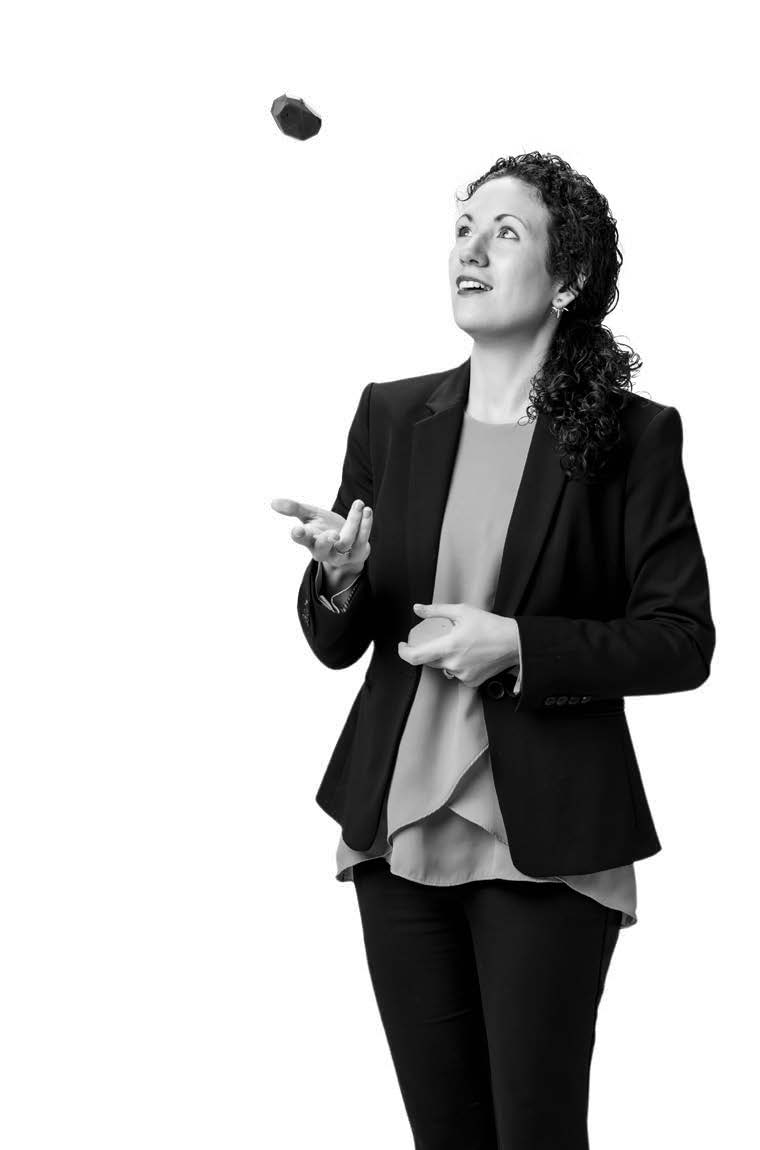 Briana Vecchio-Pagán is a bioinformatics scientist in APL's Research and Exploratory Development Department.
Credit: Johns Hopkins APL/Ed Whitman
Mon, 01/25/2021 - 15:19
With the world still very much in the grip of the COVID-19 pandemic, controlling the transmission of the SARS-CoV-2 virus among front-line health professionals remains a critical priority. And with hospitalizations surging across the country, outbreaks in medical settings are of particular concern because they could lead to reduced staffing and limited care when it's needed most.
Experts note that while there is obviously an increased risk for health workers caring for patients with the disease, the greatest risk may come from their own colleagues or patients in the early stages of unsuspected infections when the amount of virus in an infected person's blood is high.
Researchers at the Johns Hopkins Applied Physics Laboratory (APL) in Laurel, Maryland, the Johns Hopkins University School of Medicine in Baltimore, and Estimote — a New York technology startup building a sensor-based analytics and engagement platform — are exploring the use of Bluetooth Low Energy beacons with ultra-wideband capabilities to study the ability of health workers to socially distance in care settings.
"Understanding where and when high-risk interactions are occurring will be key to implementing interventions that reduce the likelihood of transmission events," said Briana Vecchio-Pagán, a bioinformatics scientist in APL's Research and Exploratory Development Department, who is supporting this work in the Lab's National Health Mission Area.
Johns Hopkins Medicine and APL worked together on a 2018 study on the use of beacons to monitor infection transmission in medical settings by tracking health care providers' interactions with patients and surfaces, such as hand-sanitizing stations and in restrooms. The researchers also sought to understand how pathogens traveled with these interactions, and used genomic sequencing to characterize relative levels of pathogens on different people and surfaces.
"Our pilot study demonstrated that these data types can be leveraged to identify personal hygienic practices and interaction patterns that lead to increased likelihood of transmitting or acquiring an infection in a clinical setting," explained Vecchio-Pagán. "As COVID-19 began to spread, we saw the potential for this technology to help us specifically understand personal interactions, and even for contact tracing."
This year, as part of an effort funded by the U.S. Centers for Disease Control and Prevention, the team is using these wearable technologies to explore interactions and adherence to social distancing recommendations among health care workers at the Johns Hopkins Hospital.
"We are looking at qualitative data from observations of different areas of the medical unit, semi-structured interviews of staff and interaction data from staff wearing beacons to highlight 'high-risk' areas and times on the unit," explained Dr. Sara Keller, a clinical associate in infectious diseases at the Johns Hopkins University School of Medicine and the principal investigator. "As each method has its strengths and weaknesses, combining all three will assist us in finding the true barriers to social distancing."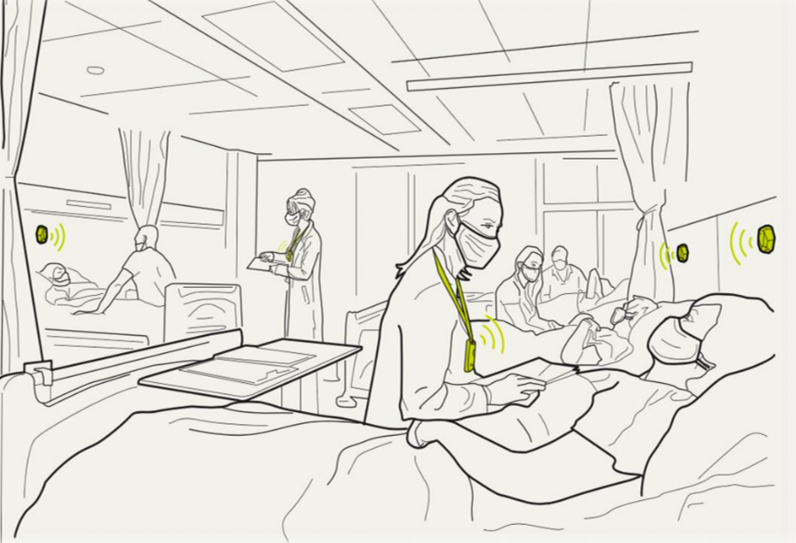 Beacon-based technologies could support current efforts to curb health-care-acquired COVID-19 transmission and could also provide insight into best practices for infection control for ongoing endemic diseases.
Credit: Estimote
The team will use that data to develop and implement ways to improve social distancing. The wearable-based data will be captured before, during and after the improvement. It will then be used to analyze how the intervention impacts adherence to social distancing recommendations.
They have deployed two types of devices. One is wearable; during a shift, all staff on the floor can opt to don a device that looks like a small bar of soap — on a lanyard or a belt clip — with a button, indicator lights and built-in speaker. The other devices are beacons, mounted to the ceiling around the patient unit to determine where staff are spending their time. As staff members walk around with wearables, the beacons determine precisely how far apart they are from others and for how long. The interaction of the wearables with the mounted beacons also allows researchers to determine where in clinic these interactions occurred.
The wearable devices detect those mounted beacons and then report it to the cloud. The mounted beacons don't record anything; they just advertise their identifier regularly. Privacy is protected by allowing staff members to choose a random beacon each day that cannot be traced back to them.
"This information is gathered on a per-second basis and has very high accuracy regarding distance," Vecchio-Pagán said. "In our testing, just one inch or so off from that six-foot mark, and an interaction begins to log." The resulting data then indicates how much time health care workers are spending at different distance intervals (for example, 35 seconds spent within three to four feet of another care provider).
During the baseline phase, the wearables record only the number, duration and distance of interactions, Vecchio-Pagán continued. "During the intervention phase, we may report this information back to the health care workers, or alternatively, we may program wearables to buzz and blink when someone crosses that six-foot threshold," she said. "We can even program the lights to show the wearer, in real time, just how much they've been interacting with others during their shift. There are a lot of opportunities."
Unlike the prior study, which incorporated environmental sampling and DNA sequencing to look for pathogens, this effort solely focuses on social distancing. "We're hoping that good results here could lead to a broader study where we employ the same technology but potentially track pathogen levels through environmental sampling simultaneously," Vecchio-Pagán said.
While the technology is being utilized during the current pandemic, it is translatable to many other pathogens in hospital settings, such as influenza, antibiotic-resistant bacteria and other common hospital-acquired infections, she added.
This project represents some of the foundational research needed to understand and quantify transmission risk in unique environments, a critical component of APL's Comprehensive Biological Threat Security program. The project also capitalizes on APL's unique ability to rapidly pilot new technologies in collaboration with clinical teams at Johns Hopkins Medicine.
While being studied now in a health care setting, the technology could be helpful in understanding physical distancing and the risk of COVID transmission in workplaces, schools and other locations. Additionally, several companies are already using technology beacons to track transmission chains among their employees, indicating which employees are most likely to have had an exposure based on their exact interaction levels.
"This way employees don't have to keep a log of work interactions, a process that is prone to human memory error," Vecchio-Pagán said.
The Applied Physics Laboratory, a not-for-profit division of The Johns Hopkins University, meets critical national challenges through the innovative application of science and technology. For more information, visit www.jhuapl.edu.