Press Release
Johns Hopkins APL, NASA Upgrade Global Search and Rescue System
Since 1982, the Cospas-Sarsat Program system has provided information assisting in the rescue of more than 46,000 people in more than 13,000 distress situations.
Credit: NASA
Fri, 05/29/2020 - 11:33
NASA may be best known for focusing on what's beyond Earth's atmosphere, but the agency also has another role — searching for human life on our home planet, especially when those lives are in danger. Staff members from the Air and Missile Defense Sector at the Johns Hopkins Applied Physics Laboratory (APL) are working with NASA Goddard Space Flight Center (GSFC) and its partners to upgrade NASA's Search and Rescue (SAR) system.
Lab experts are supplementing legacy reflector antennas with a phased-array antenna system, an element-level-digital phased-array antenna that may offer better performance, reliability and maintainability.
Project engineer Chris Dura said, "The SAR system at GSFC is a Medium Earth Orbit Local User Terminal (MEOLUT) in the Medium Earth Orbit Search and Rescue System of the Cospas-Sarsat Program. The Cospas-Sarsat Program is an international SAR distress alerting satellite system, a network of distress beacons, relay satellites and ground-based user interfaces that alerts rescue teams of people in distress and their locations. A user activates a distress beacon that broadcasts to satellites within the beacon's field of view."
The satellite then relays the distress signal to user terminals — like the one at Goddard — which process the signal and alert rescue teams.
The signal is processed through a Mission Control Center (MCC), which is staffed 24/7. In addition, Rescue Coordination Centers are staffed to read the location that comes from the MCC and make phone calls to the rescue authorities (in the U.S. that's the Coast Guard, Air Force or local rescue authorities in each state).
The GSFC system uses six reflector antennas, each limited to tracking one satellite at a time as it moves across the reflector's field of view. The antennas require a large physical area to avoid blocking other antennas, and the moving parts of each reflector require regular maintenance — which degrades system performance and adds cost.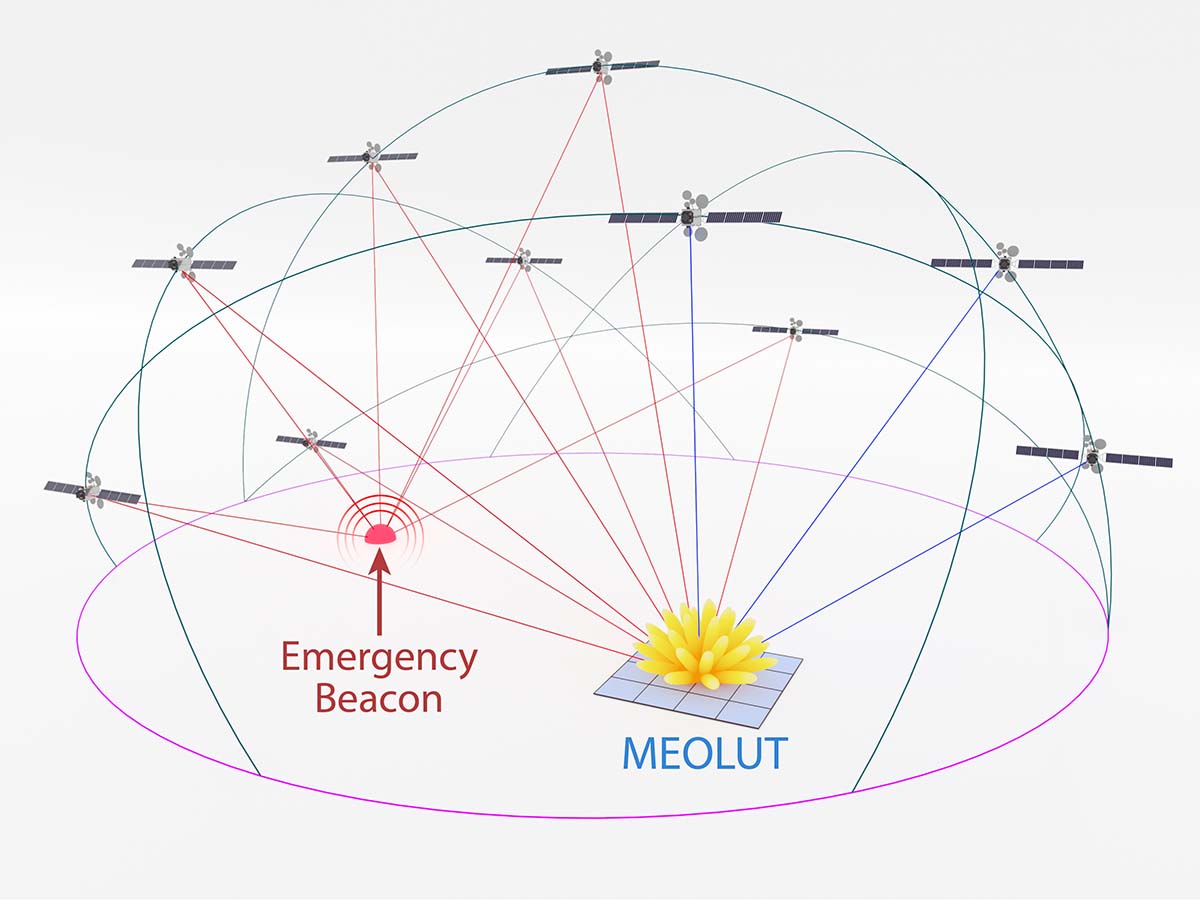 Graphic depiction of how the new Medium Earth Orbit Local User Terminal (MEOLUT) will work.
Credit: Johns Hopkins APL
The Cospas-Sarsat Program was developed jointly between the U.S., Canada, France and the former Soviet Union in 1979.
"The system has become an important life-saving technology, and one NASA and the Lab are proud to support," Dura said. "But it's also in need of an update."
The AMDS team has been working since 2014 with sponsors such as the Defense Advanced Research Projects Agency (DARPA) to utilize digital array technology to solve critical air and missile defense challenges in key areas such as advanced radar and electronic warfare.
"While this [phased-array] antenna concept is unique to the civilian SAR mission, the demonstration of digital array technology is a key step to providing further evidence to DoD decision-makers that this type of technology is mature and ready for consideration in next-generation sensor system designs," said Matt Gordon, the program manager for the project in the AMDS Advanced Concepts and Warfighter Engagement Program Area.
The goal of this phased-array antenna system, based on a concept designed and developed by APL, is to form at least eight simultaneous beams with a single antenna that requires a fraction of the space of the existing six reflector antennas and contains no moving parts.
"Initially, AMDS performed a study in 2002 for the NASA SAR program office to evaluate the state of antenna technology for a potential replacement. At that time, the cost was too high, and the technology had not matured enough for use," Gordon said. "We revisited that study in 2016, and based on advances in phased-array antennas and digital technology at the appropriate price point, we determined that the SAR mission could benefit from a digital phased-array antenna."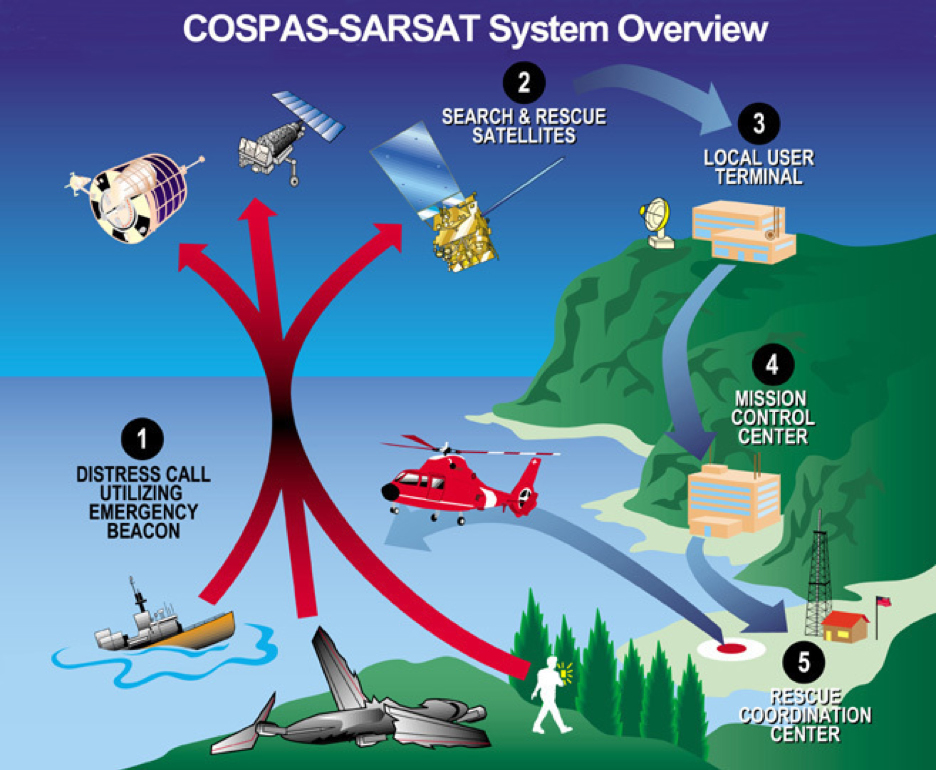 The Cospas-Sarsat Program satellite system uses a combination of different satellites to detect and locate emergency beacons. The satellites relay the distress signals from the emergency beacons to a network of ground stations and ultimately to the U.S. Mission Control Center in Suitland, Maryland. The USMCC processes the distress signal and alerts the appropriate search and rescue authorities to who is in distress and, more importantly, where they are located.
Credit: U.S. Coast Guard
While AMDS does not often handle NASA challenges, the project represents another opportunity for the Lab to contribute to the nation's critical challenges by leveraging a core technical competency.
"Providing an innovative solution for an important civilian application, which is outside of AMDS' traditional role in DoD system development, is satisfying," Gordon said. "We're very happy to play our part to improve a system that helps save lives worldwide."
The prototype antenna is expected to be installed at the NASA SAR Lab in the fall of 2021.
"This project embodies what I consider to be the best parts of working at APL," said Dura. "Providing technical guidance to government sponsors that not only ensures taxpayer money is spent responsibly but contributes to saving lives."
The Applied Physics Laboratory, a not-for-profit division of The Johns Hopkins University, meets critical national challenges through the innovative application of science and technology. For more information, visit www.jhuapl.edu.