Press Release
APL Communications Engineer Helps Reconnect Puerto Rico to the Internet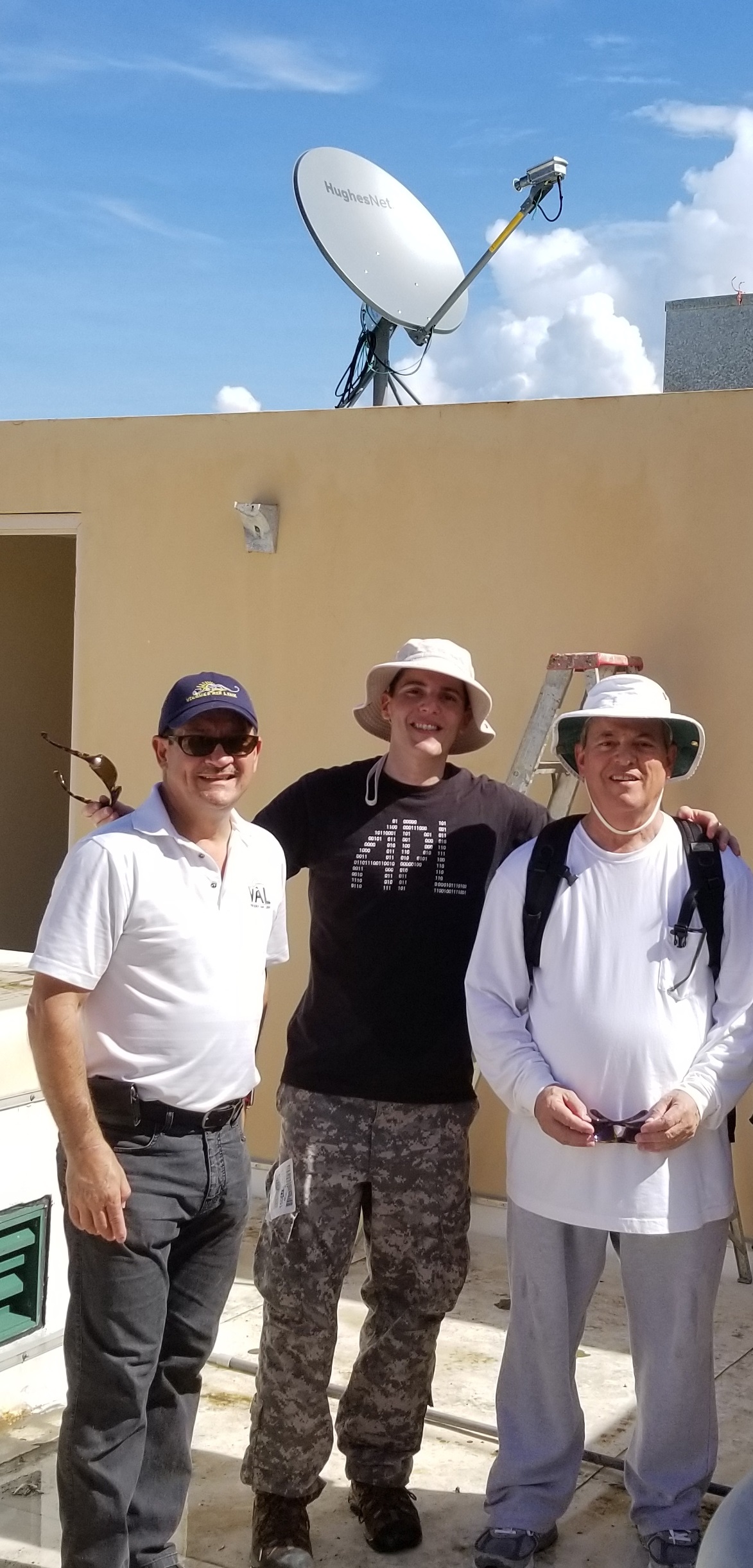 From Nov. 11 to 22, Johns Hopkins APL's Naim Merheb (center) and his collaborators set up free internet in eight Puerto Rican municipalities after Hurricane Maria destroyed much of the island's infrastructure.
Credit: Johns Hopkins APL/Naim Merheb
Wed, 12/13/2017 - 09:50
Margaret Brown
Naim Merheb, a satellite communication systems engineer at the Johns Hopkins University Applied Physics Laboratory in Laurel, Maryland, recently led a volunteer effort to reconnect several Puerto Rican communities to the internet in the wake of Hurricane Maria, even helping to restore 911 dispatch for ambulances in one rural area.
When the category-5 storm slammed Puerto Rico directly on Sept. 20, it devastated the island and cut off communications to most areas. Merheb, a native of Puerto Rico, quickly heard from family and friends about the incredible damage from the storm and knew it would have a continuing impact on residents who would have to rebuild an economy with no infrastructure.
A graduate of Polytechnic University of Puerto Rico and the Johns Hopkins Engineering for Professionals program, Merheb has worked at APL since 1999 and specializes in communication and network systems, particularly those relying on satellites. That know-how enabled him to contact several satellite communication companies with a proposal to establish "hotspots" in hard-hit and hard-to-reach communities.
"We all saw on television how folks were pulling over along the highways, having driven miles to find a small spot with a cellphone signal. So, I wanted to try to take the signal to them instead," Merheb said. "I was looking at how I could apply my professional knowledge to contribute in some capacity."
One company agreed to provide him the equipment, service and support that he requested. With the help of family and friends, several other collaborating organizations and APL colleagues (including other members of APL's Hispanic Employee Resource Group), he began establishing free internet hotspots in areas that had been cut off from communications.
From Nov. 11 to 22, Merheb and his collaborators set up free internet in eight municipalities: Comerío, Culebra, Luquillo, Morovis, Orocovis, Utuado, Vieques and Yabucoa. He said that the group could only address about one site per day, since many communities are still difficult to reach due to terrible road conditions.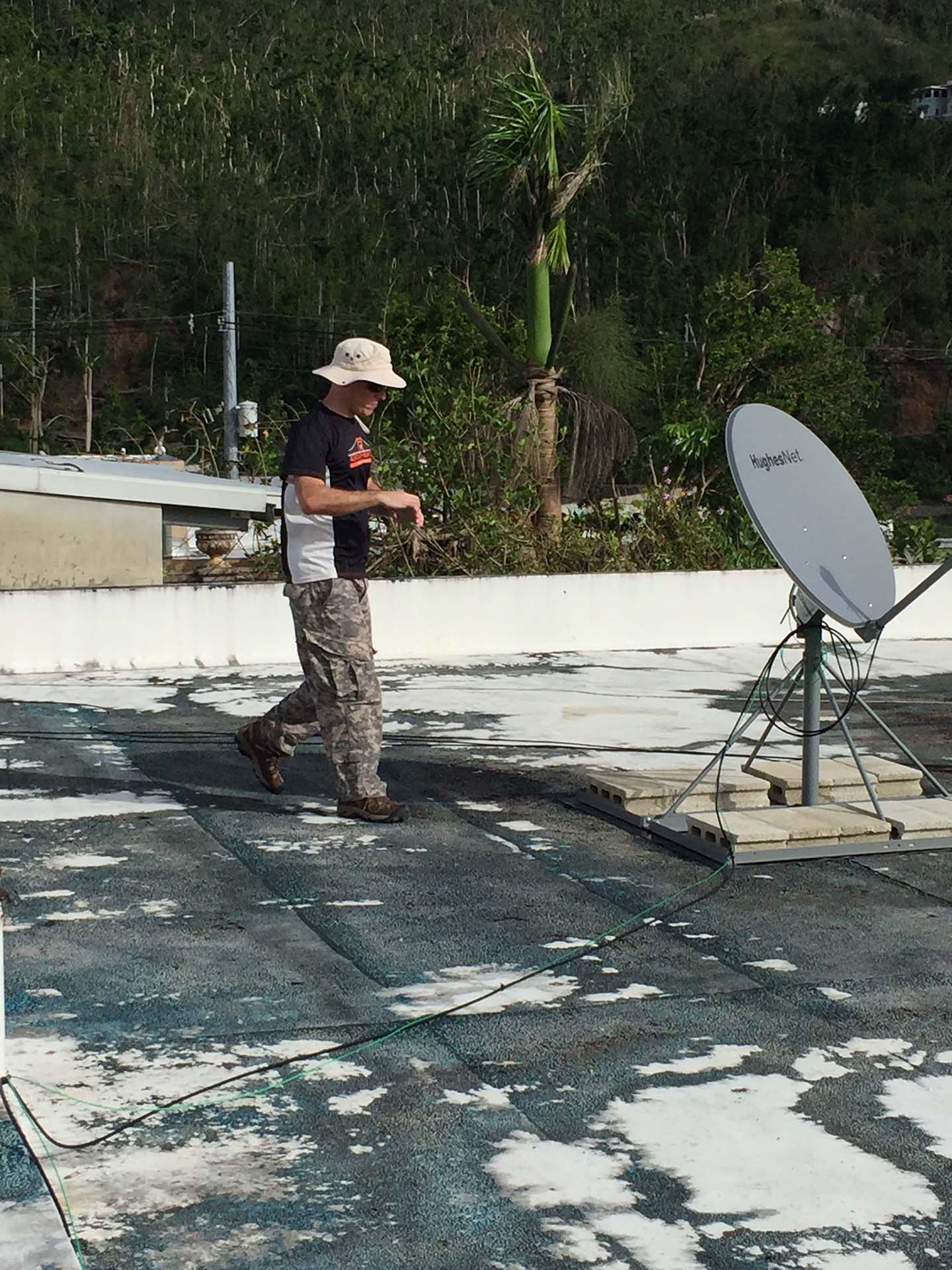 Merheb and his team began establishing free internet hotspots in areas of Puerto Rico that had been cut off from communications after the hurricane. 
Credit: Johns Hopkins APL/Naim Merheb
A few days after Merheb returned home from Puerto Rico, the Federal Communications Commission issued a report on the reestablishment of cellphone connectivity throughout the storm-ravaged island. Of the top five towns on the FCC's list of areas most in need, Merheb's team had restored communications to four.
Yabucoa, the southeastern municipality where Maria made landfall in Puerto Rico, was fourth on that list — with Culebra and Vieques right above. The municipality's 911 dispatch for ambulances had been down for almost 60 days, and without it, the hospital could only help patients who were able to drive themselves to the hospital or had arranged for a ride.
"I happened to install the terminal at the community hospital where the 911 system was co-located because it was one of the few places in the region with reliable generator power," Merheb said. "So, I went ahead and took a few hours to help reverse-engineer their building's wiring to hook them back up. The next day, the point of contact there informed me that the Yabucoa municipal hospital had been able to dispatch ambulances to more remote communities for the first time since Hurricane Maria tore through."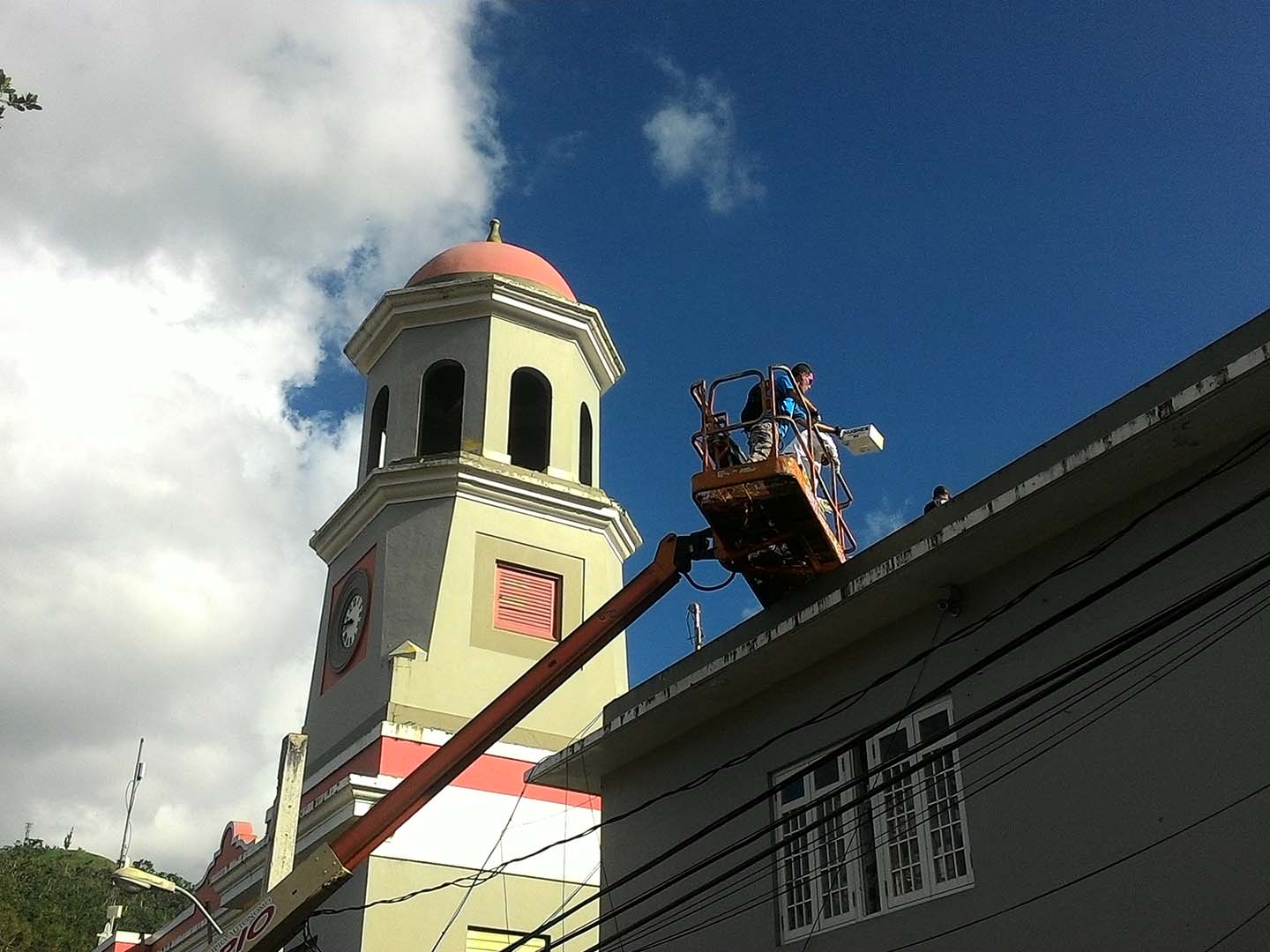 Merheb and his father move equipment onto the roof of a building for installation. 
Credit: Johns Hopkins APL/Naim Merheb
While proud of his team's work, Merheb said an incredible amount of work remains — especially in the most remote areas. "The situation gets increasingly worse the farther you get from the San Juan metro area," he said. "I suspect that many folks will still be without power well into the spring of 2018. Can you imagine living without electricity in the United States in the 21st century for six months?"
He is working to help more communities by engaging additional individuals and commercial organizations, to purchase service contracts to support more terminals and equipment. "I hope this can evolve into a 'sponsor a community' approach," he said. He will be back in Puerto Rico soon to check the current sites and continue to work some of the logistics of the possible expansion.
Local media called him el héroe — a hero — but Merheb objected, telling one reporter, "I am simply supplying manual labor. This effort is only possible due to a bunch of organizations, both commercial and not-for-profit, that have assisted us."
Among those organizations, Merheb said he is particularly grateful to APL, where he acquired the technical skills that enabled him to pull together the right team to make this project a success. He said years of mentorship and kindness from APL experts played a major role. "Thanks to them, I feel very comfortable operating where the rigors of math and science have to make accommodations for marrow-drenching rains, heavy objects and precarious step ladders; where theorems and calculations are augmented with duct tape and zip ties," he said.
Merheb is no stranger to community service. As a Jesuit-school alumnus, he volunteered for nearly a decade as a teacher of math and English to underprivileged fifth graders at Saint Ignatius Loyola Academy in Baltimore, while working full-time at APL and attending graduate school.
The Applied Physics Laboratory, a not-for-profit division of The Johns Hopkins University, meets critical national challenges through the innovative application of science and technology. For more information, visit www.jhuapl.edu.