News
Johns Hopkins APL Staff Members Recognized for STEM Leadership With Black Engineer of the Year Awards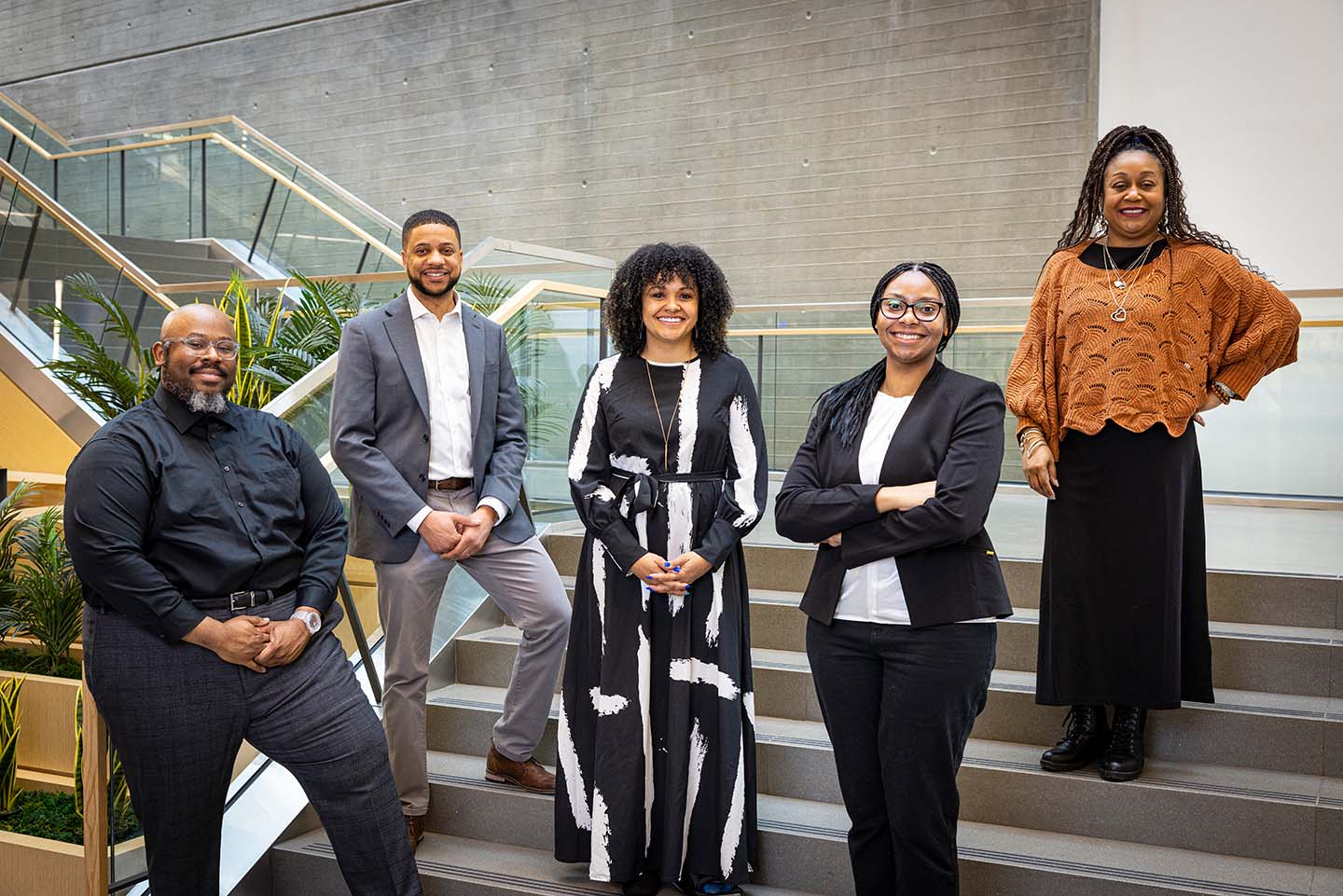 BEYA winners, from left: Malcolm Taylor, Gill Brown, Jamie Porter, Nicole Brown and Camille Daniel.
Credit: Johns Hopkins APL/Ed Whitman
Mon, 02/13/2023 - 12:16
Amanda Mantiply
Five staff members at the Johns Hopkins Applied Physics Laboratory (APL) in Laurel, Maryland, received Black Engineer of the Year Awards (BEYA) for their innovative leadership in science, technology, engineering and math.
Each year, BEYA honorees are selected by a peer review committee from U.S. Black Engineer & Information Technology magazine and the Council of Engineering Deans of Historically Black Colleges and Universities. All winners were recognized at the 37th annual BEYA STEM Conference on Feb. 9-11.
Capt. Donnie Cochran Legacy Award
Camille Daniel received the Capt. Donnie Cochran Legacy Award, a prestigious honor named after a past BEYA winner. Daniel has more than 17 years of experience leading teams that enhance the Navy's and joint forces' ability to successfully and safely conduct their missions. She manages several Navy cyberdefense programs within the Sea Control Mission Area of APL's Force Projection Sector (FPS) and serves as an assistant group supervisor and assistant program area manager. Daniel is also the program chair for the 2023 Submarine Technology Symposium — a classified and collaborative three-day technical conference hosted in APL's Kossiakoff Center with more than 500 attendees from Navy leadership, industry and academia.
In addition to her technical contributions and leadership, Daniel has volunteered and been recognized for her commitment to promoting diversity and inclusion within APL. She was co-chair of the Women and Minority Advisory Council, a member of the FPS Diversity Advisory Forum and a contributor to Project Mosaic, which was a derivative of APL's Inclusion and Diversity Executive Alliance. Daniel's work earned her the 2016 Women of Color Technology Award, 2015 BEYA Science Spectrum Trailblazer Award and APL Diversity Awards in 2007, 2015 and 2016.
She has a B.S. in mathematics from Spelman College, an M.S. in mathematics from Virginia Tech and an EngD in engineering management from George Washington University.
Modern-Day Technology Leader
Malcolm Taylor was named a Modern-Day Technology Leader for his work to help shape the future of STEM. Taylor is a senior cybersecurity engineer and serves as a project technical lead, section supervisor and group chief scientist in APL's Asymmetric Operations Sector (AOS). He develops and nurtures innovative solutions for cybersecurity and reverse-engineering challenges. Most recently, he developed a novel capability to help safeguard U.S. elections from adversaries looking to disrupt the democratic process through cyberattacks.
APL also tapped into Taylor's expertise in proposing and executing independent research and development (IRAD) ideas, selecting him to sit on a committee that chooses and manages a portfolio of IRAD projects, where he helps to shape ideas and guide staff members in their research.
Taylor received his B.S. in computer engineering from the University of Maryland, Baltimore County, and his M.S. in electrical and computer engineering from Carnegie Mellon University.
Science Spectrum Trailblazers
The Science Spectrum Trailblazers Award recognizes individuals who are creating paths for others in science, research technology and development.
Nicole Brown
Nicole Brown, a data scientist with the Artificial Intelligence Group in APL's Research and Exploratory Development Department (REDD), was recognized for developing cutting-edge analytic tools for precision medicine and for creating opportunities to support trailblazing STEM students.
Brown collaborates with researchers in REDD's Biological Sciences Group to develop gene-sequencing technologies to detect evidence of marine mammals from ocean water samples. Her past work includes developing novel analytic capabilities for medical practitioners treating patients with chronic obstructive pulmonary disease and other lung diseases, and improving simulations of biofilm growth in extreme environments.
While earning her B.S. in molecular and cellular biology from Johns Hopkins University, Brown participated in APL's Cohort-based Integrated Research Community for Undergraduate Innovation and Trailblazing (CIRCUIT). Today, she recruits students into the CIRCUIT program and mentors this next generation of STEM professionals. Brown is pursuing her M.S. in computer science.
Gill Brown
Gill Brown is a human systems engineer, project manager and supervisor in the Cognitive Engineering Section of the Health and Human Machine Systems Group in AOS. BEYA recognized Brown for his commitment to workplace diversity and inclusion and his work leading technical teams. With over 20 years of experience in human factors and human systems engineering, he has researched, built and evaluated commercial and government systems, processes and knowledge management tools.
Since 2018, Brown has been active with the AOS Diversity and Inclusion Resource Team (DIRecT), where he led the formation of its three-year strategy and has been instrumental in helping more than 1,600 staff members understand the importance and nuances of diversity, equity and inclusion. Brown served as AOS DIRecT co-lead from 2019 to 2021, and his work was recognized with multiple APL Special Achievement Awards for promoting a culture that embraces diversity and creates an inclusive environment.
Brown is also a strong advocate for autism awareness and acceptance. In 2015, he co-founded APL's All About Autism Club. His efforts strengthened a collaborative alliance between APL and the Kennedy Krieger Institute and earned APL recognition from Maryland's Howard County Commission on Disabilities.
Brown earned his B.A. in psychology from Bloomfield College and his M.S. in human centered computing from the University of Maryland, Baltimore County.
Jamie Porter
Jamie Porter was recognized for making critical contributions to the design and realization of missions to challenging space environments. She is a senior radiation engineer and assistant supervisor of the Space Exploration Sector's (SES) Space Environmental Effects Engineering Group. With more than a decade of experience, her expertise lies in radiation effects, radiation transport modeling and spacecraft internal electrostatic discharge.
Porter leads the radiation team for the Dragonfly mission, ensuring radiation survivability across APL spacecraft and instrument hardware. She also led radiation analyses for an array of APL instruments, including the Europa Imaging System and Plasma Instrument for Magnetic Sounding on NASA's Europa Clipper and the Particle Environment Package (PEP)-Hi instrument for the European Space Agency's JUpiter ICy moons Explorer (JUICE) mission. She also rigorously defined the required shielding for APL hardware on Europa Clipper.
In addition, she previously served as chair of SES' Diversity Advisory Team, where she spearheaded its strategy, road-mapping and prioritization activities.
Porter joined APL after completing postdoctoral work at the University of Tennessee, where she earned her Ph.D. and was the first Black woman to earn a doctorate degree from its Department of Nuclear Engineering. She also earned her B.S. and M.S. in nuclear engineering from the University of Tennessee.
The Applied Physics Laboratory, a not-for-profit division of The Johns Hopkins University, meets critical national challenges through the innovative application of science and technology. For more information, visit www.jhuapl.edu.