Press Release
Johns Hopkins APL Ushers in New Era of Innovation, Collaboration and Research Capabilities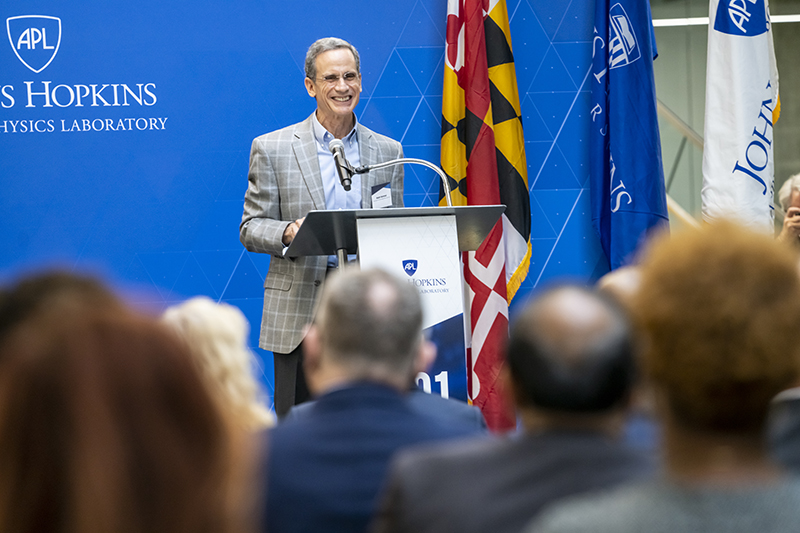 Director Ralph Semmel delivers welcome remarks at Building 201's grand opening ceremony on Oct. 19. The ceremony featured remarks from Semmel, Maryland Gov. Larry Hogan, U.S. Rep. John Sarbanes, Howard County Executive Calvin Ball, Johns Hopkins University President Ron Daniels and APL Board of Managers Chair Heather Murren.
Credit: Johns Hopkins APL/Craig Weiman
Laboratory Welcomes Government and University Leaders for Opening of Newest Facility
Fri, 10/22/2021 - 13:54
The Johns Hopkins Applied Physics Laboratory (APL) formally opened one of its newest state-of-the-art research facilities on Oct. 19 with a ceremony featuring government and university leaders at the Laboratory's Laurel, Maryland, campus.
Maryland Gov. Larry Hogan, U.S. Rep. John Sarbanes, Howard County Executive Calvin Ball, Johns Hopkins University President Ron Daniels, APL Director Ralph Semmel and APL Board of Managers Chair Heather Murren all spoke at the event.
"I believe that innovation and creativity is happening in great abundance in this facility," Hogan said in his remarks. "I have no doubt that this facility will help transform the way APL operates as we continue to position Johns Hopkins and APL as an epicenter for problem solving and mission-critical breakthroughs ... Today is yet another shining example that Johns Hopkins is — and will continue to be — a state, national and global leader."
"APL is one of the really unrivaled examples of university affiliated research in our country, and it's why we're so incredibly proud of it," said Sarbanes.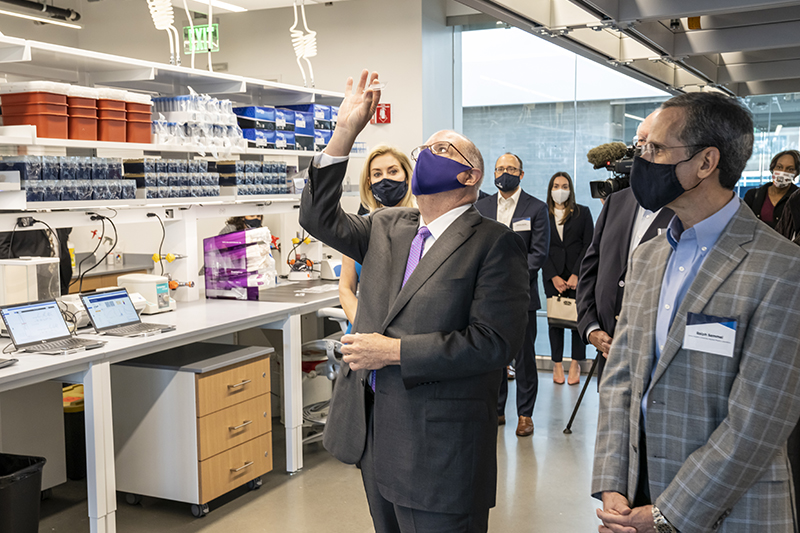 Maryland Gov. Larry Hogan (center) examines a small chip capable of performing genomic sequencing as APL Board of Managers Chair Heather Murren and Director Ralph Semmel look on.
Credit: Johns Hopkins APL/Craig Weiman
Dignitaries received a tour of the 263,000-square-foot facility, known as Building 201, and presentations on some of the Laboratory's most innovative recent work in COVID-19 research and disease surveillance, spacecraft engineering and science, artificial intelligence and materials science. The new building houses more than 650 staff members, most of whom work in the Laboratory's Research and Exploratory Development Department (REDD), APL's long-range research engine.
"It has been built from the ground up to foster discovery and to amplify the research strengths of our university as well as to encourage trailblazing collaborations that embrace the breadth and depth of APL and of Johns Hopkins," said Daniels. "We simply could not be more fortunate to have such a facility to come online at this moment. The work that will be done here remains urgent and necessary."
Building 201 was designed to spark excitement and collaboration with lab spaces that are open, adaptable and collocated with focus areas.
"The geometry and function of each space reflects an acute awareness of the speed, scale and nature demanded by technological change today," said Semmel. "While individual genius might produce clever ideas, the greatest innovations — the ones that can overcome and solve critical real-world challenges — demand broad and deep collaborations."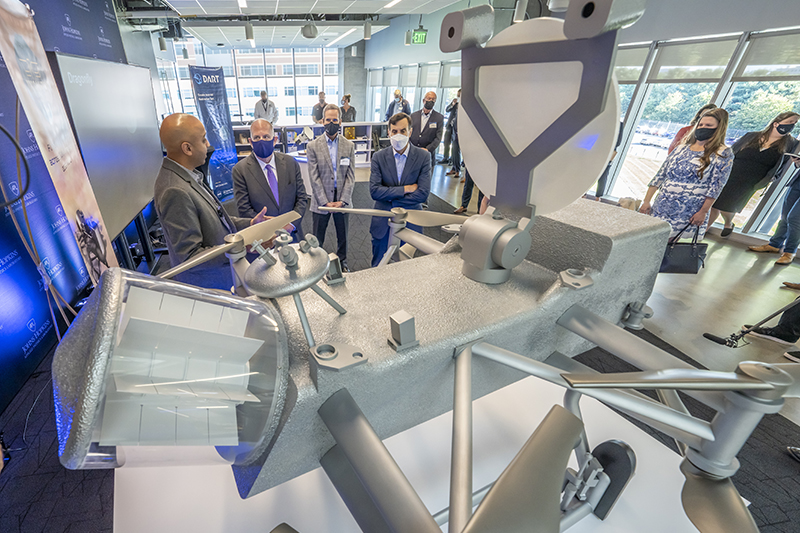 From left, Civil Space Mission Area Executive Jason Kalirai, Maryland Gov. Larry Hogan, Director Ralph Semmel and Johns Hopkins University President Ron Daniels check out a half-scale model of Dragonfly during a presentation on APL-led space missions and initiatives.
Credit: Johns Hopkins APL/Craig Weiman
In partnership with Cannon Design, APL shaped Building 201's workspace to facilitate collaboration by providing places for researchers to easily connect with internal and external partners. Its open, highly flexible and reconfigurable floor plan allows the facility to meet researchers' changing needs and includes more than 90,000 square feet of specialized laboratory space.
"Yes, this building and the cutting-edge technologies here and across APL's campus make great innovations possible, but the true engine that fuels the unwavering dedication and innovation embodied here at APL is everyone's common belief in serving the public good — for our state, our nation and all our citizens. The Applied Physics Lab is a national treasure," said Murren.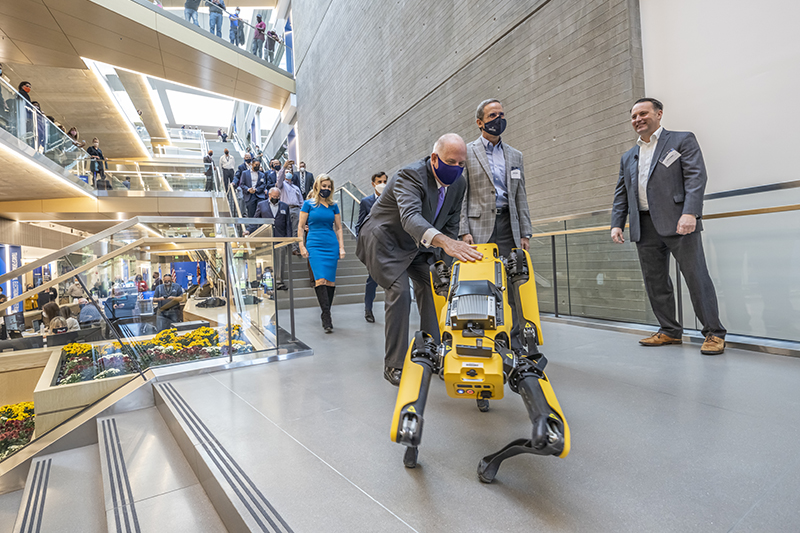 Maryland Gov. Larry Hogan interacts with Spot the robot dog before a presentation on APL's work in artificial intelligence, particularly related to improving robotics and enhancing air combat performance.
Credit: Johns Hopkins APL/Craig Weiman
The building also comprises a four-story atrium filled with natural light, a STEM Center, a 200-person auditorium, and a combination of 100 huddle, conference and auditorium breakout rooms.
"APL sets the bar ahead of anyone else," said Ball. "I can't emphasize enough how much we benefit from your research and development, from planetary defense and your ability to change an asteroid's trajectory to protecting the nation from natural and man-made biological threats."
Building 201 is one of three new buildings opened in 2021 on APL's 450-acre campus. Over the last five years, APL has invested more than $400 million in new buildings and infrastructure, evolving the campus to meet current and anticipated needs of staff members and sponsors.
Media Contacts
The Applied Physics Laboratory, a not-for-profit division of The Johns Hopkins University, meets critical national challenges through the innovative application of science and technology. For more information, visit www.jhuapl.edu.