Press Release
'Solving Problems Others Haven't' Keeps Blodgett Focused on Invention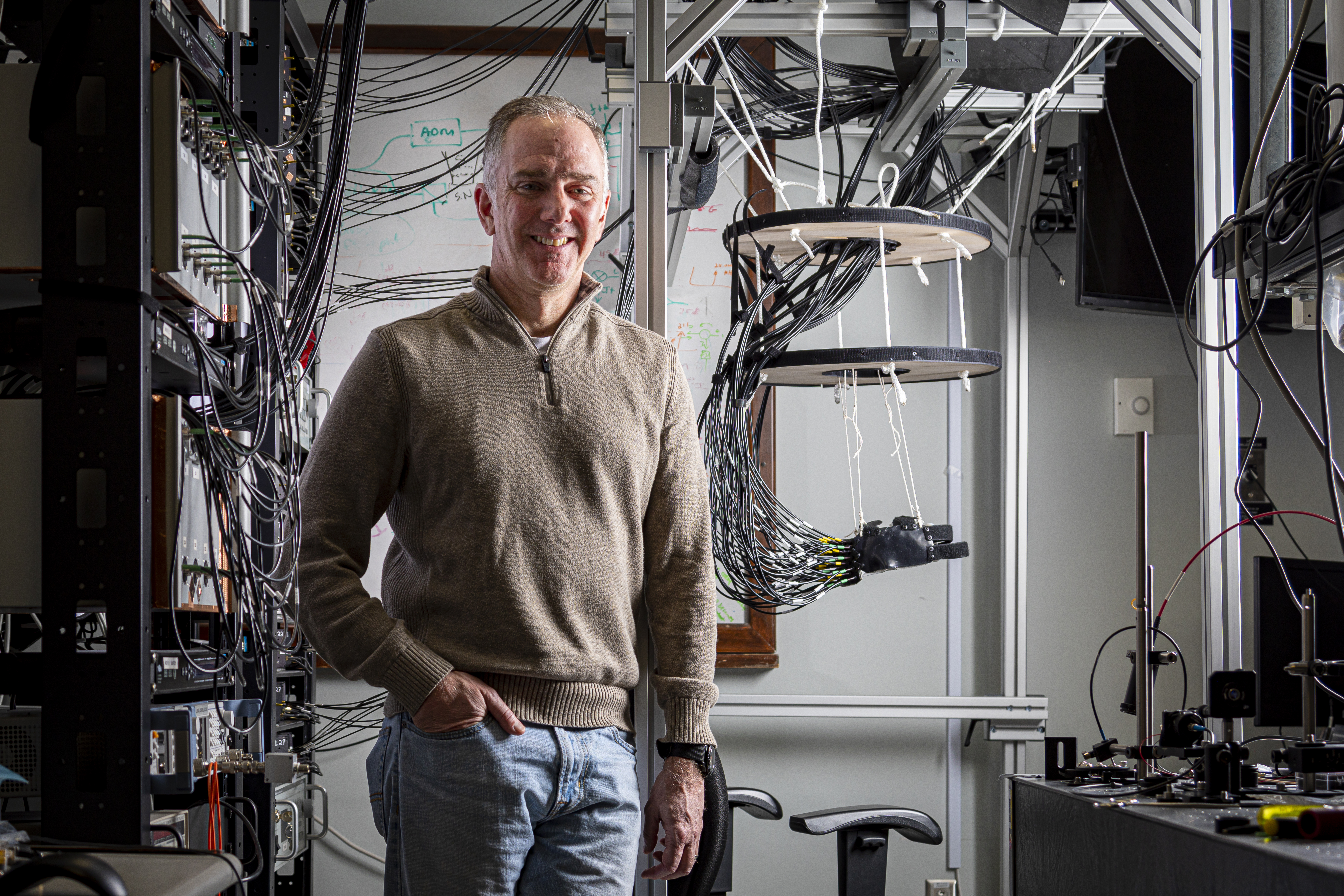 Dave Blodgett, 2020 Master Inventor
Credit: Johns Hopkins APL/Ed Whitman
Tue, 07/13/2021 - 10:23
A soldier lost a limb but wants to live a life without limitations. What if it was possible to control a dexterous prosthetic limb with the brain — without an invasive surgical procedure?
To measure a patient's intracranial pressure, you have to drill a hole through their skull. What if you could monitor it from outside the head?
When a person experiences traumatic brain injury, it may not be clear if the medications are working until the patient wakes up … or doesn't. What if there was a way to monitor that the neurons are firing correctly?
These are the kinds of questions that interest Dave Blodgett, whose work in recent years has focused on noninvasive brain-computer interface (BCI) development, health monitoring and diagnostic sensors. Now chief scientist in the Johns Hopkins Applied Physics Laboratory's (APL) Research and Exploratory Development Department (REDD), Blodgett secured his 10th patent in 2020 and was honored as an APL Master Inventor, alongside George Coles and Jennifer Sample (both also of REDD) at the Lab's annual Achievement Awards on April 27.
Although getting a patent is an incredible achievement, Blodgett said it is never his primary goal but rather a positive byproduct of his work. What drives him, excites him and keeps him interested is the research itself, and its potential impact.
"We're trying to solve problems that other people haven't — those critical challenges," he said. "We're not here to make money from licensing our intellectual property. We're here to solve the most difficult problems. To help the warfighter in whatever way we can. That's what motivates me."
Blodgett believes the Lab is the perfect sort of place for scientists and engineers to do what they love, leading not only to personal fulfillment but also to work that is meaningful and has a deep impact on the world. APL, he says, supports those who are wholly driven toward a specific expertise — one that can keep their interest for decades — and those called to experiment.
"As long as you always provide value, there's a lot of leeway in terms about how you can get from point A and point B at APL," Blodgett said. "And I greatly appreciate that because your interests can change as you progress throughout your career, and that's been really enjoyable for me."
The evolution of interests is reflected in the fact that his patents are largely uncorrelated. For 30 years, Blodgett has found the depth and variety of his research at APL fascinating and fun. "When you first come in, your goal is to do technical work, and I remember being amazed at how well people could do the technical work while still understanding the big picture," he said, reflecting on his career. "Why was the technical work here? Why was it even important, and where did they come up with the motivation for the ideas that they worked on? That fascinated me."
Starting off in APL's Space Department working on the Midcourse Space Experiment, or MSX, he later transitioned to Air and Missile Defense, where he got the opportunity to support the Standard Missile program and do fundamental optical and mechanical materials characterization research.
After briefly leaving the Lab to get his Ph.D. in materials science at Johns Hopkins University, Blodgett soon returned, continuing his technical work but also delving into management for the first time. This also marked a change of address as he moved over to Asymmetric Operations, where he focused on making contributions in lidar and airborne remote sensing.
"That was when APL was really getting into the special operations area," he recalled. "It allowed me the chance to meet new people — exciting people — and solve real problems. Team building, solving a really hard problem, doing field tests … All of those things make being a scientist and engineer a lot of fun."
"I led a great group [in the Asymmetric Operations Sector], and that was fulfilling. I loved watching people's careers develop and helping plot the technical direction for the group," he said. However, after a few years, he felt inspired to focus full-time on research and optics, specifically within the field of remote sensing, using optical and acoustic techniques to do high-resolution imaging of materials.
At that time, the Defense Advanced Research Projects Agency had begun expressing a particular interest in pushing the field of neuroscience, specifically exploring how it could be done noninvasively. "That was exciting because people didn't think it could be done," Blodgett said. "There were a ton of challenges, but APL is really well situated for forming multidisciplinary teams."
In the years that he has been addressing these issues, APL researchers are closely collaborating with medical schools and physicians on problems of national interest, and he considers that a great reward. He's still excited by the idea of working directly with the people for whom his research is impactful right now — a list that currently includes doctors working in neural critical care, whose patients' injuries might be lessened by the development of a particular device or tool.
Blodgett says he often wakes up at night thinking about work, but that's OK, even great, because it's thrilling when your work has tremendous potential for meaningful impact. "The brain-computer interface work I get most excited about," he said. "Because I want to see if it can actually be applied. People around the world are working on trying to solve the noninvasive BCI problem, and everyone's doing it different ways.
"I assume, at the end, multiple ways will be successful, and it'll be interesting to see how successful we are compared to everybody else. But that's kind of fun. You know that you're kind of that leading edge, that bow wave of doing that research, and seeing where it ends will be fascinating. It's a great motivator. I like the competitiveness. I like that challenge of trying to stay ahead of everybody else in your research field."
Although he first joined the Lab in 1991, Blodgett's roots at APL go back further. His mother was a contractor at APL when he was very young, and his father was an APL sponsor. Interestingly, they both worked in the mission area that's now Sea Control, which Dave's wife, Lisa Blodgett, managed before becoming head of the Force Projection Sector. It's become a bit of a family affair.
"I don't know what'll be next," Blodgett said. "I enjoy what I do. I enjoy solving new problems. I enjoy building new teams and working with new people. So, I have no complaints at this point. We'll see what comes next."
The Applied Physics Laboratory, a not-for-profit division of The Johns Hopkins University, meets critical national challenges through the innovative application of science and technology. For more information, visit www.jhuapl.edu.