News
Johns Hopkins APL Engages Government and Industry on Critical Lunar Space Issues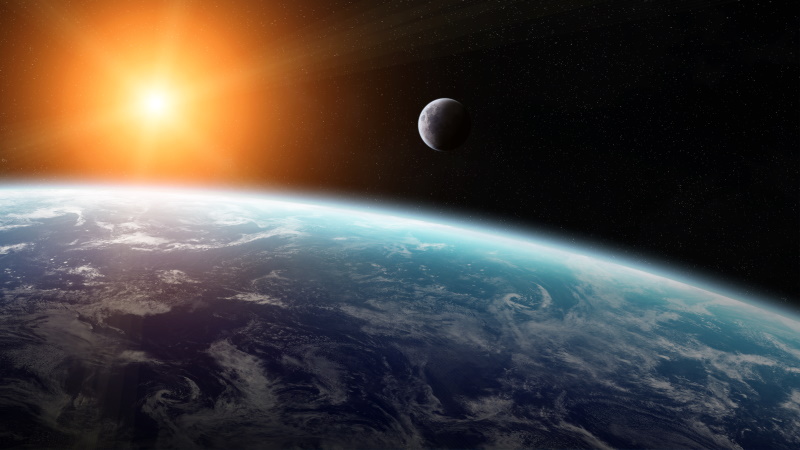 View from space of the Moon near Earth during a sunrise
Credit: Shutterstock with NASA elements
Mon, 03/22/2021 - 08:48
Shanessa Jackson
Space is quickly becoming an even more critical part of the nation's scientific and national security agendas, with increased attention on activities in the vicinity of the Moon and on its surface. The now popular term "cislunar," which uses the Latin preposition meaning "on this side of," generally refers to the region in space occurring between Earth and the Moon.
Numerous defense policy reports and experts have conveyed a need to establish U.S. dominance in cislunar space — particularly as a counter to China's deep-space ambitions. NASA recently unveiled a comprehensive lunar exploration program called Artemis, spurring multiple commercial technology-development opportunities. In addition, the newly established U.S. Space Force recently signed a Memorandum of Understanding with NASA that enables close coordination of strategic operations, including possible expansion to the Moon. This renewed national and global emphasis on the Moon has inspired a similar focus across the Johns Hopkins Applied Physics Laboratory (APL) in Laurel, Maryland, spearheaded by the Space Exploration Sector (SES).
"Our adversaries have expressed plans in the cislunar region that could have major economic and security-related impacts," said Patrick Binning, APL's mission area executive for National Security Space. "In response, we are applying our capabilities in astrodynamics to better understand this activity and build a framework for tracking objects and evaluating pathways to help our nation remain well positioned."
This focus will continue as the Laboratory gets set to host the second annual Cislunar Security Conference the week of Nov. 15, 2021.
Strategic Interchange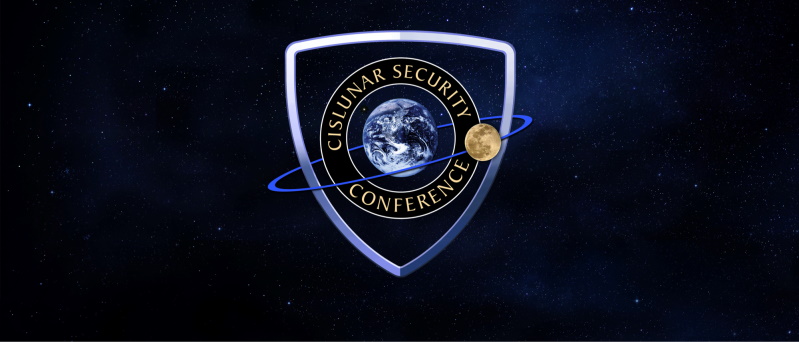 As a leader in this arena, APL leveraged the heightened interest in space to host the first Cislunar Security Conference (CLSC) on Oct. 27-29, 2020. CLSC is a forum on the technology, policy, doctrine and strategy implications of ensuring free access to, transit to, and use of the Earth-Moon system beyond geosynchronous equatorial orbit.
Across three days (and three security levels), with 40 presentations in 14 sessions for more than 350 registered attendees, APL brought dozens of government and industry organizations together in this growing domain — and for its first classified virtual event. The goal for this effort was to encourage national-level technical discourse related to domain awareness, policy and strategy, communications and infrastructure, trajectory design, threats, and position, navigation and timing (PNT).
"This inaugural conference was really focused on highlighting the different ways that the defense and intelligence communities are viewing the emerging notion of national security beyond traditional Earth orbits," said Vinny Ramachandran, who manages the Rapid Surveillance program at APL and led the CLSC organizing efforts. "We had some really insightful discussions on policy concerns as well as overall awareness of technical challenges, specific mission concepts and opportunities for synergy with other space efforts. This is an area in which APL is taking a leadership role and I am excited to help kick off this new strategic initiative."
Keynotes were given by Lt. Gen. John Shaw, who was recently confirmed to become deputy commander of U.S. Space Command, and Gen. David Thompson, who is the nation's first vice chief of space operations for the U.S. Space Force.
Community Connections
APL is also connecting the expert community through the Lunar Surface Innovation Consortium (LSIC). Formally launched in February 2020, LSIC aims to help NASA harness the nation's ideas, energy and resources to remain at the forefront of lunar exploration. With APL planetary scientist Rachel Klima as its director, LSIC is an important contributor to Lab efforts to provide thought leadership and critical technology solutions for the nation's lunar program.
The consortium held its inaugural (and virtual) fall meeting on Oct. 14-15, 2020. Jim Bridenstine, then-NASA administrator, presented the keynote address, which included updates on the Artemis program. NASA Associate Administrator for Space Technology Jim Reuter provided updates about agency investments in space technology development. The meeting also included a panel discussion about funding, flight and technology transfer opportunities as well as a series of short talks and a poster session to share ongoing tech developments from LSIC community members.
"APL is very excited to be part of NASA's Artemis program to send the first woman and the next man to the lunar surface," said Jason Kalirai, APL's mission area executive for Civil Space. "Artemis calls for a sustained presence on the Moon, which is a fundamental change from the Apollo program of the 1960s and '70s. This requires addressing a number of technology challenges that are ripe for a collaborative framework involving U.S. industry, academia, government and nonprofit organizations. At APL, we are bringing these partners together in LSIC."
Discovering Resources
A long-term or permanent presence on the Moon or Mars means that explorers will need to generate products using local materials, given the expense and risk of supply missions from Earth. In situ resource utilization, or ISRU, concerns the collection, processing, storing and use of material found or manufactured on other worlds.
Michael Nord, a remote sensing scientist in APL's Asymmetric Operations Sector, recently led the LSIC ISRU Supply and Demand Workshop in addition to presenting on ISRU at the Cislunar Security Conference. The workshop provided a forum to address resource supply and demand and to facilitate greater industry communication as well as a general understanding of the near-future cislunar economy. NASA Chief Economist Alexander MacDonald was on the agenda as a speaker along with representatives from NASA, the Department of Defense and their contractors.
"Collaboration will be key to establishing technological capabilities that are critical to sustaining human exploration activities around and on the Moon and beyond." Nord said.
The Applied Physics Laboratory, a not-for-profit division of The Johns Hopkins University, meets critical national challenges through the innovative application of science and technology. For more information, visit www.jhuapl.edu.