News
Johns Hopkins APL Technology Helps Mars Mission Phone Home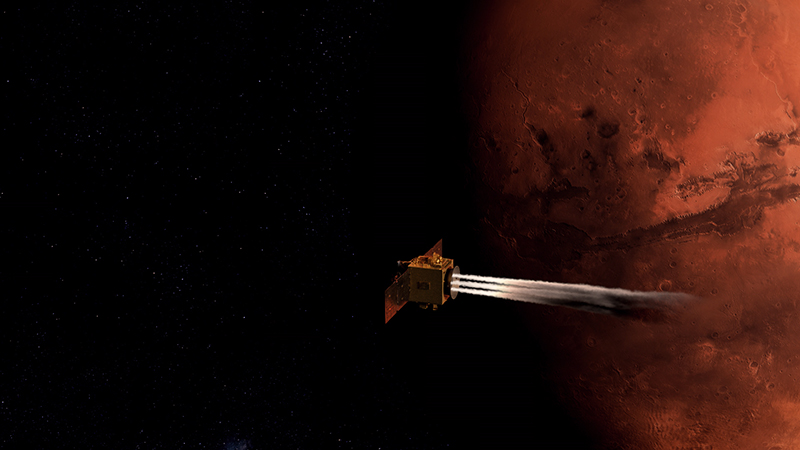 Artist's impression of the Hope spacecraft moving into orbit at Mars on Feb. 9. Hope sent word of its progress to operators on Earth using a novel radio provided by the Johns Hopkins Applied Physics Laboratory.
Credit: Emirates Mars Mission
Thu, 03/18/2021 - 08:55
Michael Buckley
The Emirates Mars Mission, also known as "Hope," eased into orbit around the red planet on Feb. 9, sending word of its progress to operators on Earth using a novel radio provided by the Johns Hopkins Applied Physics Laboratory (APL) in Laurel, Maryland.
The first interplanetary mission built and operated by the United Arab Emirates, Hope will study the dynamics of the Martian atmosphere, aiming to build the first full picture of Mars' climate throughout a Martian year. The probe's trajectory through cruise to orbit insertion was tracked closely by the mission operations center at the Mohammed Bin Rashid Space Centre (MBRSC) in Dubai.
Hope is carrying the latest version of APL's Frontier radio within its communications subsystem. The Frontier is a versatile telecommunications device proven on missions from the Sun to Pluto and beyond. As a software-defined radio — where software is used to customize the radio for specific mission requirements — the Frontier is smaller and needs less power than other deep-space radios, and can send and receive signals in a wide range of frequencies.
The Frontier radio has considerable heritage, including its role in the APL-built Parker Solar Probe. It has performed beyond expectations over Hope's seven-month trek to Mars, starting with the first signals sent home about an hour after liftoff from Japan's Tanegashima launch site on July 19.
"We worked with APL to specify and integrate the Frontier radio into Hope's communications subsystem and were pleased with its performance through our reviews. We're equally pleased with its performance throughout the mission so far," said Khalifa Al Mheiri, telecommunications subsystem lead at MBRSC.
"We look to improve on each version," said Philip Huang, the Hope Frontier radio systems lead in APL's Space Exploration Sector. "We track how the system operates on each mission, and with a few design changes we make it smaller, lighter and more efficient — all very important considerations for spacecraft missions."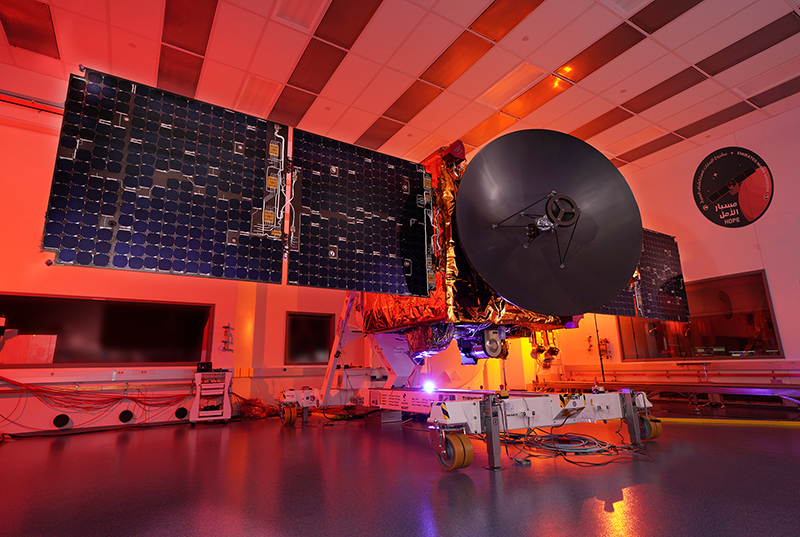 The Hope spacecraft, shown about a month before its July 2020 launch, is carrying the latest version of APL's Frontier radio, as well as several APL-built circuit boards and electronics components.
Credit: Emirates Mars Mission
APL's Research and Exploratory Development Department (REDD) also assembled several circuit boards and electronics components. These electronic assemblies are plugged into systems such as the spacecraft flight computer, and the infrared and ultraviolet spectrometers.
The work was largely performed in REDD's Advanced Electrical Fabrication Group, which each year builds thousands of boards, cables and assemblies for projects across APL, addressing challenges in artificial intelligence, health care, national security and space exploration.
"We're a proud contributor to a truly international space mission," said Allen Keeney, the group's chief engineer. "It's been an exciting chance to apply our skills and capabilities in a new arena."
Hope has been a collaboration between MBRSC and several American universities, with engineers and scientists from both nations teaming up to design and build the spacecraft's systems and three onboard science instruments. The spacecraft was constructed at the University of Colorado's Laboratory for Atmospheric and Space Physics' facility by a joint team of engineers from MBRSC and LASP.
The Emirates Mars Mission is the culmination of a knowledge-transfer and development effort started in 2006, which has seen Emirati engineers working with partners around the world to develop the UAE's spacecraft design, engineering and manufacturing capabilities. The UAE is the first Arab nation to launch a mission to Mars.
"We're honored and excited to take part in this international collaboration, and appreciate the vote of confidence in APL's growing expertise and capabilities in spacecraft systems and communications," said Jason Kalirai, APL's mission area executive for Civil Space.
Follow the Emirates Mars Mission at www.emiratesmarsmission.ae.
The Applied Physics Laboratory, a not-for-profit division of The Johns Hopkins University, meets critical national challenges through the innovative application of science and technology. For more information, visit www.jhuapl.edu.