Press Release
Johns Hopkins APL Partners with InductiveHealth on Disease Informatics for Health Agencies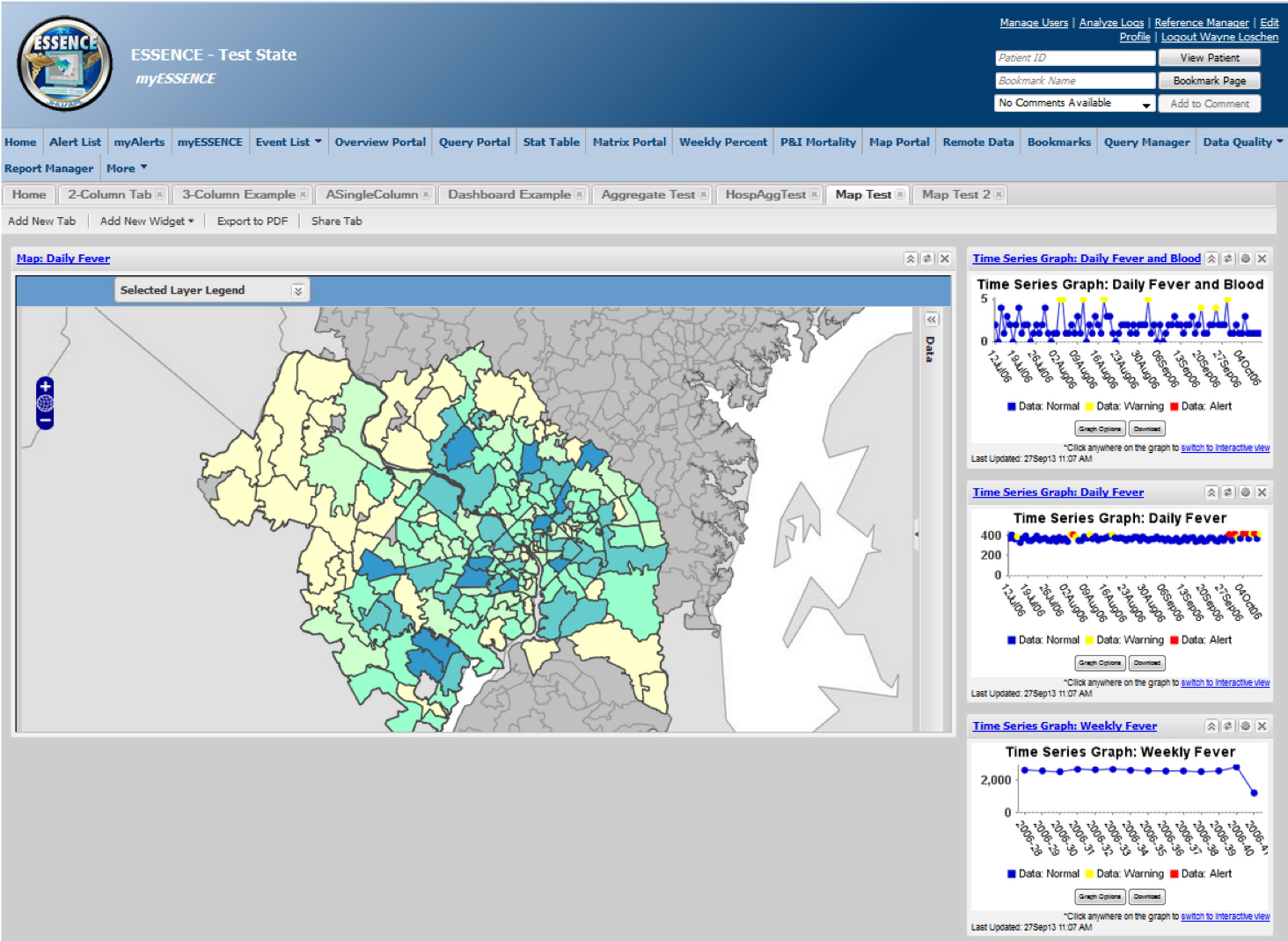 A myESSENCE dashboard example using simulated data. myESSENCE dashboards allow operators to create a user-defined set of Time Series, GIS Maps, Data Tables, Algorithm Alerts, and Informational Text Blocks to create an easy-to-view, centralized dashboard to monitor an event or situation.
Credit: Johns Hopkins APL
Thu, 01/14/2021 - 15:27
As the COVID-19 pandemic persists into a second year and conducting disease surveillance continues to be an important component of public health responses, the Johns Hopkins Applied Physics Laboratory in Laurel, Maryland, has entered into an agreement with InductiveHealth Informatics in Atlanta to facilitate access by additional state and local governments to the APL-developed Electronic Surveillance System for the Early Notification of Community-based Epidemics, or ESSENCE.
ESSENCE, which APL created in 1997 and continues to enhance, is a disease surveillance system that helps users clean and process large amounts of health-related data. In addition to enabling public health officials to maintain situational awareness of the health of their communities on a routine basis, the system's algorithms analyze data to search for anomalies that might indicate an outbreak. ESSENCE has also been used to monitor disease outbreaks following mass gatherings, assist in disaster recovery efforts and track opioid-related deaths.
ESSENCE utilizes data such as emergency room and urgent care visits, as well as why those visits occurred, along with other gathered information. Users, like public health epidemiologists and infection control practitioners, can then perform queries to search for combinations of signs of symptoms that may indicate a surge.
APL's commercial partnership with InductiveHealth Informatics will expand the system's reach, allowing InductiveHealth to offer ESSENCE to their customers and provide a syndromic surveillance software-as-a-service capability. The agreement also better positions APL to focus on ESSENCE-related research and development, emphasizing new data sources, novel analytics and forecasting while exploring other opportunities to grow the tool in alignment with APL's National Health Mission Area pillars of predictive health, assured care and global health security.
"This is an exciting partnership for APL as it will allow our researchers to focus on continued improvement and expansion of ESSENCE while InductiveHealth Informatics aids in its application," said Sheri Lewis, who manages APL's Health Protection and Assurance program area. "Disease surveillance has never been more important, but we want the tools we use in emergency situations, such as pandemics, to be the tools we're using every day. This agreement helps further that goal."
Currently, ESSENCE is used by more than 25 jurisdictions, including at state, regional, and county or city levels; nationally by the Centers for Disease Control and Prevention; and globally by the Department of Defense. During the COVID-19 pandemic, it has been an essential tool in filling testing and contact tracing gaps to help track the spread of SARS-CoV-2.
Previously, APL handled the distribution and maintenance of ESSENCE while leading a parallel effort to continue advancing the technology. The load-sharing that will occur in this partnership will allow APL to focus more on research while also gleaning the commercial perspective on customer needs, which could also lead to new opportunities for technological development.
InductiveHealth Informatics specializes in software-as-a-service disease surveillance technology and is known for providing innovative solutions to public health departments.
"We are very excited to partner with Johns Hopkins Applied Physics Lab," said Matthew Dollacker, co-founder and chief executive officer of InductiveHealth Informatics. "Matching APL's ESSENCE software to our advanced software-as-a-service and health data integration capabilities provides an easy and cost-effective way for health departments to simplify and accelerate the use of advanced syndromic surveillance technology for public health response."
This agreement is an exclusive arrangement for use in the field of health care and in U.S. public health markets.
"For many years, APL's Tech Transfer office has recognized ESSENCE as an important technology and has strategized with researchers and leadership on how to continue increasing the impact of this powerful tool," said Norma Lee Todd, who supervises APL's Tech Transfer team. "We are very excited about the new collaboration with InductiveHealth Informatics and the opportunities that it offers to them and the Laboratory to capitalize on our respective strengths."
The Applied Physics Laboratory, a not-for-profit division of The Johns Hopkins University, meets critical national challenges through the innovative application of science and technology. For more information, visit www.jhuapl.edu.