News
Johns Hopkins APL Materials Experts Explore Ways to Fortify Vehicles, Buildings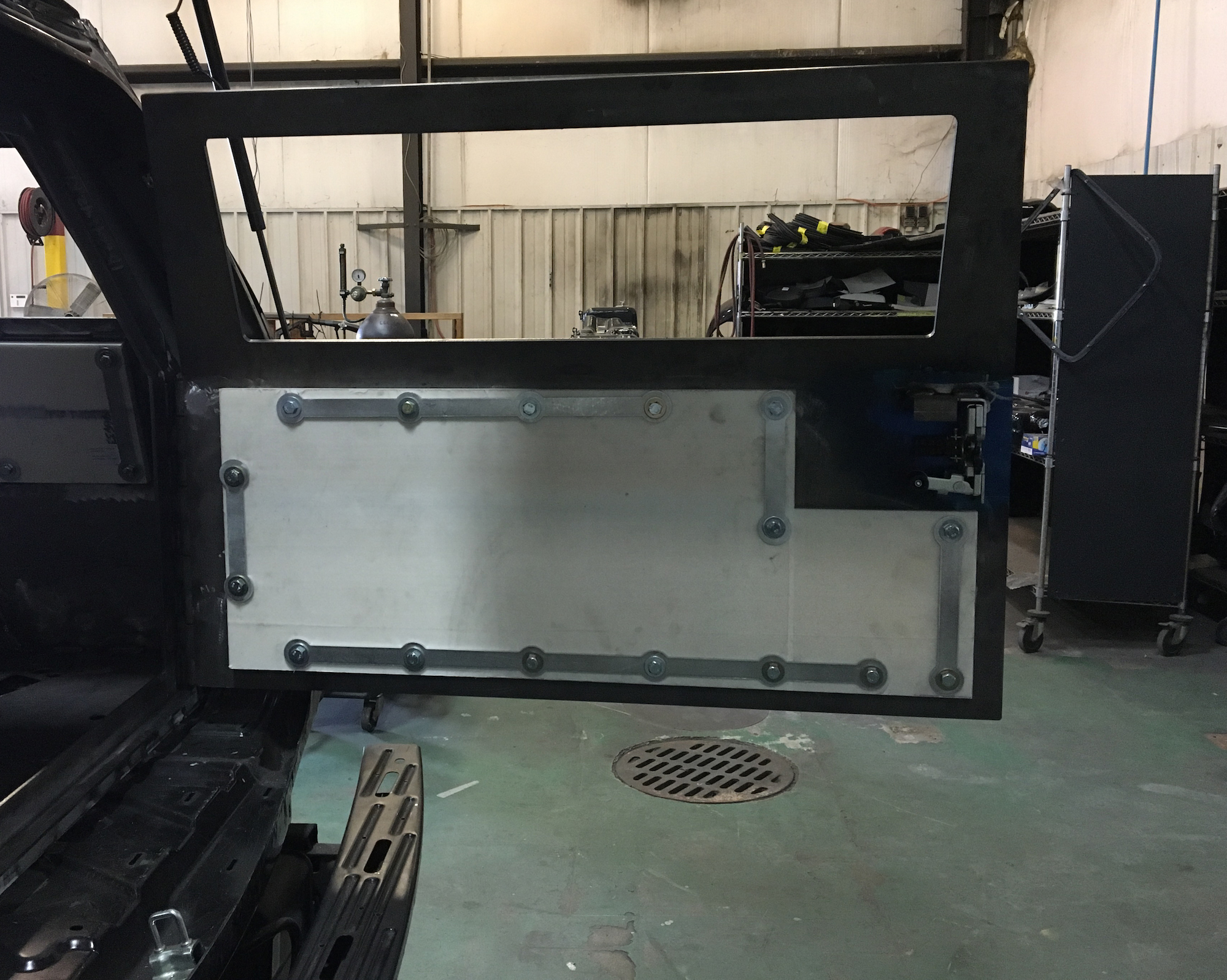 An ultra-high-molecular-weight polyethylene (UHMWPE) composite panel is fastened to the frame with bolts and washers.
Credit: Johns Hopkins APL
Fri, 11/20/2020 - 11:49
Ambassadors and dignitaries are deployed to some of the most dangerous places in the world. The Department of State's web of security for these personnel includes a fleet of vehicles fortified with armor plating, bullet-resistant glass and run-flat tires or inserts.
"The black Chevy Suburban is ubiquitous at overseas posts," noted Adam Maisano, a materials scientist at the Johns Hopkins Applied Physics Laboratory (APL) in Laurel, Maryland. "There are only a handful of vehicles that can bear the weight of the necessary armor. It makes them instantly recognizable."
Six years ago, the Department of State asked APL to investigate the use of commercially available, lightweight ballistic armor options and integrate the most effective option into a Chevy Suburban.
"The main motivation for employing lighter armor is that it would enable integration into vehicle models beyond the few currently capable of handling the additional weight," explained Maisano, the project's manager. "With lighter-weight armor and more vehicle choices, the presence of diplomats would be less obvious."
This task began a yearslong collaboration with the department to better protect U.S. embassies and consulates. APL has extensive expertise in evaluating armor system performance, with staff members specializing in materials science, ballistics and blast testing, and data analysis and statistics.
"For that initial task, we scoured the industry to identify opaque and transparent armor materials that met Department of State requirements, measured their capabilities against one another and retrofitted a vehicle to evaluate the materials' performance," Maisano said.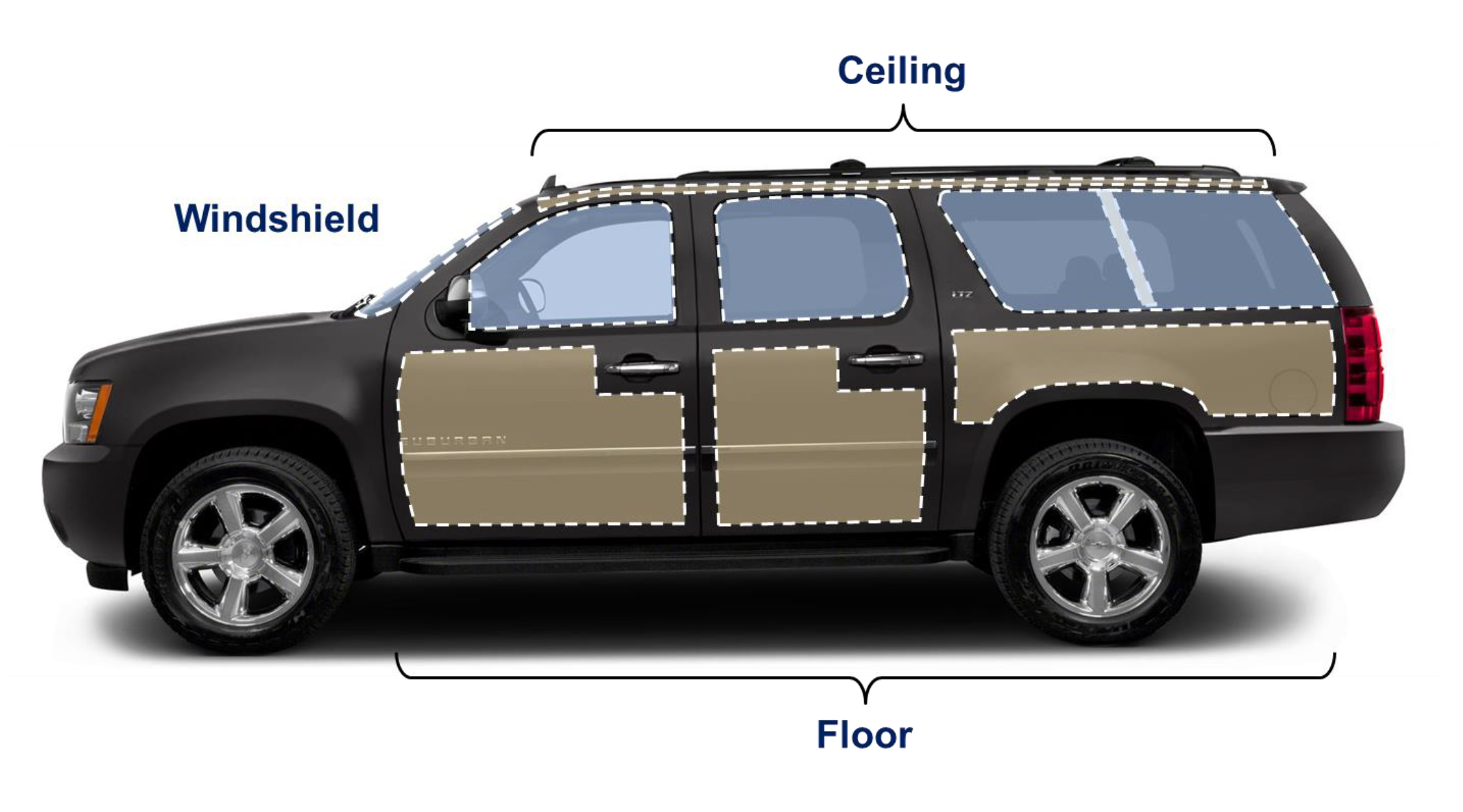 Retrofit concept with lightweight material areas designated (opaque armor in tan; transparent armor in blue).
Credit: Johns Hopkins APL
The collaboration has since expanded to include exploring the use of ceramic armor compounds, testing the blast resistance of windows for vehicles and buildings, and ensuring that new structural sealants work for windows and U.S. embassy buildings.
Ceramic armor has been shown to be an effective, lightweight option to defeat ballistic threats that can penetrate composites and high-hard steel armor. "Their properties of 'high hardness' and 'high stiffness' break up the projectile, and crack propagation within the ceramic tile dissipates energy," Maisano said. "But the materials — typically boron carbide and silicon carbide — are expensive, as is the high-pressure, high-temperature manufacturing process."
Researchers at Purdue University demonstrated a pressureless, room-temperature fabrication process to create ceramic armor tiles, which have the potential to meet or exceed the ballistic performance of commercial materials. APL partnered with Purdue to further optimize the materials by providing insights into the manufacturing process.
"We are using X-ray tomography to analyze the porosity, characterization of mechanical properties, analysis of microstructure, and implementation of a rapid build-test cycle to provide feedback to the design process at Purdue," Maisano said.
APL materials scientists are also researching ways to make windows more blast resistant.
"When you think of windows as an entire system, there are typically two layers of glass with a polymer in the center for safety," Maisano explained. "If there is a blast, the glass would adhere to the polymer as opposed to shattering and wounding those in the vehicle."
"We are exploring interlayers with a higher adhesion," Maisano said. "But we also don't want higher adhesion to come at the expense of other mechanical properties — where the entire glass sheet may fail."
Laboratory researchers are trying to determine whether the use of high-strength silicone products can eliminate the need for mechanical attachment of ballistic-resistant windshields. Maisano said the work with window sealants is also being applied to window designs for U.S. Embassy buildings.
While all of this work is critical to helping the Department of State protect its personnel, it has broader applications as well.
"The military community will always have an interest in reducing the weight of armor," Maisano said. "But our work with glass interlayers also has broad applications for hurricane-resistant windows and commercial car windshields."
The Applied Physics Laboratory, a not-for-profit division of The Johns Hopkins University, meets critical national challenges through the innovative application of science and technology. For more information, visit www.jhuapl.edu.