Press Release
Johns Hopkins APL Ranked No. 3 on Fast Company's Best Workplaces for Innovators List
Wed, 07/29/2020 - 10:28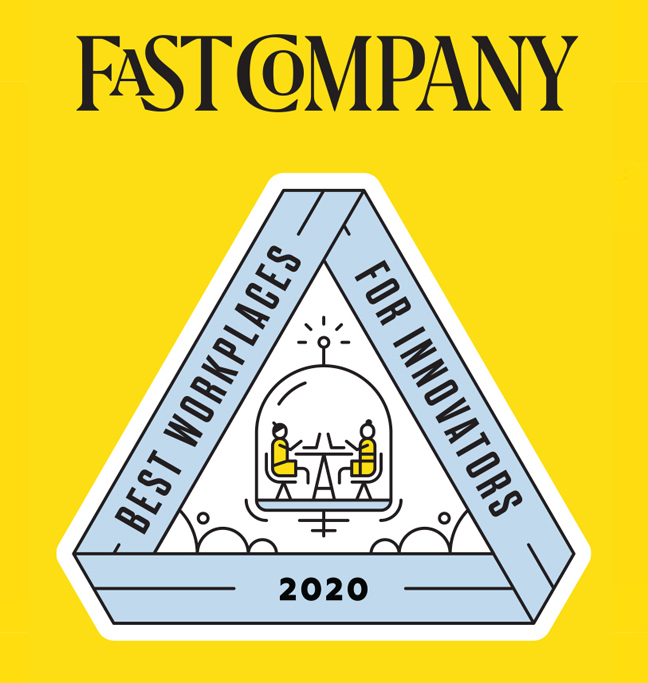 The Johns Hopkins Applied Physics Laboratory secured the No. 3 spot on Fast Company's 2020 Best Workplaces for Innovators list — marking the second consecutive year that APL appeared among businesses and organizations around the globe honored for demonstrating a deep commitment to encouraging innovation at all levels.
The team behind APL's Building Leaders, Accelerating Science and Technology (BLAST) development program was also recognized as a finalist for Fast Company's inaugural Innovative Team of the Year award, which highlights the most innovative teams to take advantage of their workplace's pro-innovation environment to build something extraordinary.
The BLAST program is the next evolution of a long-standing innovation initiative that originated in one sector at APL but was expanded across the enterprise earlier this year, under the leadership of a cross-Laboratory team of staff members. BLAST was designed to target professionals early in their careers, encouraging collaboration and harnessing APL's culture of innovation to tackle challenging technical problems.
Developed with Accenture, Fast Company's 2020 Best Workplaces for Innovators list ranked 100 winners — chosen from nearly 900 applications — from a variety of industries, including computer science, biotech, consumer packaged goods, nonprofit, education, financial services, cybersecurity and engineering. Organizations joining APL on the list include Google at No. 2, Boston Scientific at No. 5, Microsoft at No. 13 and Amazon at No. 18.
From APL's innovations in pioneering defense, biomedicine, and space engineering and science programs, to its robust Independent Research and Development program and Project Catalyst — a multitiered innovation microgrant system that provides funding and entry points for a broad range of ideas and experiments — to a workplace culture that fosters innovative thinking, APL's approach is based on the premise that the next game-changing idea could come from anywhere in the Laboratory, any staff member or team.
"We made a strategic decision years ago to invest more in innovation, realizing that through bold thinking and experimentation we could tackle additional critical national security, space exploration and health challenges," said APL Director Ralph Semmel. "We are honored by this recognition of the great results that the Lab has produced."
APL's history of creating innovative solutions to challenging technical problems dates back to 1942, when the newly founded Laboratory developed the variable time fuze that helped turn the tide of World War II. Today, the Laboratory's critical programs span from deep sea to deep space to deep learning, and APL's work has continued during the global pandemic. Since early 2020, the Laboratory has been drawing on technical capabilities and the broad expertise of APL staff members to study, analyze and guide the nation's COVID-19 response.
The 2020 Best Workplaces for Innovators list was chosen and ranked by a panel of eight judges and features workplaces from around the world, with several of the honorees based outside the U.S.
This is the third Fast Company honor APL has received this calendar year — the Laboratory slotted in fourth on the magazine's list of the Most Innovative Space Companies in March for our Dragonfly mission, and four different APL projects were named as 2020 World Changing Ideas Award finalists. In addition to landing a spot on the 2019 Best Workplaces for Innovators list, APL also previously appeared on Fast Company lists of top innovative companies for breakthroughs in space (for Parker Solar Probe) and health care (for work on neurally controlled prosthetics).
The Applied Physics Laboratory, a not-for-profit division of The Johns Hopkins University, meets critical national challenges through the innovative application of science and technology. For more information, visit www.jhuapl.edu.