Press Release
The Young Scientists and the Sea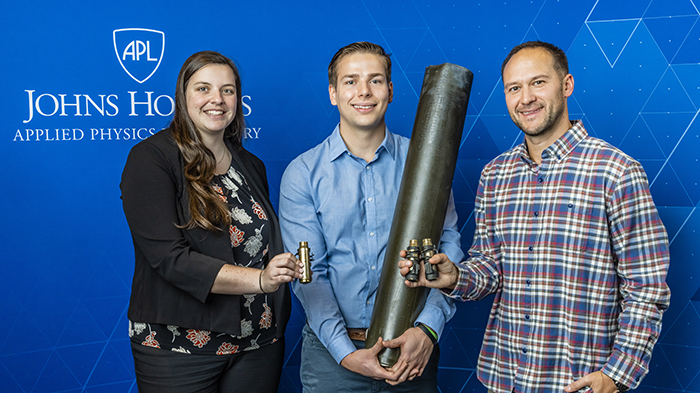 From left, Heather James, Abraham Edens and Josh Allen pose with souvenirs from their recent Scientists to Sea trips. Each went on a different U.S. naval ship for a week to work with service members on improving their capabilities and hardware.
Credit: Johns Hopkins APL
Thu, 01/23/2020 - 14:41
The Johns Hopkins Applied Physics Laboratory (APL) in Laurel, Maryland, participates in the Office of Naval Research Scientists to Sea (S2S) program, a unique opportunity for Navy research partners to directly experience how sailors live and work aboard ships.
APL's participation in the program was reinvigorated in 2017 and is open to all staff members through a first-come, first-served process, according to Wayne Pavalko, APL's S2S coordinator. Since then, 23 people have participated in the program, departing from either Naval Base San Diego or Naval Station Norfolk, on almost a dozen different vessels. The trip can last between three and five days, and each participant focuses on a different operational aspect.
Each participant's mission and experience are as different as their jobs. Here is an account of three APL staff members' time at sea, learning and growing while seeing their critical contributions come to life.
The Rookie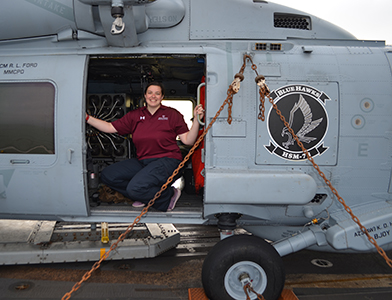 While researching opportunities to improve her skills as a human system engineer, Heather James heard about S2S.
In October, she boarded the USS Mobile Bay (CG-53), which was equipped with an upgraded Aegis cybersecurity system that James' section worked on. She took a coin representing APL's Air and Missile Defense Sector (AMDS) — a token to offer a member of the crew — along with helpful tips, a seabag and a customized APL Navy ship guide developed by APL's George Segredo.
"Talking to sailors is essential to meet their need to increase effective and efficient operation for a successful mission," said James, who had been at APL less than four months before heading to sea.
Some of what she learned will help her team develop better interfaces and training for sailors within the cybersecurity domain. Her section is also planning a cyber warfare system improvement conference for future naval cyber operations with a heavy focus on Aegis systems, training and deployment strategy.
"It will take some time to implement, but these findings could one day change the baseline for all initial cyber-warrior training on this and similar platforms," James said.
While James was all business during most of her time onboard, she did relish the opportunity to have some fun.
"I fly small fixed-wing aircraft in my spare time, and during my time on the ship, the MH-60 helicopter was performing deck landing qualifications," James said. "They had to land for the remainder of the time underway, which led to an opportunity. I was able to check it out, talk to the pilots, observe operations in the landing signal officer shack and get some pictures. I felt like a kid in a candy store!"
The Wild Card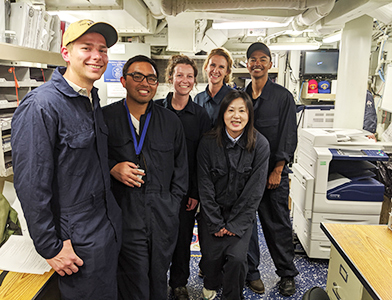 While James was on the USS Mobile Bay, Abraham Edens — a self-described adrenaline junkie — was getting his sea legs on the USS Stockdale (DDG-106).
"The first day on the ship, I watched the smooth and practiced processes of the crew performing all the necessary steps to get us out to sea safely," said Edens, an APL mechanical engineer who focuses on radar and electronic warfare development. "Once we were in open water, we explored the ship and spoke to the crew members responsible for maintaining the systems. I noticed how much pride every sailor had in touting the specifics of their system, and how incredibly knowledgeable they were about them."
He got to see several of those systems at work, from watching the Mark 45 five-inch gun complete target practice drills to observing deck landing qualifications with Navy and Marine Corps helicopter pilots. They also witnessed a spontaneous "tracking" drill.
"On our third night, the officer of the deck let us know that they spotted another U.S. naval destroyer on the commercial radar and were attempting a spontaneous 'sneak up' on them," Edens recounted. "It was really cool to see the directives taken for this unplanned drill, and demonstrated how practiced all the crew members were in adapting to sudden course changes, communicating information fluidly and clearly."
For Edens, watching the operations with an understanding of how equipment developed by engineers like him are used will help improve the designs and decisions made at APL for future systems. He considered this experience integral to grasping the importance of his work.
"The programs at APL directly impact the capabilities that the Navy has access to, and I was able to see how the systems we develop are integrated into the ship's structure, as well as how the operators interact with those systems," Edens said. "Coming back from the trip, I have a better understanding of what our customers' needs are while aboard the ship and what we can do to meet those requirements."
The Veteran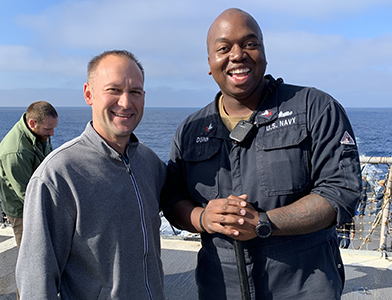 While most S2S participants have little to no experience aboard a ship, or working directly with service members, Army veteran Josh Allen viewed the program as something of a homecoming.
"I loved it," said Allen, who has been with APL for two years. "I was enlisted from 1999 to 2003, so after seeing the Navy side of the house in a daily environment, interacting with officers and enlisted, I have a newfound respect for them."
Allen, a systems administrator, focused on how the sailors handled the risk management framework, a federal government policy and standard to help secure information systems.
Traversing a large amount of the USS Princeton (CG-59) and seeing how the equipment functioned in the real-world environment was refreshing for Allen.
"I liked the physical aspect of a trip like this," he said. "Seeing who is on the other end from the missions I'm assigned to gives me a new perspective."
Allen not only wanted to see all the different types of equipment but also how that equipment was set up at sea.
"By reviewing their software platforms and operating systems on their internal systems, and how they handle different classifications of data, I could give them on-the-spot advice," he said.
Allen was also able to view the ship's vertical launch system and take part in a "Tiger Cruise pin" excursion. He described it as a knowledge scavenger hunt, with a charge to visit more than 50 locations and people to complete specific tasks to earn his travel pin.
"They really went above and beyond by doing that," Allen said. "Not only was I able to get certain aspects of my job complete, but I was also able to interact uniquely with the warfighters I serve, which is very special."
The Return
One of the most valuable aspects of the program is the return home to APL, where the staff members can share information and advice on the problems they face.
These staff members braved an unknown sea of questions and challenges to find solutions for warfighters. But the trials they face will not be done in a solo effort, as they will have each other to help solve them.
"Being able to ask questions of people who have been on a trip like this, work with other peers during the trip and then meet people like Heather and Josh is great," Edens said. "Knowing that I have a supporting team APL to work with on these issues is very reassuring."
As they all pulled into their respective ports, the excitement and hope for future trips like this resonated with each staff member.
"I want to go on a longer deployment," James said. "I know I was lucky to be able to go on my first try, whereas others had to wait a while, but the entire experience was worth the time spent. I would definitely do it again."
The Applied Physics Laboratory, a not-for-profit division of The Johns Hopkins University, meets critical national challenges through the innovative application of science and technology. For more information, visit www.jhuapl.edu.