Press Release
40 Days of Ice: Burchfield Travels to Arctic for a Cold SODA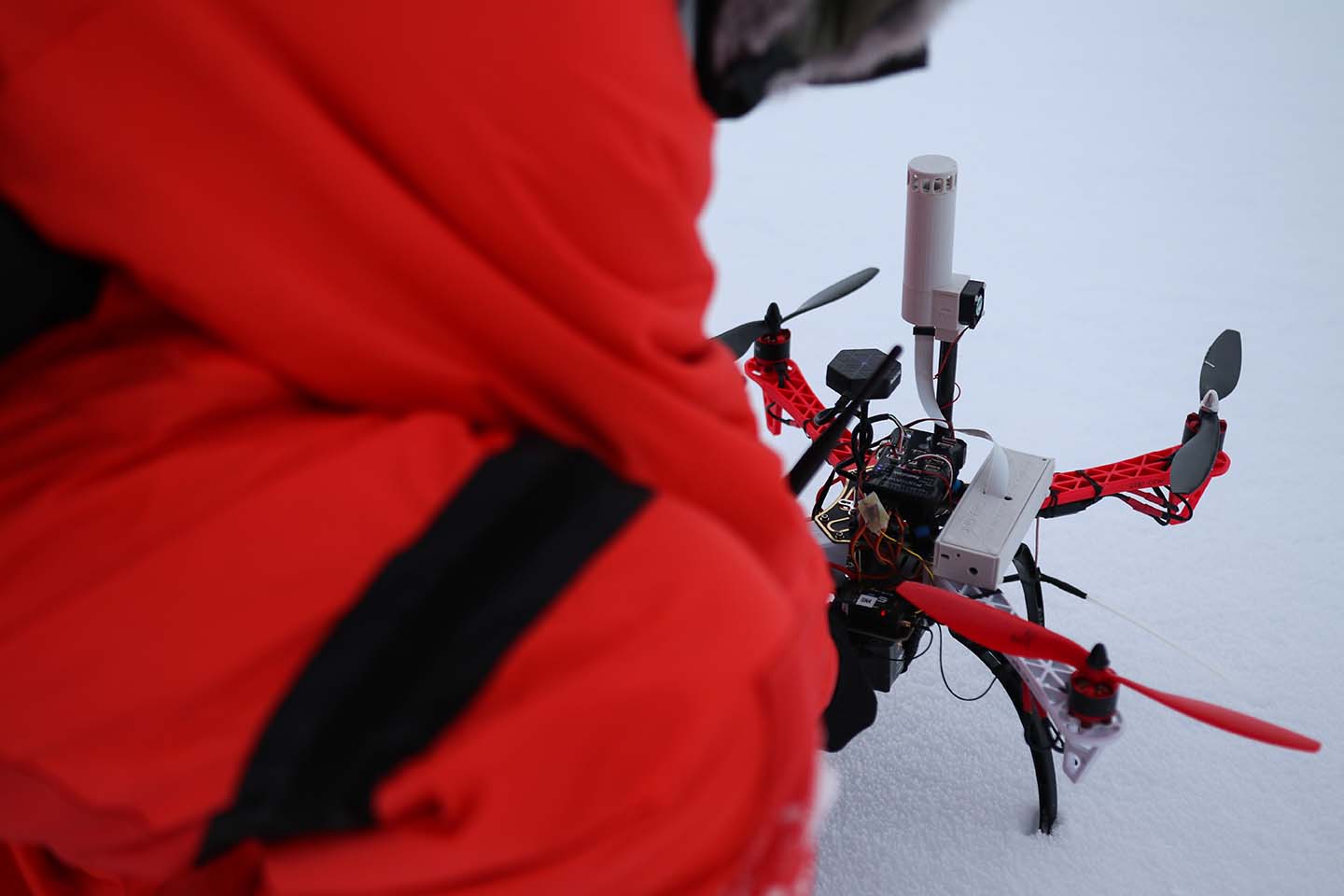 Burchfield works with a Met UAS in the Arctic.
Credit: Zachary Burchfield/Johns Hopkins APL
Thu, 12/05/2019 - 16:00
There's a chill in the air as the young scientist walks onto the deck of a ship and surveys the scene. He grins broadly as he watches ice floes come into view and relishes the moment. This unique monthlong mission to the Arctic, where not many people have tread, marks a milestone in his career.
In August, Zachary Burchfield represented Johns Hopkins Applied Physics Laboratory in the Office of Naval Research's Stratified Ocean Dynamics of the Arctic (SODA) initiative. Burchfield took part in a 42-day excursion aboard the U.S. Coast Guard cutter Healy to the northern region.
His goal was twofold: to use propagation characterization equipment (such as weather balloons, drones and transponders) and space exploration instrumentation (like antennas) to capture data.
"As the region opens, areas of opportunities could develop, and we want to ensure the equipment we use will function in this new environment," Burchfield explained.
The Healy is the nation's largest and most technologically advanced icebreaker, and it functions as a science vessel in addition to other roles. Burchfield posted the longest data-collection "tour" in his group's history by surpassing the 35-day effort last year by David Drzewiecki, who collected similar data but without drone profiles.
The drones were key to Burchfield's mission — and they also presented the first challenge he had to tackle.
"Our new prototype meteorological unmanned air systems (Met UAS) were custom built within one month and shipped the week before my departure," said Burchfield, an electrical engineer. "But due to the time constraints, they had not been tuned and calibrated, which could cause them to become unstable in flight."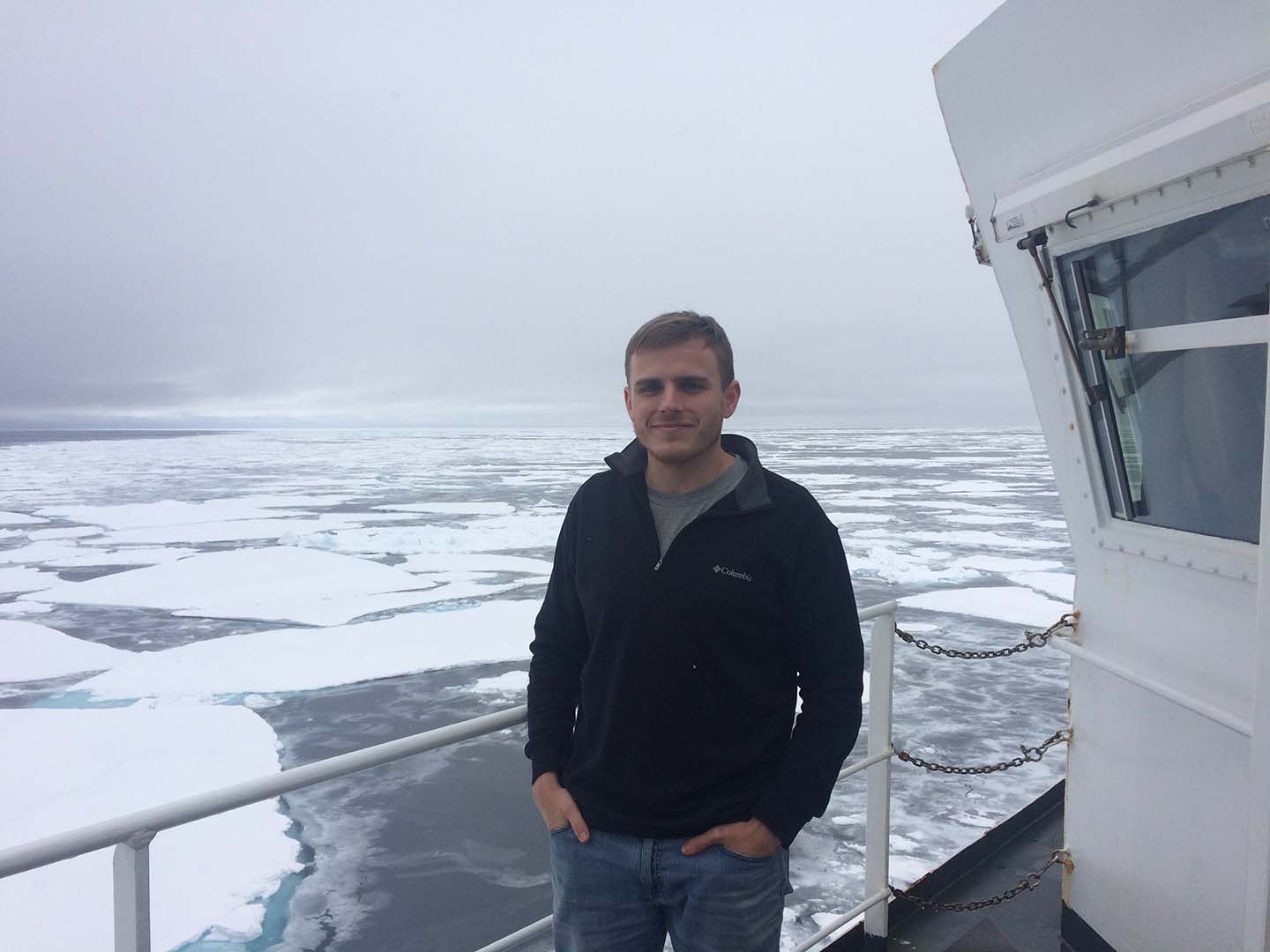 Zachary Burchfield aboard the U.S. Coast Guard cutter Healy.
Credit: Zachary Burchfield/Johns Hopkins APL
Back home, UAS team lead Marshall Jose determined the correct calibration with an identical drone at APL and sent the information to Burchfield aboard the Healy to program into the test drones. Once that happened, Burchfield was ready to fly the drones at heights not allowed back at the Lab.
"FAA rules limit our ability to test a UAS above a certain elevation at APL, but there are no rules like that in the Arctic," Burchfield said. "There are also other methods, like using helicopters, which are expensive, or non-recoverable items like rockets and weather balloons, so [using drones] will save us a major cost for these tests."
Knowing they had to use their limited resources wisely, section members also opted to hold the tests at a critical time — when sponsors needed to make decisions on technology investments.
"We have always prioritized requests to take our unique environmental instrumentation suites to new places to better understand the impact of propagation phenomenology for [research and exploration purposes]," said Gerry Konstanzer, Burchfield's group supervisor. "We were excited about the opportunity to do this in the Arctic — especially in cooperation with [other sectors]. The opportunity to fully test our Met UAS was a bonus that the team jumped on, and Zach's field improvisations made it a success."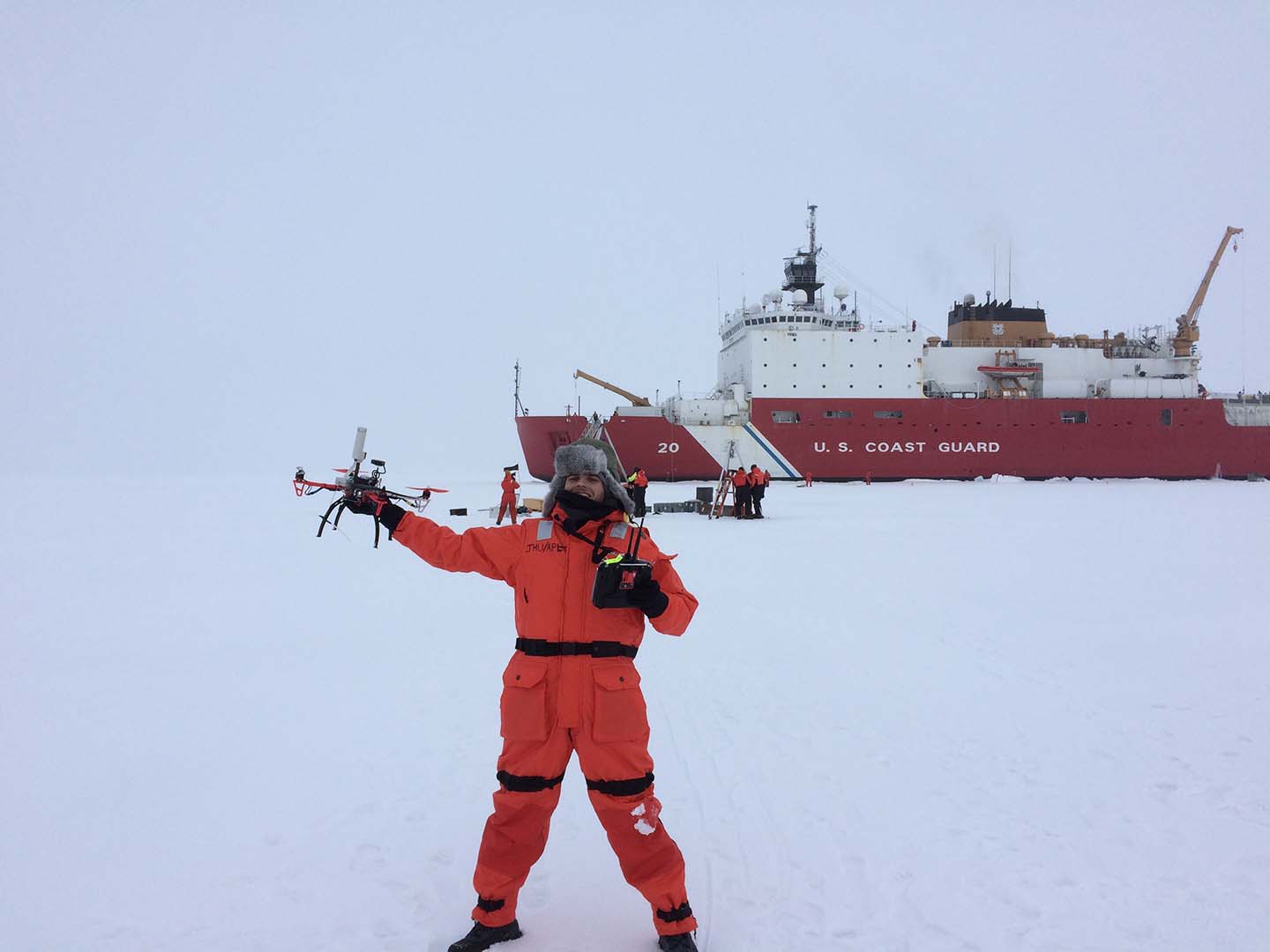 Burchfield after a successful test of Met UAS outside of the Healy.
Credit: Zachary Burchfield/Johns Hopkins APL
Burchfield launched 23 weather balloons to gather information on temperature, pressure, wind speed and wind direction up to an altitude of one kilometer, or just over a half-mile. But as the research team visited the first of two ice stations to conduct its test, he ran into a new problem.
"After I started sending out the UAS, it would go up and [unexpectedly] come back down. The flight-controller data identified the problem as low-battery voltage," Burchfield said with a sigh. "We realized the batteries were too cold to hold a charge."
With communications bandwidth limited and no internet to seek out a solution, Burchfield banded with other scientists on the SODA mission to address the issue.
"Everyone was helping on the SODA mission no matter what lab they came from, which made for great collaboration," Burchfield said. "So, to fix the [battery] issue, we came up with a practical solution: hand warmers."
The ingenious fix saved the UAS mission. Burchfield was able to perform three successful launches and recoveries of operations up to 1,000 meters — nearly 3,300 feet, an APL first.
"It felt awesome to collect the first Met UAS data up to one kilometer in the Arctic," said Burchfield. "If we can do it in this environment, we can just about do it anywhere."
During his time aboard the Healy, Burchfield braved winds of up to 50 knots (approximately 58 mph) and shivered in temperatures near or below freezing to help provide ice mosaics for a Lab space team (Mary Keller and Josh Cahill) that was supporting Healy's navigation through the ice and conducting a marine mammal watch.
The latter duty led to its own unique story.
"The marine mammal watch keeps our scientists safe and prevents us from disturbing an animal's natural behavior in their environment. This didn't matter to the polar bear that began heading our way while scientists were on the ice," said Burchfield. "Luckily, the [Coast Guardsmen] had a plan in place. We were able to extract ourselves safely and use the proper procedures to keep the animal at bay without causing harm to it, ourselves or its environment."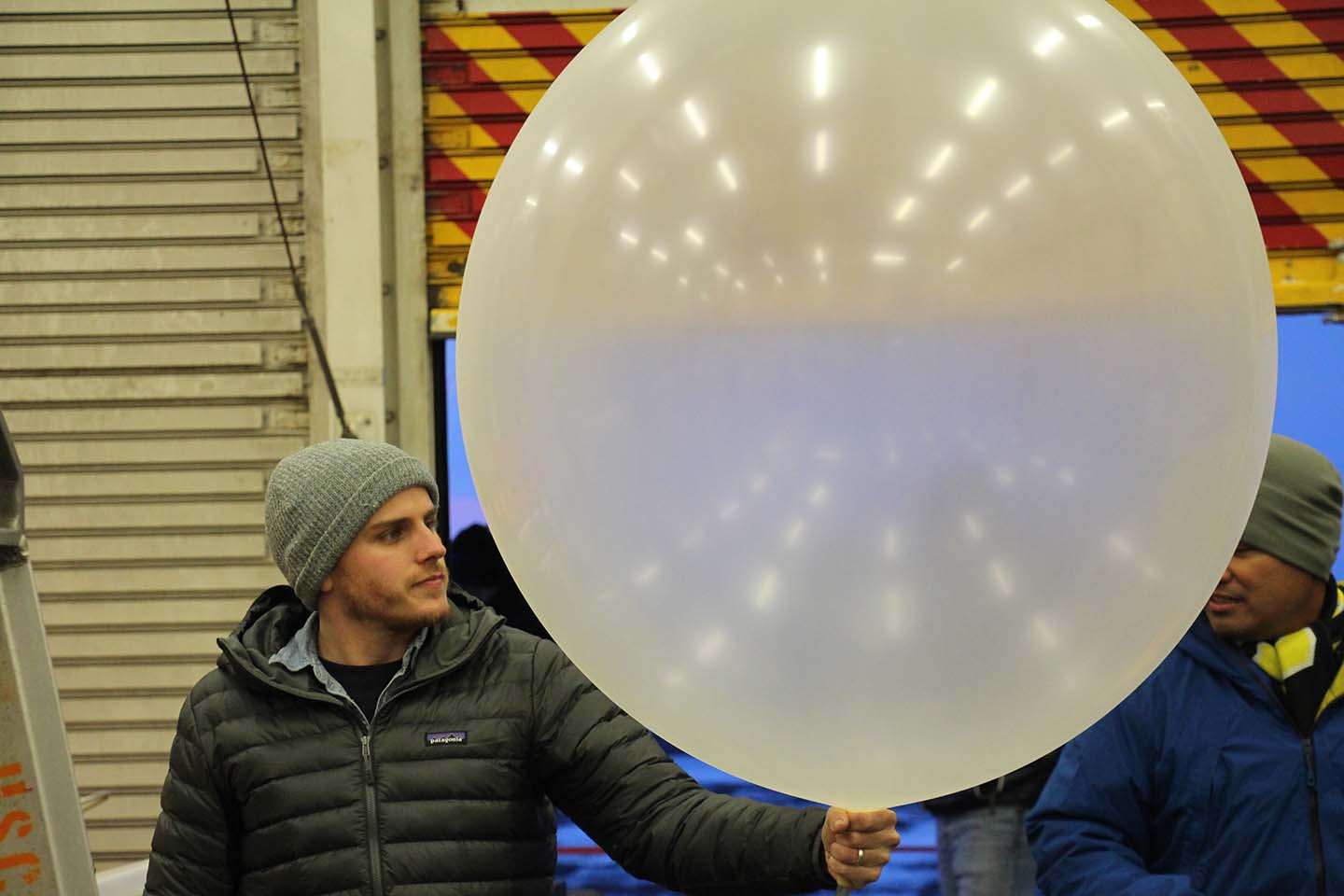 Burchfield prepares to launch a weather balloon.
Credit: Zachary Burchfield/Johns Hopkins APL
When he wasn't watching (or avoiding) wildlife, he enjoyed connecting with other scientists from other organizations.
"The people on board the ship were excellent," said Burchfield. "Everyone was collaborative and engaging and committed to the SODA initiative."
Meanwhile, in a warmer climate, Burchfield's section supervisor, Ross Rottier, attended the American Society of Naval Engineers Arctic Day in Washington, D.C., to discuss the increasingly critical strategic role of the Arctic, and attendees recognized APL efforts to characterize the propagation environment.
"As new sea lanes open in the Arctic, and other nations increase influence there, the nation has increased interest in understanding how it would operate to ensure security and promote defense," Konstanzer explained. "As in the past, they are turning to APL because of our unique capabilities and insights."
Andrew Riel, an assistant program manager with APL and the sector lead for APL's Arctic science and technology initiatives, concurred.
"This is a great example of why our sponsors chose APL to solve the most critical challenges facing the nation," said Riel. "We are able to bring to bear the full capability of the Laboratory regardless of the mission or program that the staff members are currently working for. This effort also highlights the outstanding dedication and collaboration among the scientists and researchers from the 15 different organizations that were involved in the SODA mission to help each other achieve their missions to advance the nation's capabilities both undersea and above water."
The Applied Physics Laboratory, a not-for-profit division of The Johns Hopkins University, meets critical national challenges through the innovative application of science and technology. For more information, visit www.jhuapl.edu.