Press Release
APL Researchers Know the CODE to Unmanned Aircraft Program's Success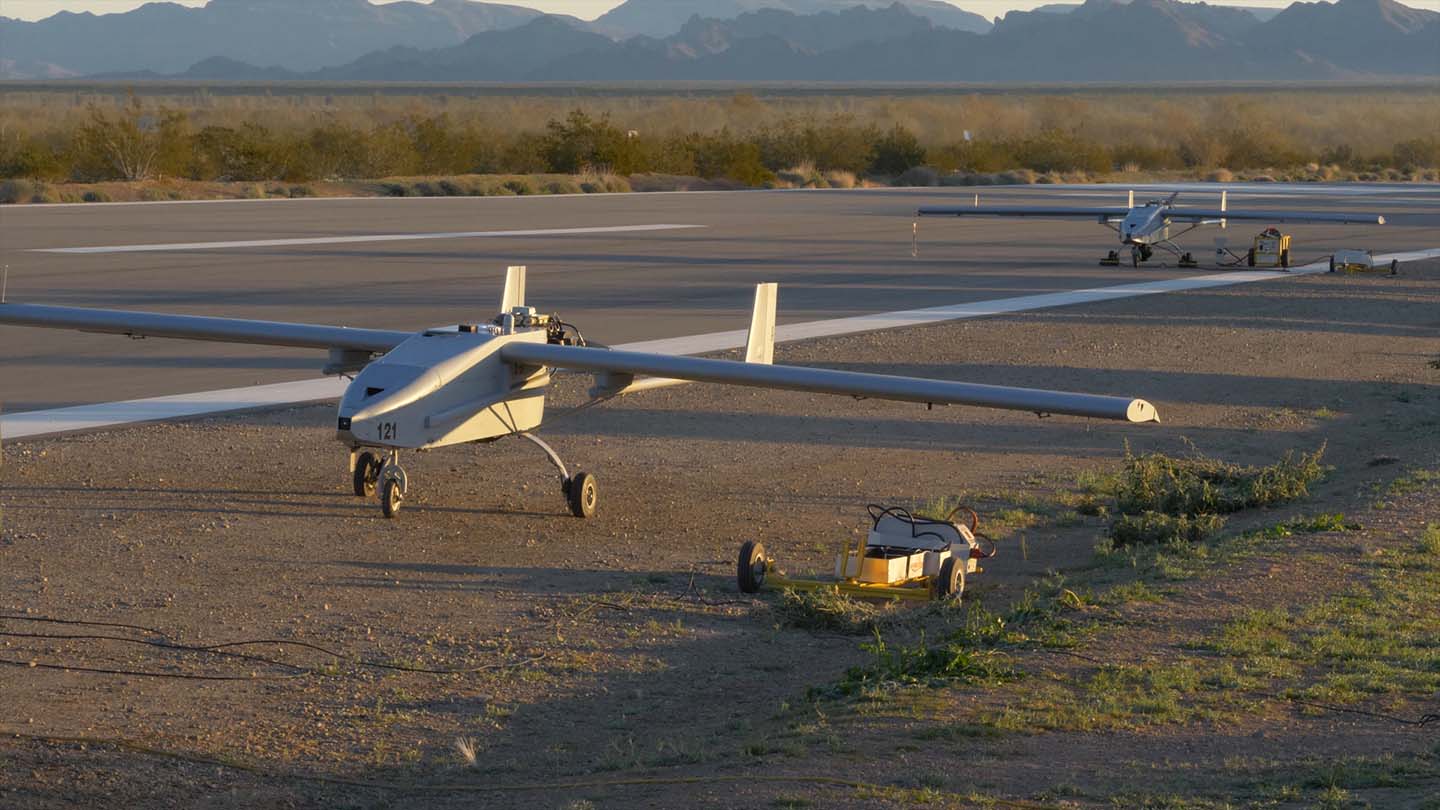 Q-23 Tigersharks line up on a runway at Yuma Proving Ground for the CODE demonstration.
Credit: DARPA
Thu, 05/30/2019 - 13:40
A multidisciplinary team of researchers from the Johns Hopkins University Applied Physics Laboratory (APL) in Laurel, Maryland, is helping to solve one of the Defense Department's most significant challenges: the test and evaluation of autonomous unmanned aerial systems.
DoD has recently expanded the roles and capabilities of unmanned systems in keeping with its desire to use autonomy to improve performance — through increased operational speed, reduced cognitive load and increased performance in denied environments. The test, evaluation, verification and validation of these systems is a critical element in building the high assurance of autonomy.
APL has developed the White Force Network (WFN), a highly sophisticated test infrastructure that injects key capabilities — such as communications and navigation in areas without GPS access — virtually into flying unmanned systems. "It also features a test director's workstation that displays data for all of the test assets and software switches to implement the denial services," said Reed Young, program manager for robotics and autonomy in APL's Research and Exploratory Development Department.
WFN was originally designed as an extension of the live, virtual and constructive (LVC) simulation infrastructure developed for DoD's Safe Testing of Autonomy in Complex Interactive Environments (TACE) program, which provided a baseline of LVC capabilities. TACE was funded by the Test Resource Management Center, the Test Evaluation/Science & Technology Program and the U.S. Army Contracting Command Orlando.
Through these extensions, WFN can create synthetic entities that team seamlessly with CODE-enabled vehicles to execute defined missions. In addition, WFN can simulate an opposing force of moving targets and various threats to stimulate defined autonomous behaviors and determine the overall performance of the unmanned aircraft team.
Most recently, WFN was used to support the Defense Advanced Research Projects Agency (DARPA) Collaborative Operations in Denied Environment (CODE) project. CODE is modular software that allows teams of unmanned systems to rapidly adapt to dynamic operational conditions and function effectively in so-called "denied" environments. The primary goal of the CODE program is to develop and demonstrate advances in collaborative autonomy — groups of unmanned systems working together under a single person's control — while ensuring resilience to bandwidth limitations and communications disruptions.
WFN has performed well in a series of CODE test events over the last few years. In the most recent test, in February, six RQ-23 Tigersharks equipped with an array of sensors took off from an airfield at the U.S. Army's Yuma Proving Ground in Arizona. In a mission operations center next to the runway, the team tracked the live aircraft and 24 synthetic team members.
During four demonstration runs, WFN simulated a variety of synthetic targets, threats and countermeasures to see how well the CODE-enabled Tigersharks could complete their objectives in suboptimal conditions. The CODE vehicles initially operated under a mission commander's supervision. But when communications were degraded or denied, the aircraft stayed on mission without human assistance — sharing information, cooperatively planning and allocating mission objectives, making coordinated tactical decisions, and collaboratively reacting to a dynamic, high-threat environment with minimal communication.
The CODE project ends this month, but CODE and WFN software are being transitioned to Naval Air Systems Command with the intent to make it available to other Department of Defense program offices. "There are several ongoing spin-offs," Young said.
APL's greater test and evaluation efforts are flourishing well beyond DARPA CODE; Young's team, for example, is supporting a military sponsor with similar capabilities, and the Laboratory is in final discussions with two additional sponsors.
The Applied Physics Laboratory, a not-for-profit division of The Johns Hopkins University, meets critical national challenges through the innovative application of science and technology. For more information, visit www.jhuapl.edu.