Press Release
Crafting Emergency Orders to Defend America's Electric Grid
Tue, 09/04/2018 - 14:05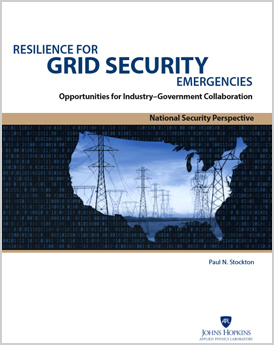 Russia and other potential adversaries are seeking to implant increasingly sophisticated cyber weapons on our power grid. Now, the United States has an unprecedented opportunity to help deter adversaries from using those weapons, and to prevent catastrophic blackouts if deterrence fails.
A new paper from Dr. Paul Stockton, Johns Hopkins Applied Physics Laboratory Senior Fellow, entitled "Resilience for Grid Security Emergencies: Opportunities for Industry–Government Collaboration," examines how power companies can partner with the Department of Energy to defeat attacks on the U.S. electric system. In particular, the study analyzes how these partners can develop emergency orders under the Federal Power Act, and coordinate their operations when attacks are imminent or underway. The paper also explores how emergency orders can assist power restoration even if adversaries continue striking the grid. 
"We need better plans and capabilities to 'play defense' in cyberwarfare," Dr. Stockton said. "Power companies are rapidly improving their own resilience against cyber and physical attacks. What is missing is operational coordination between government and industry, so that if adversaries strike, federal agencies will be ready to support grid operators through integrated, preplanned emergency orders."  The study proposes specific orders to provide for such unity of effort in grid security emergencies.
The study also recommends how power companies and government agencies can craft emergency orders to sustain electric service to vital military bases, regional hospitals, and other critical facilities that an adversary may seek to cripple.  By ensuring that these facilities have the power they need to keep functioning in a cyberattack, emergency orders can help raise adversaries' doubts as to whether they can achieve their goals in striking the grid. Emergency orders can also help ensure that U.S. defense installations and supporting civilian infrastructure systems have the electricity they require to project power abroad and prevail against attackers.  Both of these resilience improvements can help deter strikes on the grid, and advance the study's ultimate goal — reduce the likelihood that cyberattacks will ever occur.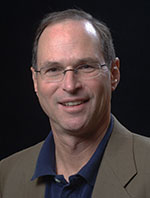 Dr. Stockton is managing director of Sonecon, LLC, and was the assistant secretary of defense for Homeland Defense and Americas' Security Affairs during Superstorm Sandy. He helped lead the Department of Defense's support for utility power restoration efforts during the superstorm.
APL provides critical contributions to critical national challenges in a broad array of technical domains. Among other missions, APL supports government agencies in ensuring the cyber and physical security of national and defense critical infrastructure through its Cyber Operations and Homeland Protection mission areas.
The Applied Physics Laboratory, a not-for-profit division of The Johns Hopkins University, meets critical national challenges through the innovative application of science and technology. For more information, visit www.jhuapl.edu.