Press Release
APL, Navy Teaming Up to Improve Military Health Care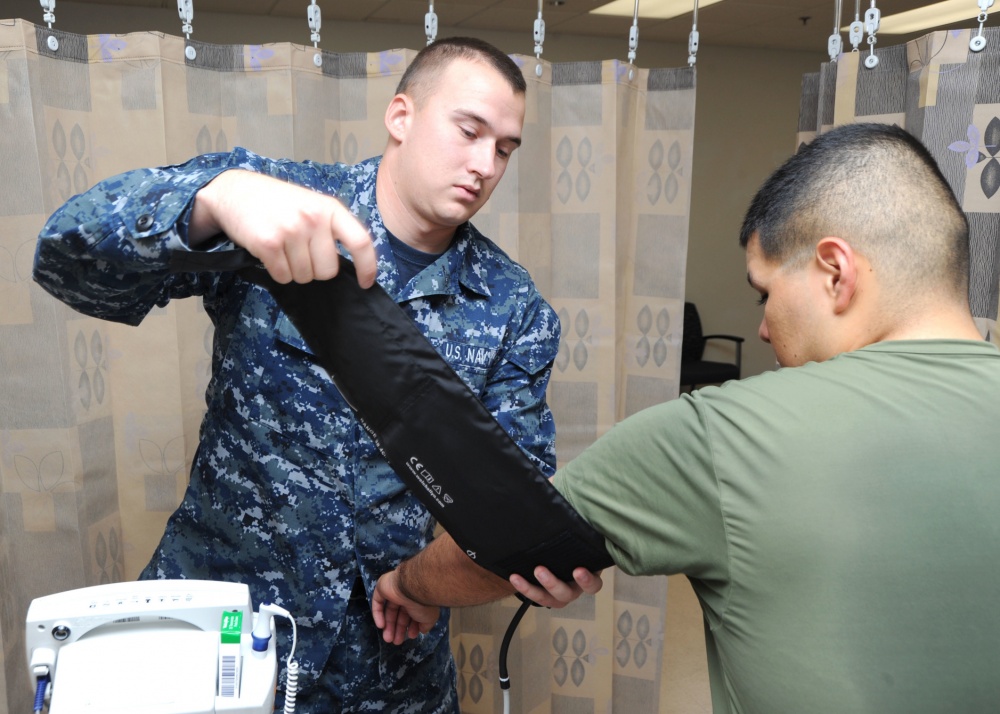 Through the Connected Corpsmen in the Community concept, piloted successfully at the Naval Hospital of Pensacola, APL is working with the Navy to expand access to care for service members.
Credit: Navy.Mil
Thu, 08/02/2018 - 14:41
Health systems engineers from the Johns Hopkins Applied Physics Laboratory (APL) in Laurel, Maryland, are working with the Navy to expand the role of Navy hospital corpsmen stateside and improve access to medical care for military members through a pilot program called Connected Corpsmen in the Community (CCC).
APL is providing systems integration, capability assessments and data analysis to improve health care delivery models for active-duty service members in Pensacola, Florida.
As part of this newly developed treatment model, corpsmen are now using virtual connections while treating stateside service members for minor injuries including sprains, strains, joint pain, upper respiratory infections, insect bites, suture removal and more. The virtual connections link corpsmen to credentialed providers using telemedicine technologies allowing licensed Navy physicians to monitor exams and instantly review patient imagery to assist with diagnoses.
Working with staff from the Navy Bureau of Medicine and Surgery (BUMED), Navy Medicine East, Navy Medicine West, the Navy Medicine Education, Training and Logistics Command and Naval Hospital Pensacola (NHP), the APL team developed CCC and tested it at Pensacola's Naval Air Technical Training Center to benefit the center's large population of students.
"APL is uniquely positioned as a trusted, objective national resource to play a key role in this critical initiative for Navy Medicine," said Sezin A. Palmer, APL's National Health mission area executive. "Not only is our team helping enlisted medical staff maintain competencies in preparation for deployments, they are also improving access and convenience of care for active-duty service members." Since its inception, CCC has proven successful and has expanded to two additional sites.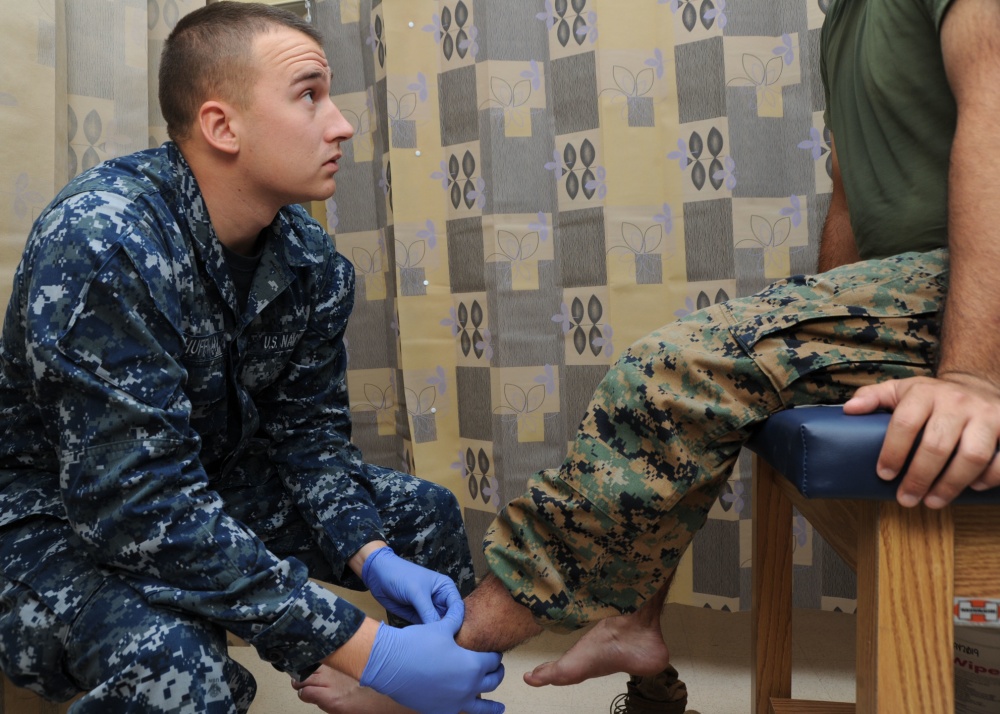 A hospital corpsman examines a patient's ankle as part of the Connected Corpsmen in the Community program in Pensacola.
Credit: Navy.Mil
A population analysis developed and performed by APL helped the Navy understand the prevalence of certain high volume and low acuity conditions across its forces, which identified the need for expanded routine care. "The program is designed to provide our active-duty force with more health care choices for routine care while also providing our Navy hospital enlisted medical personnel, who save lives on the battlefield, with additional experience while assigned to shore-based facilities here at home," said Capt. Amy Branstetter, commanding officer, NHP.
Navy Medicine is a global network of 63,000 personnel that provides health care support primarily to members of the Navy and Marine Corps, their families, and veterans in high operational-tempo environments at expeditionary medical facilities, treatment facilities, hospitals, clinics, hospital ships and research units around the world.
APL's National Health Mission Area seeks to understand the complex, multidisciplinary technical and operational capabilities needed to fundamentally transform health and the delivery of care. The Lab's deep understanding of systems engineering and analytical expertise allow it to develop and deliver scalable, sustainable and resilient solutions to a broad range of challenges.
The Applied Physics Laboratory, a not-for-profit division of The Johns Hopkins University, meets critical national challenges through the innovative application of science and technology. For more information, visit www.jhuapl.edu.