Press Release
APL Director Semmel Receives Maryland International Business Leadership Award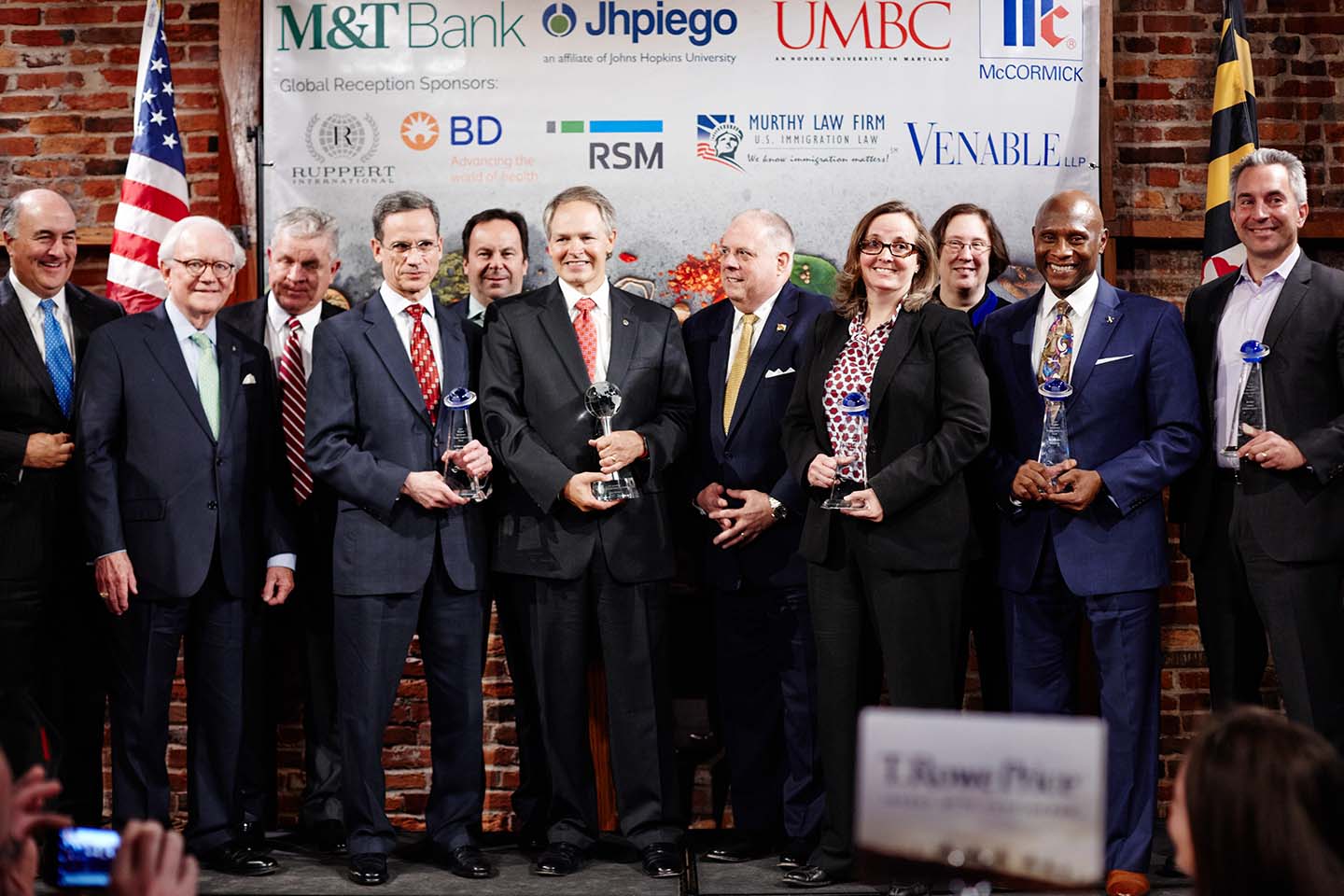 Johns Hopkins APL Director Ralph Semmel (fourth from left) accepts WTCI's Maryland International Business Leadership Award.
Credit: WTCI
Tue, 03/21/2017 - 14:47
Johns Hopkins Applied Physics Laboratory Director Ralph Semmel has received a Maryland International Business Leadership Award from the World Trade Center Institute (WTCI).
Lauded for his guidance of an organization that "defines and celebrates vision, international success and excellence in leadership," Semmel accepted the honor at WTCI's annual Maryland International Leadership Awards ceremony, attended by nearly 300 leaders from Maryland businesses and academia on March 8 at the American Visionary Art Museum in Baltimore. Watch the WTCI video honoring Semmel and APL's contributions to business and technology.
In addition to Semmel, other 2017 honorees included Alan Wilson, former chairman and CEO of McCormick & Company; Ron Gula, Tenable Network Security; and Linda Hartke, Lutheran Immigration and Refugee Service. Freeman Hrabowski, president of the University of Maryland, Baltimore County, and a previous recipient of WTCI's Governor's Leadership Award, made opening remarks and highlighted the contributions of the region's higher educational institutions to the business community.
WTCI, one of the largest international business networks in the Mid-Atlantic region, helps drive the growth of Maryland's flourishing global business community. More than 2,500 Maryland firms benefit from the organization's global connections, events and international business services. WTCI is a member of the World Trade Center Association, teamed with 320 fellow world trade centers operating in 96 countries around the world.
The Applied Physics Laboratory, a not-for-profit division of The Johns Hopkins University, meets critical national challenges through the innovative application of science and technology. For more information, visit www.jhuapl.edu.