Press Release
Six APL Engineers to Receive Black Engineer of the Year Awards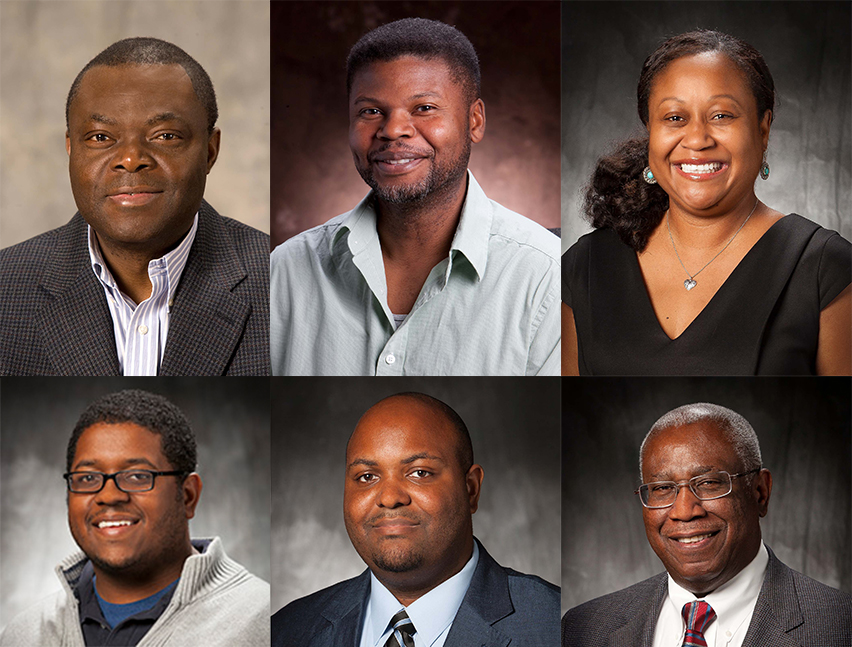 Top row (left to right): Wale Akinpelu, George Coles, and Camille Daniel. Bottom row (left to right): Khadir Griffith, Anthony Plummer, and Anthony Watkins.
Credit: JHU/APL
Tue, 02/03/2015 - 14:32
Six staff members of the Johns Hopkins University Applied Physics Laboratory (APL) in Laurel, Maryland, have been awarded Black Engineer of the Year Awards. George Coles, Wale Akinpelu, Camille Daniel, Khadir Griffith, Anthony Watkins and Anthony Plummer will be honored this weekend at the organization's annual Science, Technology, Engineering and Math (STEM) Global Competitiveness Conference in Washington, D.C.
The BEYA STEM Conference and awards were established 29 years ago to promote career opportunities in engineering, science and technology to historically underrepresented groups in STEM fields through professional and career development, educational programs, awards programs and career placement opportunities. The awards are hosted by U.S. Black Engineer & Information Technology magazine, the Council of Engineering Deans of the Historically Black Colleges and Universities, and Lockheed Martin Corporation.
Research Leadership
Coles, a microelectronic process engineer, received the BEYA Research Leadership Award, given to scientists who have proven to be consistent leaders in discovering, developing and implementing new technologies, and whose work changes the way people live and work. A member of APL's Principal Professional Staff, Coles manages large programs that improve our nation's health care and ensure our military superiority.
Trailblazers
Griffith, Akinpelu, Daniel and Watkins were each awarded the Science Spectrum Trailblazer award, given to men and women actively creating new paths for others in science, research, technology and development.
Griffith, a radar systems engineer, has made critical contributions to the Navy's new Air and Missile Defense Radar program, the Navy's AEGIS weapon system program, and several complex studies sponsored by the Navy and Missile Defense Agency.
Akinpelu, a member of APL's Principal Professional Staff, is a computer scientist with extensive background in enterprise network design and system testing and evaluation. He designed and implemented the APL Secure Communications Assessment Network, which is used to evaluate secure communication services for national senior leaders and Department of Defense enterprise users.
Daniel has an extensive background in the analysis of submarine systems and algorithm evaluation, and has served on several Navy operational staffs as the APL liaison in a technically focused analytical position.
Watkins, a senior-level systems engineer, has contributed to the design and analysis of major customer site installations to optimize signals collection in harsh radio frequency environments. His most recent work has been in the area of position navigation and timing to optimize the performance of GPS receivers in a vast array of RF environments.
Promising Engineer
Plummer, a communications and networking engineer, received the BEYA Award for Most Promising Engineer, awarded to engineers in the early years of their career who demonstrate tremendous potential for future technical contributions.
Plummer came to APL in 2011 after earning a Ph.D. in electrical engineering from Michigan State University. In three years, he has established himself as one of the Laboratory's experts on network analysis, using deep packet analysis techniques. He led the development and deployment of a software package for the U.S. Army that is used to help understand and analyze near-real-time wireless network performance.
The Applied Physics Laboratory, a not-for-profit division of The Johns Hopkins University, meets critical national challenges through the innovative application of science and technology. For more information, visit www.jhuapl.edu.