Press Release
APL Plays Key Role in Sophisticated Naval Ballistic Missile Defense Test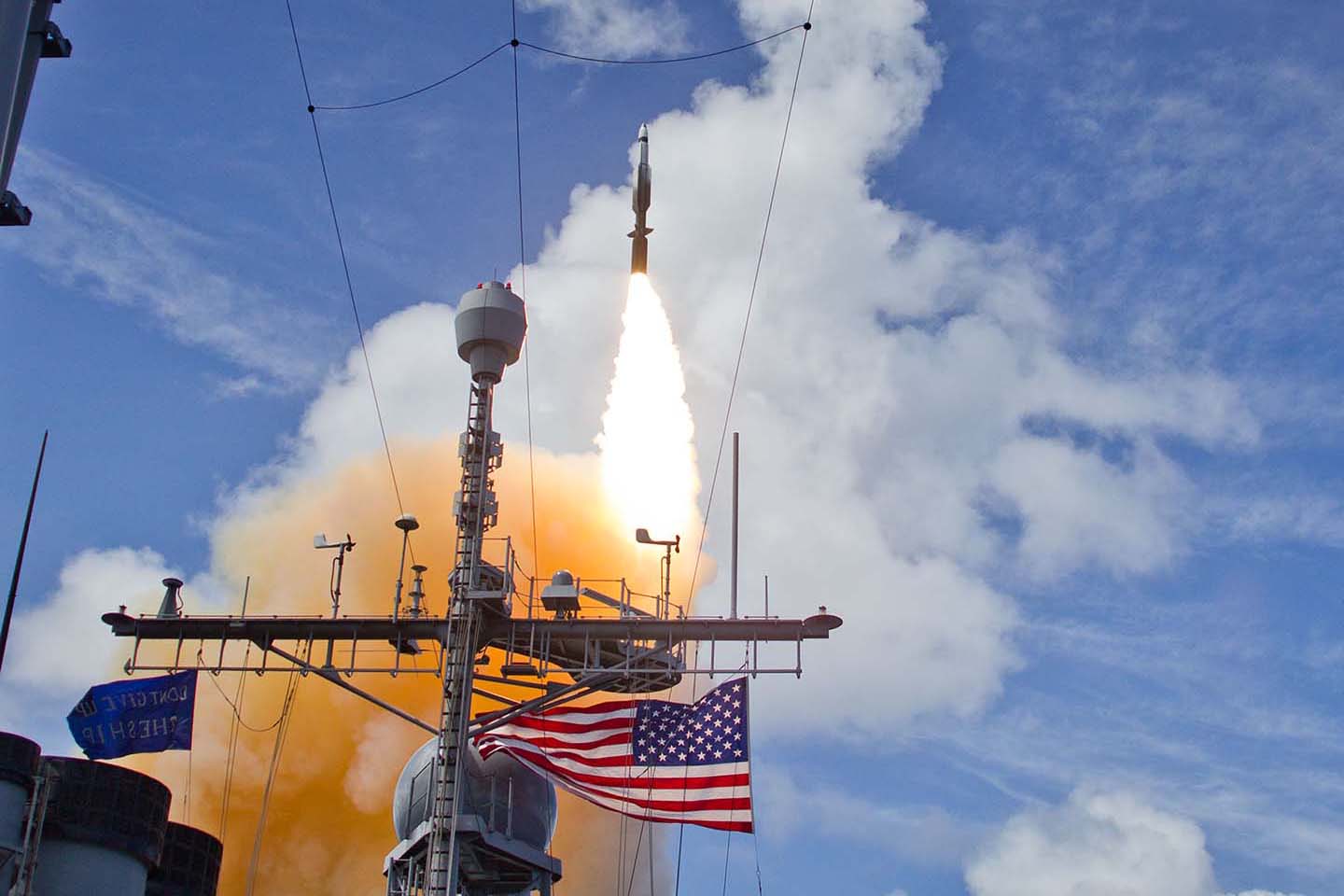 September 18, 2013: An SM-3 Block 1B interceptor is launched from the USS Lake Erie during an MDA test and successfully intercepted a complex short-range ballistic missile target off the coast of Kauai, Hawaii.
Credit: MDA
Fri, 09/20/2013 - 10:26
Engineers from the Johns Hopkins University Applied Physics Laboratory (APL) in Laurel, Md., played an important role in the successful intercept of a separating ballistic missile target with the second-generation Aegis Ballistic Missile Defense (BMD) Weapon System and two SM-3 Block IB guided missiles.
The APL team led system-level performance analysis and evaluation for Flight Test – Standard Missile-21 (FTM-21). This operational test demonstrated the ability to fire a salvo of two SM-3 missiles to successfully engage an incoming ballistic missile target. The flight test was conducted by the Missile Defense Agency (MDA) and U.S. Navy Sailors aboard the USS Lake Erie (CG 70).
At 2:30 p.m. (HST) on Sept. 18, a ballistic missile target was launched from the Pacific Missile Range Facility, on Kauai, Hawaii. The target flew northwest toward a broad ocean area of the Pacific. Following the target launch, the USS Lake Erie detected and tracked the missile with its onboard AN/SPY-1 radar. The ship's Aegis BMD Weapon System developed a fire control solution and fired a salvo of two SM-3 Block IB guided missiles to engage the target. The SM-3s maneuvered to a point in space and released their kinetic warheads. The kinetic warhead of the first missile acquired the target reentry vehicle, diverted into its path, and — using only the force of a direct impact — destroyed the target.
APL engineers and analysts worked closely with MDA to plan the test's live-fire scenario and predict system performance before the flight. "This test provided a live-fire demonstration of the Aegis BMD Weapon System's ability to salvo multiple SM-3s against an incoming target and successfully destroy the target," says APL's Vishal Giare, Assistant BMD Program Area Manager for Aegis BMD. As the Technical Direction Agent (TDA) for Aegis BMD, APL is an integral part of the full systems engineering life cycle, including testing and transition of the BMD capability to the fleet.
Initial indications are that all components performed as designed. Program officials will assess and evaluate system performance based upon telemetry and other data obtained during the test.
FTM-21 was the fourth consecutive successful intercept test of the SM-3 Block IB guided missile with the second-generation Aegis BMD Weapon System and SM-3 Block IB guided missile. This flight test improves the Aegis BMD flight test record to 27 successful intercepts in 33 attempts.
The Applied Physics Laboratory, a not-for-profit division of The Johns Hopkins University, meets critical national challenges through the innovative application of science and technology. For more information, visit www.jhuapl.edu.