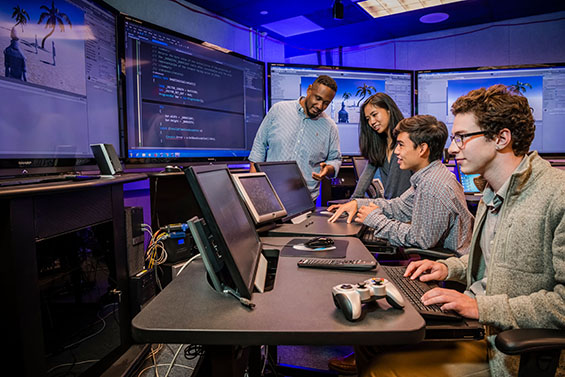 Career Opportunities
Internships
Our college interns receive competitive pay, paid holidays, and networking opportunities. 
Not ready to apply? We post new opportunities regularly. Sign up to receive job alerts.
Innovate for a Better World
From day one, we give you the opportunity to use the skills you've gained at school to push the boundaries of science and technology. We provide you with a strong support system of dedicated coworkers and opportunities to work on projects that truly mean something. When you join APL as an intern, our goal is to give you the tools and resources that allow you to shape the career of your dreams.
Our college interns receive competitive pay, paid holidays, and networking opportunities.
Our college internship programs require a minimum GPA of 3.0, and we accept applications from September 1 through March 31. Ready to join us?
Typical internship assignments may include:
Developing software applications
Designing and prototyping hardware and electronic instruments
Signal processing and data analysis
Algorithm analysis and development
Embedded systems testing and integration
Modeling and simulation
APL College Intern Program

Join us for a summer internship experience like no other. At APL, your internship will bring you together with students from all over the country to work on real-world problems and learn from some of the top minds in your field. If you're passionate about solving complex challenges and want to have a direct impact, we hope you'll join us. The majority of our internships are in technical fields. We have a few business internship opportunities.

ATLAS Intern Program

Our APL Technology Leaders and Scholars (ATLAS) summer intern program partners with Historically Black Colleges and Universities (HBCUs), Hispanic-Serving Institutions (HSIs), and Tribal Colleges and Universities (TCUs) to connect STEM students with our technical challenges. You will have the opportunity to work on projects alongside experts in your field and attend professional development workshops that focus on giving presentations, interview skills, resume writing, and more.

RISE@APL Intern Program

The RISE@APL program is for Johns Hopkins University students majoring in engineering, computer science, applied mathematics, or physics who want to better prepare for a technical career. As a part of RISE@APL, you'll work alongside experts in your field, focus on professional development, and make critical contributions to our mission.

ASPIRE High School Intern Program

If you're a high school junior or senior who wants to see real-world applications of what you're learning in school while getting hands-on experience, check out our ASPIRE High School Intern Program.

GEM Graduate School Internships

The National Consortium for Graduate Degrees for Minorities in Engineering and Science, Inc. (GEM) is a nonprofit organization dedicated to assisting underrepresented students who want to enter graduate school after obtaining their bachelor's degree. The consortium provides many opportunities to underrepresented students, including paid summer internships, stipends, and tuition waivers.
Recruiting Events

Connect with us at an upcoming recruiting event to learn more about career and internship opportunities at APL.
What's it like being an intern at Johns Hopkins APL?
My third week here, I was told that a sponsor was going to use some of the technology I had personally been working on. It was amazing to see that happen as an intern.
We're Proud to Be a 2023 Handshake Early Talent Award Winner!
Johns Hopkins APL Again Named a Handshake Early Talent Award Winner

Mar 21, 2023
Join Our Talent Community!

Joining APL's Talent Community is a great way to learn more about the Laboratory, our culture, and future opportunities.