News
Johns Hopkins APL Intern Develops Wearable Haptic Prototype
Wed, 09/13/2023 - 10:45
Erin Copland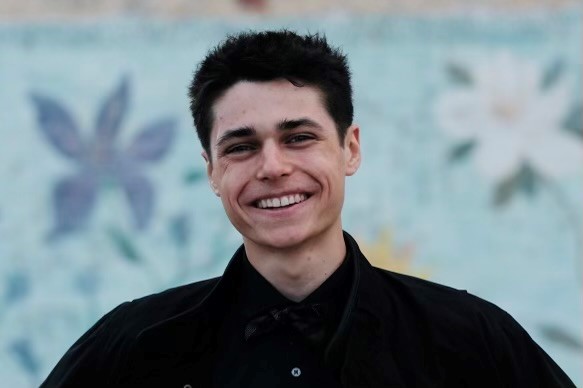 Ben Otter, an intern in the Johns Hopkins Applied Physics Laboratory's (APL) Air and Missile Defense Sector and the Johns Hopkins Institute for Assured Autonomy (IAA), has been using his free time to develop a wearable haptic prototype that allows users to augment their spatial awareness by using a sensor that they normally don't have — a magnetometer, or an electronic compass. While wearing the headpiece, a user can be aware of what direction they're facing by the way the prototype buzzes as they turn around.
"It all started when I was grabbing a coffee in one of the APL cafeterias and sketching in my notebook," Otter explained. "I had this idea for a tool that uses orientation data to give you a constant awareness of where you're looking at all times."
Otter sketched out a prototype and shared it during a design thinking class in Central Spark, an innovation and maker space at the Laboratory. He showed the class instructor, Erin Conroy, an Innovation and Collaboration program project manager, who immediately encouraged his pursuit.
Otter poked around the supplies available in Central Spark to see if the materials needed to build out the prototype were already there. But when that search didn't produce everything he'd need, David Casselbury — who manages the Central Spark space — helped order the parts Otter required, such as a magnetometer, motors and drivers. "Even though at that point it was still just a personal project that I was working on, it was amazing to have access to the tools and resources I needed," Otter said.
From there, the development was a team effort, Otter said. Several other staff members and fellow interns helped him develop ideas for how such a prototype might be used. Some thoughts included assistance for the visually impaired, use in search and rescue teams, various warfighter applications and even human-machine teaming during space exploration.
Otter then pitched the idea to his group supervisor Lynn Reggia, who oversees the human-machine engineering group, and secured funding to work on the technology in earnest. He is also writing a white paper on his prototype.
"I've been able to use my time here to work on a tool that I think could have a serious, significant impact in ground-based operations in human-machine teaming, at a very low cost," Otter said.
Team members have provided feedback on the white paper, and Otter's assistant group supervisor David Helmer met with him to talk through more use cases and how the prototype can be oriented toward warfighter needs.
Otter has always had an interest in "engineering and tinkering." He and his father built a workshop for his use in a room behind their garage, and Otter's idea for the haptic prototype arose in part from the lidar sensor that he added to his bike, which would alert him with a beep when a car was behind him. Otter also converted a minivan into an RV so that he could take it on road trips after graduating six months early from high school this year.
Otter will begin his freshman year at Stanford University this fall studying engineering. He interned through APL's Student Program to Inspire, Relate and Enrich (ASPIRE) last summer, where he worked with his mentor, applied operations research engineer Amber Mills, learning about the ethical implementation of artificial intelligence. He also worked on an IAA project creating a digital model of an autonomous vehicle for simulation and virtual testing.
Otter said that Mills ensured he had access to as many opportunities as possible, such as participating in a book club focused on exploring critical thinking skills about technology and its impacts, and attending events such as the Extended Reality (XR) Symposium and a Lunar Surface Innovation Consortium workshop.
"What's really cool is the amount of expertise I'm just brushing up against being here at APL," Otter said. "I've met with people who work in biomechanics, or with other haptic devices. It's been cool to use this to make connections in tech areas that I'm really interested in."
Otter planned to show his prototype to as many people as he could and then leave it as a resource at APL to be integrated into other projects.
"As an APL intern, you're exposed to this entire world. And to get to experience that, at this age, I just feel so lucky to be here," Otter said. "It's been amazing."
Innovate for a Better World

Internships at APL

From day one, we give you the opportunity to use the skills you've gained at school to push the boundaries of science and technology. We provide you with a strong support system of dedicated coworkers and opportunities to work on projects that truly mean something. When you join APL as an intern, our goal is to give you the tools and resources that allow you to shape the career of your dreams.
The Applied Physics Laboratory, a not-for-profit division of The Johns Hopkins University, meets critical national challenges through the innovative application of science and technology. For more information, visit www.jhuapl.edu.