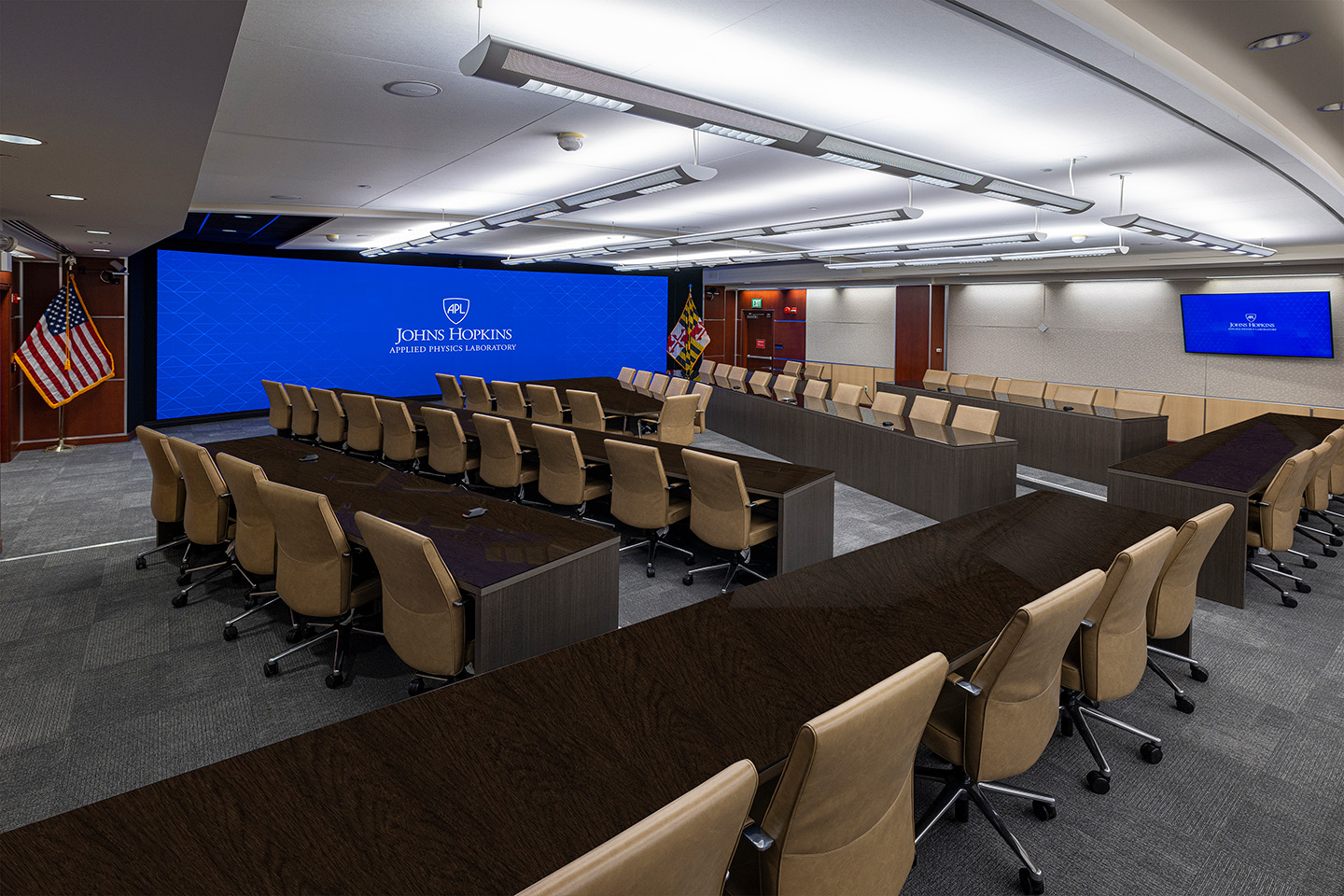 National Security Analysis Mission Area
Facilities
Collaborative Analysis Center
Johns Hopkins Applied Physics Laboratory's Collaborative Analysis Center (CAC) provides a secure setting for immersive collaborative analysis, gaming, and strategy events that tackle challenges in critical areas such as national security, military readiness, space exploration, and national health.
Conveniently located in the Baltimore/Washington corridor, the CAC offers APL and its government partners an accessible site to gather and examine complex technical, operational, policy, and strategy issues.
Facility Overview
Prime Location and Easy Accessibility
The CAC, located on APL's main campus in Laurel, Maryland, is approximately 25 minutes from BWI Marshall Airport and 45 minutes from downtown DC.
Capacity
Totaling 3,000 square feet, the CAC features two adjoining meeting spaces that have been designed and built to host secure meetings, events, and tabletop exercises that can accommodate all types of personnel, from project teams to senior national security leaders:
CAC Main Room: 100-seat immersive meeting space with 53 table seats and 47 gallery seats
CAC Planning Room: 25-seat immersive meeting space with 10 table seats and 15 gallery seats
Audio/Video
The CAC features high-definition LED video walls in each room with robust screen resolutions capable of dual 4K side-by-side images. Refined acoustics and our available audiovisual capabilities provide a truly unique immersive experience.
Collaborative Tools
Access to unclassified collaboration tools can be provided, including ZoomGov, Microsoft Teams, and XLeap. Useful presenter tools, including design thinking boards and a confidence monitor, are also available. Collateral classified video teleconferences can be supported.
Support Team
The CAC has full-time staff dedicated to addressing meeting logistics, managing security requirements, and operating a full spectrum of display, audio, and collaborative capabilities to ensure the success of your event.
Classification
The CAC is a multilevel security facility. Please reach out using the contact information below to discuss current security-level details.
Learn More About the CAC
Contact us to learn more about APL's Collaborative Analysis Center, including security-level details.