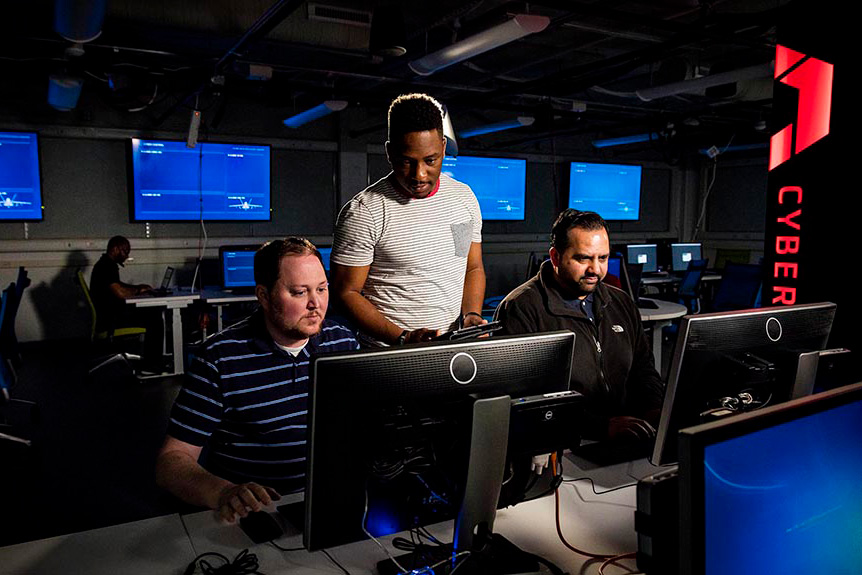 Mission Area
Cyber Operations
Creating Disruptive Capabilities to Ensure U.S. Asymmetric Advantage in Cyberspace
APL's Cyber Operations Mission Area creates disruptive capabilities to ensure U.S. advantage in cyberspace by:
Developing innovative concepts and engineering large-scale systems
Delivering quick responses to emerging cyber requirements, drawing on expertise in missions and operations
Pursuing cutting-edge science and technology thrusts
The Cyber Operations Mission Area helps advance U.S. cyber capabilities as a trusted partner to major U.S. government acquisition programs for cyber systems, and increases the resilience of our nuclear command, control, and communications (NC3); national leadership communication systems; naval hull, mechanical, and electrical systems; and critical infrastructure systems. 
We are focused on assuring key Department of Defense missions and critical infrastructure, delivering solutions to enable intelligence and military operations, and developing the systems that underpin novel operational capabilities in cyberspace and across the electromagnetic spectrum. We partner with industry and academia to advance technology and serve on coalitions alongside peer organizations for national impact.

May 12, 2023

Codebreaker Dickie George Inducted Into National Cryptologic Hall of Honor

One of the world's foremost codebreaking mathematicians was recognized by the National Security Agency on May 8 when Richard "Dickie" George was inducted into the National Cryptologic Hall of Honor. George and three others joined the ranks of just 106 inductees in U.S. history honored for their extraordinary contributions to national security through cryptology.

Learn more about Codebreaker Dickie George Inducted Into National Cryptologic Hall of Honor


Apr 26, 2023

Johns Hopkins APL's Out-of-Band Communications Technology Receives Boost From Department of Homeland Security

The Department of Homeland Security has awarded APL funds through its Commercialization Accelerator Program to help the Laboratory accelerate the commercial transfer of a novel technology that provides secure access to networks interrupted by cyberattacks or outages.

Learn more about Johns Hopkins APL's Out-of-Band Communications Technology Receives Boost From Department of Homeland Security


Jan 10, 2023

Creating a New Cybersecurity Paradigm for a Cloud-Based World

Scientists, mathematicians and engineers at APL are building a new cybersecurity paradigm that's suited to the realities of how computing and collaborating are done in the 21st century. Their work has applications in health care, weapons systems and space, as well as in protecting critical infrastructure and industry generally.

Learn more about Creating a New Cybersecurity Paradigm for a Cloud-Based World