News
Expanding eDNA Research and Physical Oceanography Into Critical Polar Regions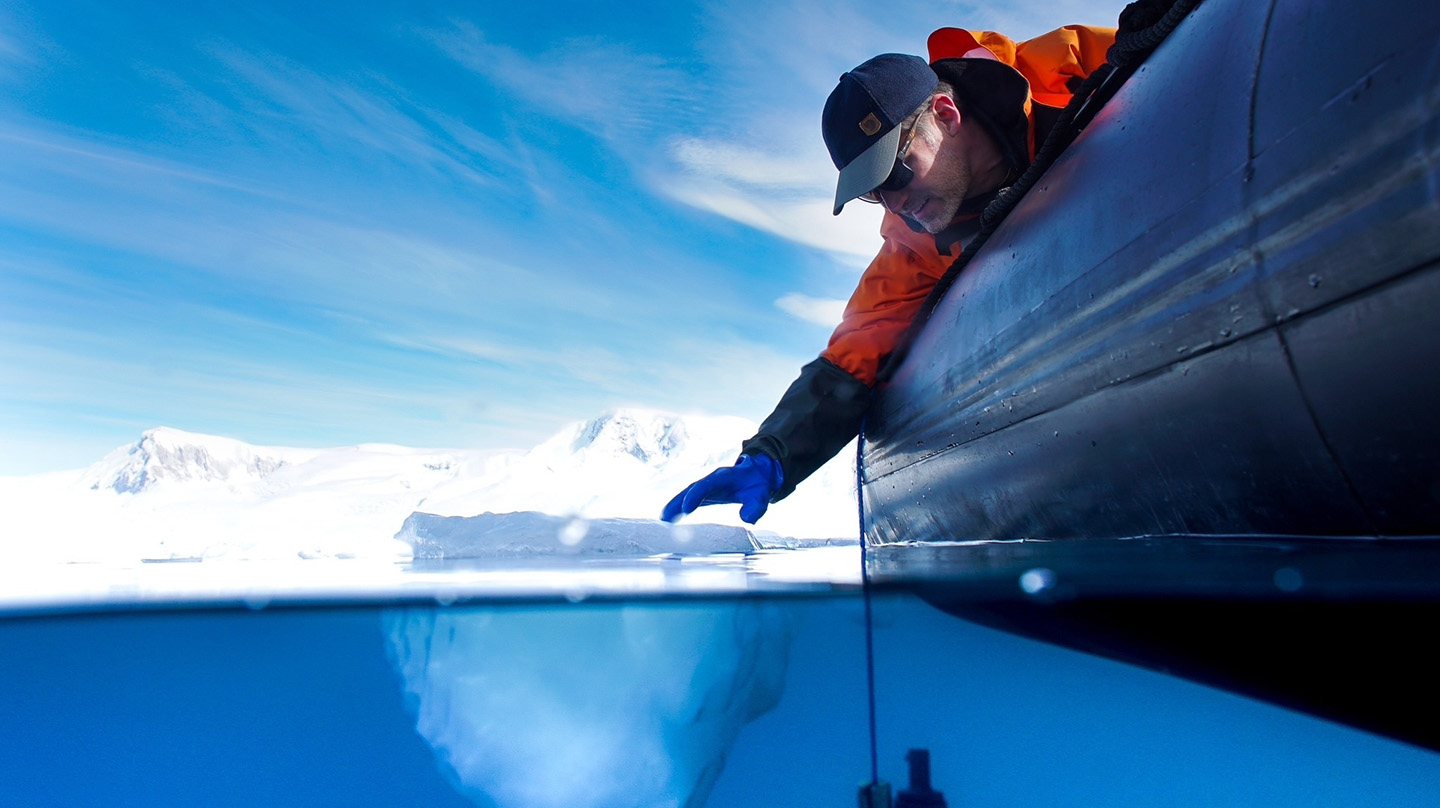 APL's Peter Thielen touches a floating piece of ice while venturing out into open water on board a Zodiac motorized landing craft.
Credit: National Geographic/Alyssa Adler
Tue, 09/12/2023 - 14:50
Katie Kerrigan
In February, Johns Hopkins Applied Physics Laboratory (APL) researchers Peter Thielen and David Porter ventured into uncharted territory in Antarctica aboard Lindblad Expeditions' newest PC5 Category A ice class vessel National Geographic Resolution. The trip offered stunning vistas, penguin and marine mammal sightings and — most importantly — incomparable access to some of the most pristine habitats in the world, where Thielen, Porter and collaborating researchers simultaneously collected environmental DNA (eDNA) and physical oceanography data that has the potential to serve as a future global biological monitoring capability.
"We witnessed incredible phenomena," said Porter, a longtime chief scientist in APL's Force Projection Sector. "As we crossed the Antarctic Circumpolar Current — the strongest ocean current on the planet — the surface water temperature dropped almost two degrees in one boat length. We sampled biodiverse water deep into the Weddell Sea that was previously untouched due to sea ice accumulations and spent hours out on the water every day. It was a researcher's dream."
New Frontiers in Biological Research
eDNA analysis is a relatively new field of research and has emerged as an exciting way to study ocean biodiversity. As organisms move through their environments, they leave behind cells containing DNA. This dissolved information could potentially serve as a global biological monitoring capability, Thielen and co-authors describe in a recent publication.
"The ability to take a water sample and use it as a forensic identification tool is a transformational change in the way that we observe biological activity in the ocean," said Thielen, a molecular biologist who oversees the Omics and Threat Detection Section in APL's Research and Exploratory Development Department. "APL research and engineering projects are pushing the boundaries of what can be done with eDNA technology, and we're now beginning to realize the full potential of these capabilities."
eDNA can reveal what species were recently present near a specific location — useful information when monitoring water quality, identifying endangered or invasive species in a particular area, trying to ensure marine mammals aren't in the vicinity during military field tests, and generally studying the ocean's biodiversity and ecosystem.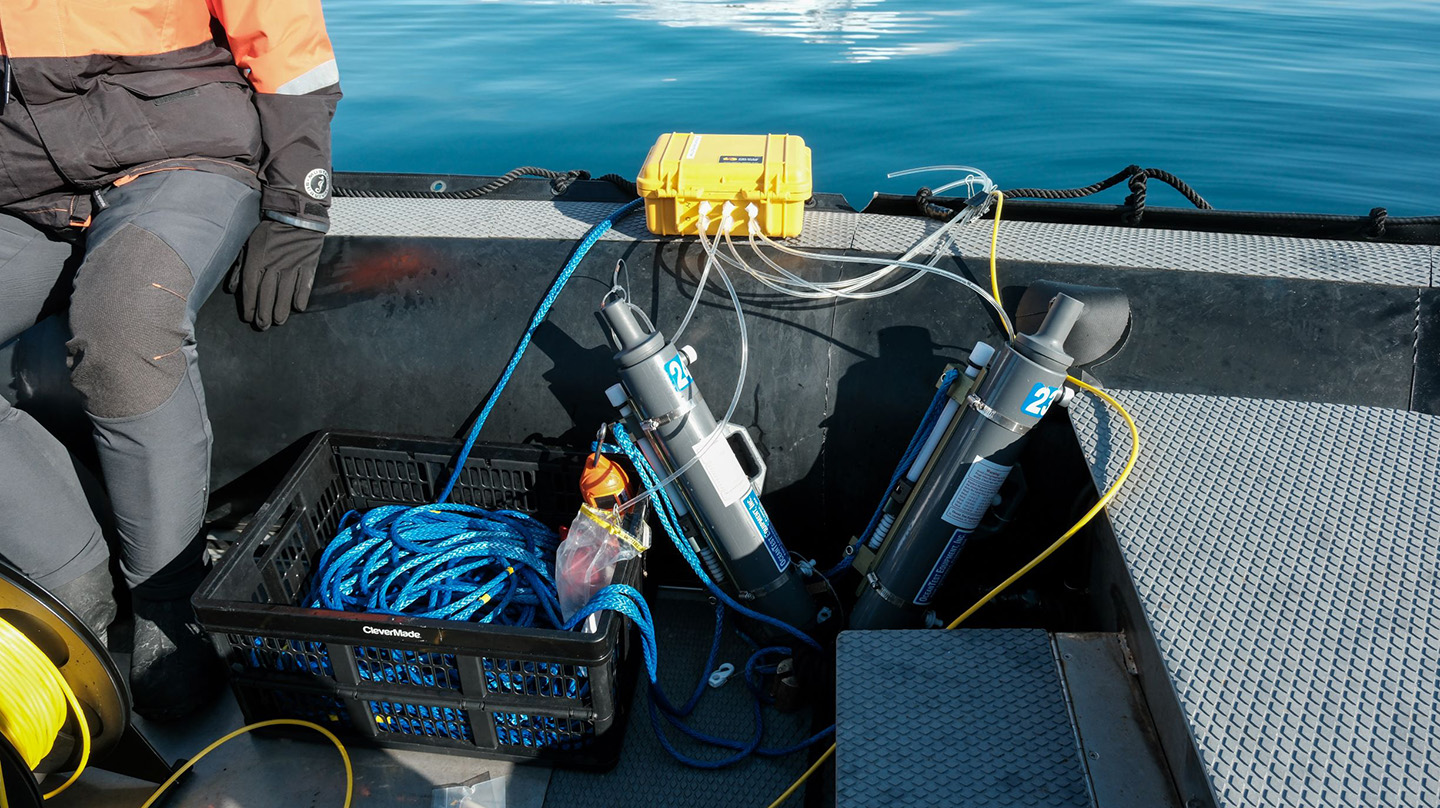 The team took water samples using Niskin bottles shown here, and used conductivity, temperature and depth instruments to generate directly comparable data.
Credit: Johns Hopkins APL/Peter Thielen
Long-Term Climate Monitoring
Thielen's team has been working on this rapid analysis capability for several years. In April and June of 2022, APL researchers traveled to the Arctic and set up a permanent eDNA analysis platform to support long-term research capabilities at sea.
While Thielen is still studying the results from the samples collected in February, the team has performed a co-occurrence analysis to observe how data they have sampled in the Arctic and Antarctic compares to species that they know are native to those areas.
"All of the tools that we used on our Arctic trips are now installed and operating as a functioning capability in the Antarctic on board National Geographic Resolution," said Thielen. "We're using these expeditions as proving grounds for the methods and capabilities that we're developing, and we've steadily improved them and are increasingly confident in the data we're generating."
Even though the field is relatively young, Thielen and Porter said the applications for the data are endless.
"By setting up these capabilities in the most remote parts of the world on these expeditions, we'll get repeated access to the same regions at the same times of the year, and generate data sets that are consistent over time," Porter said. "Those measurements are incredibly important for understanding the climate and how it's changing."
"That knowledge may not directly affect our generation," he added, "but if we start collecting data now, we'll create a foundation for future studies that will help generations to come."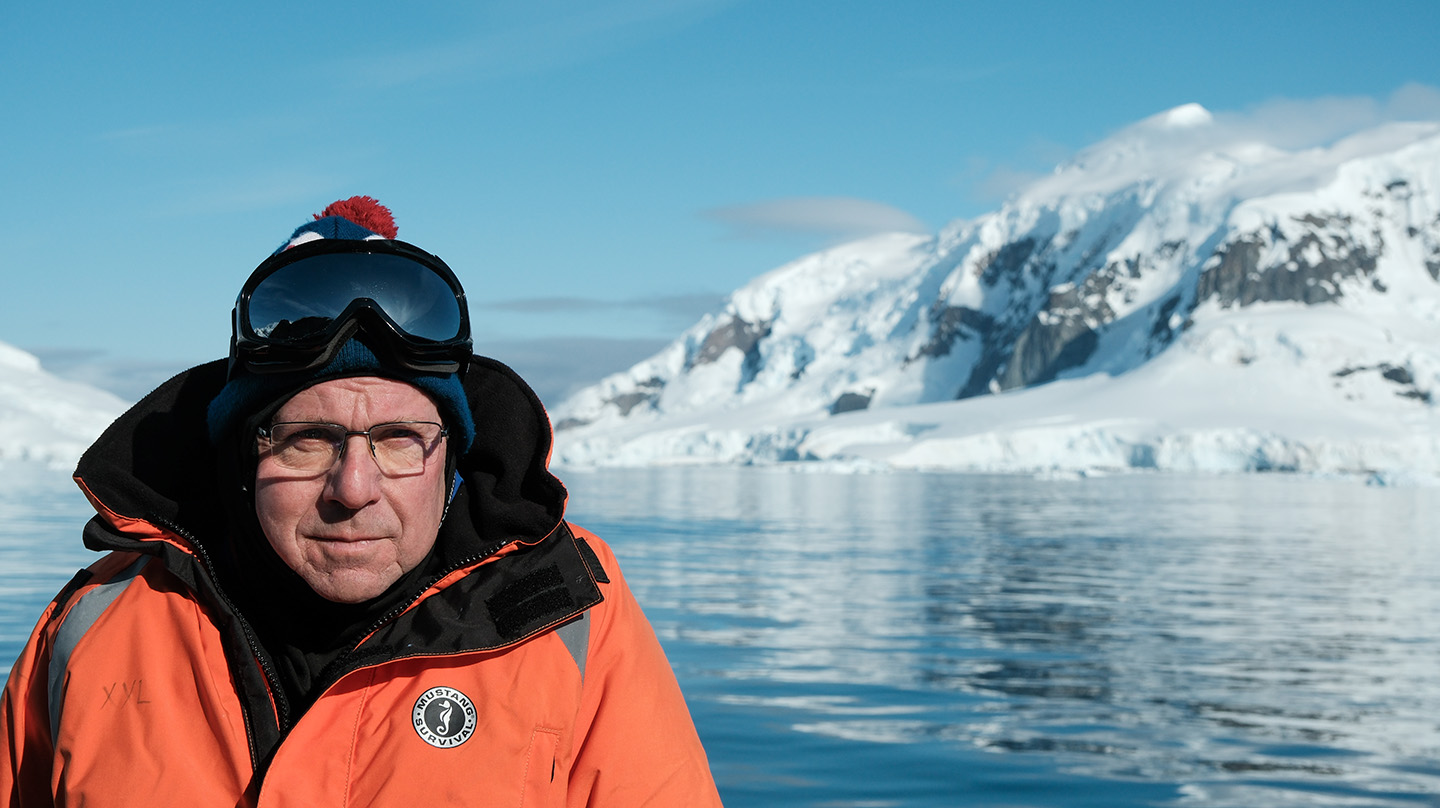 Oceanographer David Porter.
Credit: Johns Hopkins APL/Peter Thielen
Combining eDNA and Physical Oceanography
Coupling APL's biology and oceanography expertise added a new level of analysis. Where eDNA can quickly reveal what is in a certain environment, physical oceanography elements, such as ocean mixing, chemical properties of water and modeling capabilities, greatly improve the ability to reveal and predict real-world ocean phenomena.
For example, the team was recently motivated by research from the early 2000s that controversially suggested that small organisms contribute to larger-scale oceanography dynamics as they move vertically within the water column to avoid predators. The Southern Ocean supports more biological activity than any other environment in the world, and the team hypothesized that large krill aggregations would be the ideal environment to quantify these phenomena. Challenges in accessing the Southern Ocean meant it was unlikely anyone had explored these fundamental research questions in the past.
While onboard the National Geographic Resolution, the researchers identified hyperaccumulations of krill based on the presence of feeding whales. The captain would stop the ship to allow the scientific team to disembark on a small rubber boat with samplers and data collection tools, which were deployed 100 meters beneath the ocean surface. The team took water samples using Niskin bottles and used conductivity, temperature and depth instruments to generate directly comparable data.
Using National Geographic Resolution's dedicated sounding boat — used to map previously unexplored seafloor — the team was able to use an echosounder to identify a layer of krill so dense that it was misidentified as seafloor. The samples and data collected are expected to serve as early building blocks to correlate biological phenomena and oceanographic dynamics.
"We're merging a new technology base with a well-established discipline and trying to get the right people in the right places at the right times to push both of these fields of study forward," Thielen noted.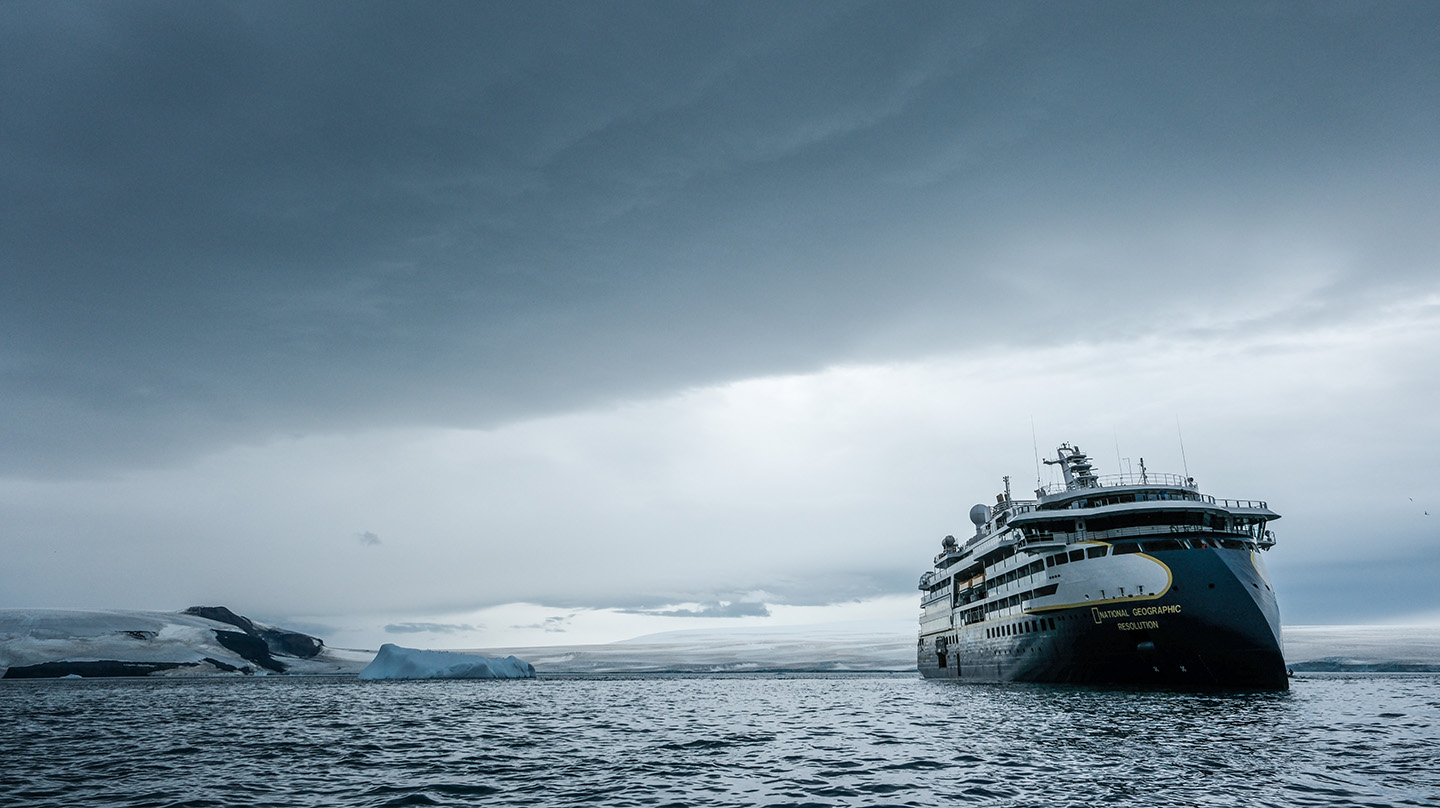 Lindblad Expeditions' newest state-of-the-art PC5 Category A ice class vessel National Geographic Resolution sits in Antarctic waters.
Credit: Johns Hopkins APL/Peter Thielen
A Novel Way to Fund Research
Part of getting the right people (Thielen and Porter) to the right place (Antarctica) at the right time (summer in the Southern Hemisphere) involved finding cost-effective means to reach polar oceans aboard elusive and expensive research vessels. Recalling past trips, Porter noted that traditional expeditions can cost upwards of tens of thousands of dollars per day, with plans easily upended by weather or other environmental conditions.
Participating in a Lindblad expedition for citizen travelers offered lower costs and higher-risk research opportunities than are typically conducted on a dedicated ship. When tours would veer off to see a penguin colony or a whalebone site from preindustrial whaling times, Thielen and Porter would spend up to five hours a day mapping the water column and studying biological communities.
"I have collected oceanographic data from satellites, airplanes, deep submersibles, surface ships, submarines, buoys, you name it," said Porter. "And this was the most amazing way to collect data at an efficient rate. It was a win-win for everybody."
As Thielen and Porter continue to dissect and analyze the data from their trip, they'll reveal critical insights into polar environments experiencing some of the most drastic changes in the world due to climate change.
The Applied Physics Laboratory, a not-for-profit division of The Johns Hopkins University, meets critical national challenges through the innovative application of science and technology. For more information, visit www.jhuapl.edu.