Press Release
Johns Hopkins APL Creates Autonomy Safety Net for AFWERX Autonomy Prime Program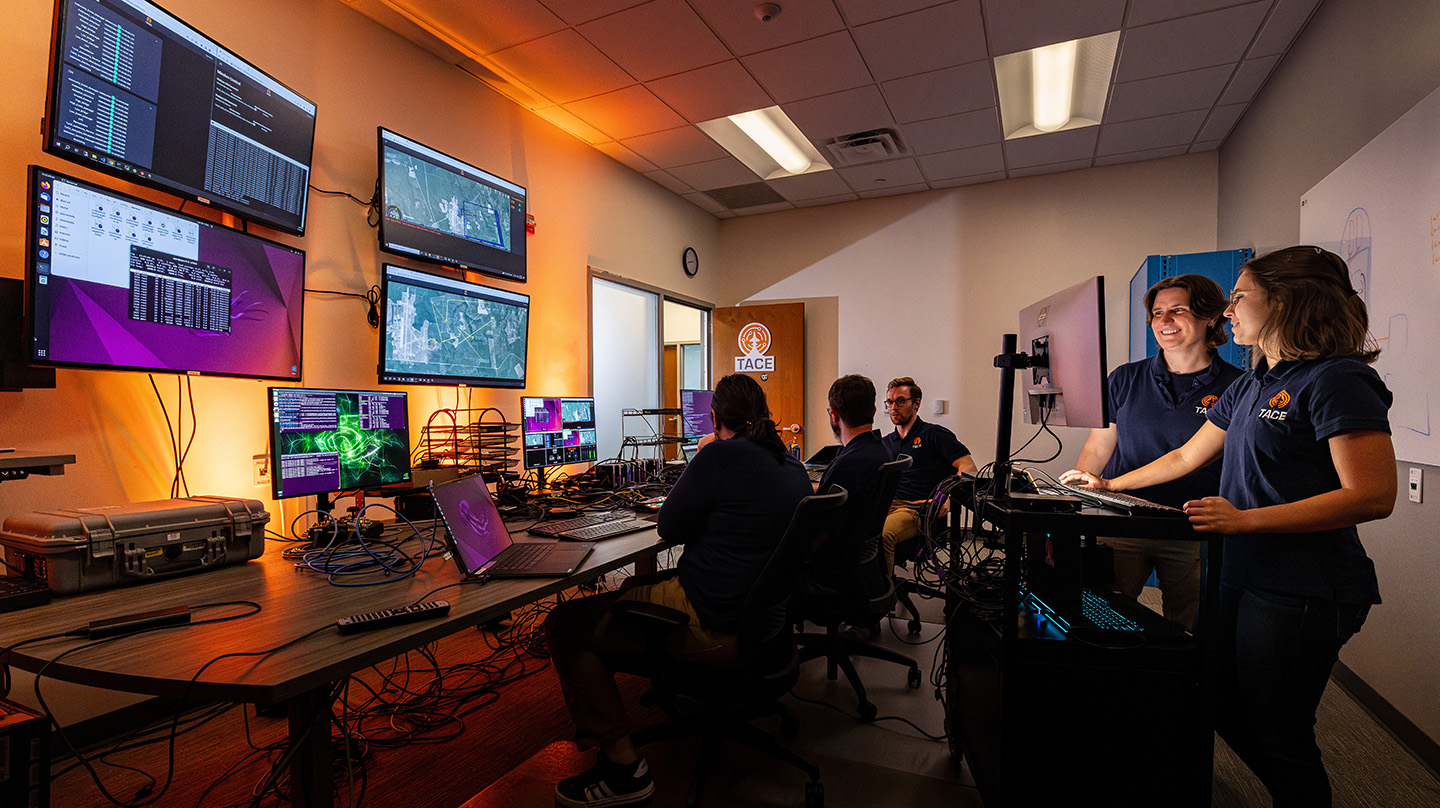 The TACE team works out of its lab at APL to monitor and manage systems under test. 
Credit: Johns Hopkins APL/Ed Whitman
Tue, 08/15/2023 - 10:30
The Johns Hopkins Applied Physics Laboratory (APL) in Laurel, Maryland, is equipping AFWERX — a technology directorate of the Air Force Research Laboratory (AFRL) and the innovation arm of the Department of the Air Force — with capabilities to quickly and safely test autonomous vehicles in complex, interactive environments.
The work is part of AFWERX's new Autonomy Prime program, which provides a robust, low-cost ability to rapidly evaluate, iterate and mature emerging mission and applied autonomy technologies. Autonomy Prime provides early technical scouting of industry aircraft autonomy capabilities by removing roadblocks that prevent rapid, affordable and iterative testing.
APL researchers will provide several capabilities in support of Autonomy Prime's goals. APL-developed TACE, which stands for Safe Testing of Autonomy in Complex, Interactive Environments, will provide a safety runtime assurance "watchdog" and Live-Virtual-Constructive (LVC) environments for Autonomy Prime testbeds. Sitting between a vehicle's safety-critical control system and its autonomy and mission systems, TACE monitors commands sent from the autonomy to the autopilot and passes information such as the vehicle's position, speed and orientation, sensor, and mission environment data back to the autonomy.
"With APL's autonomy expertise and long history as a partner to the government, we are well positioned to help AFWERX innovate at a pace that matches the rapid growth of autonomy technologies," said Chris Eaton, APL's project manager for TACE. "We recognized the critical need to accelerate autonomy technologies, and over the past ten years we developed TACE to meet various sponsor needs. We look forward to expanding these technologies for Autonomy Prime."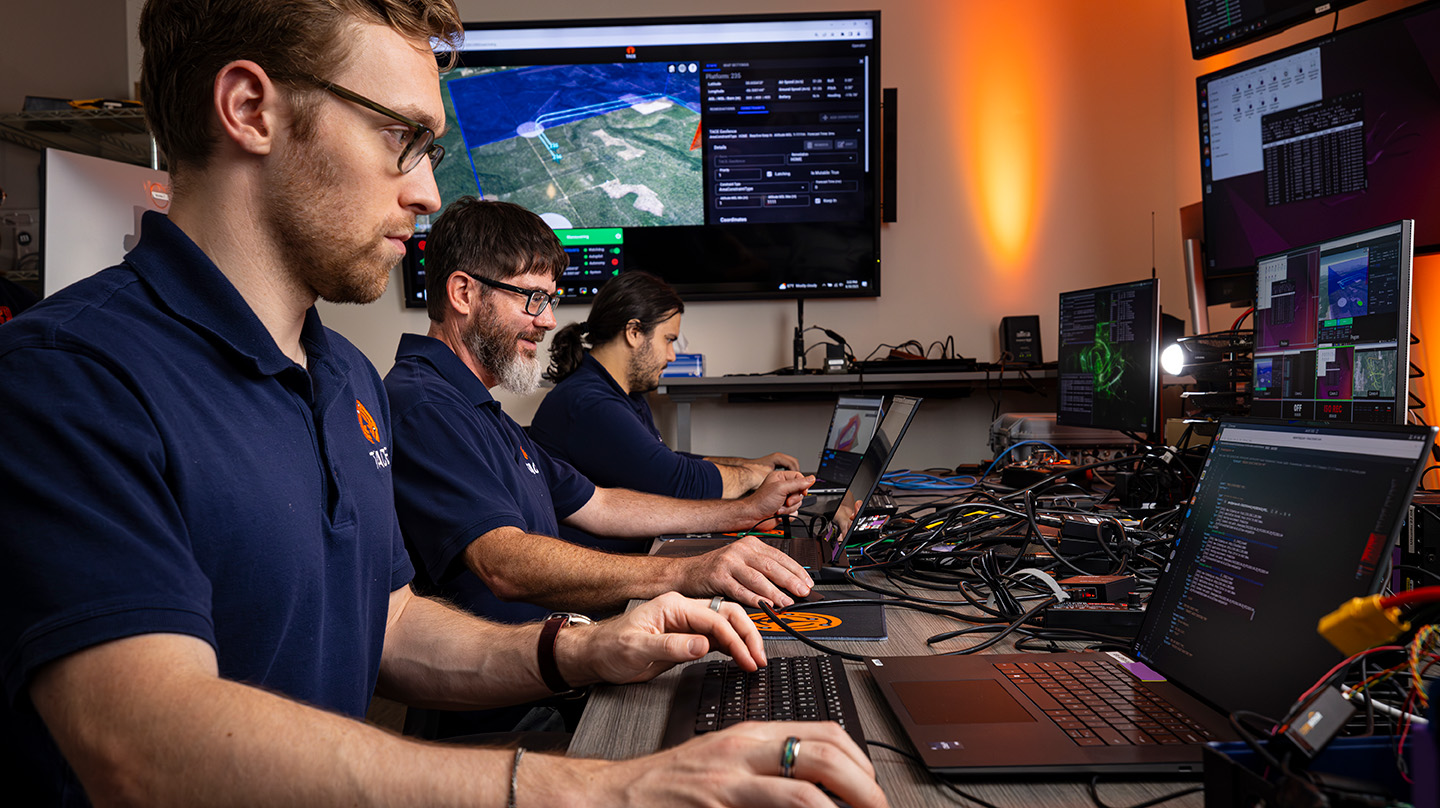 The TACE team developed a high-performance computing environment to integrate TACE onto multiple autonomous vehicles.
Credit: Johns Hopkins APL/Ed Whitman
The "watchdog" feature in TACE provides a runtime assurance capability that keeps the systems under test from violating predefined constraints. If there is a failure or violation of safety constraints, TACE will take control of the vehicle from the autonomy and return it to safety. TACE also provides a ground station capability to allow an operator to monitor and manage the systems under test and test environment.
The APL team will also leverage its decade of experience with prior TACE programs to build out LVC environments. LVC enables both preflight simulation of missions as well as an environment to inject virtual entities into a live test. This feature will test industry-developed algorithms in simulated environments, such as densely packed forests and cities, congested or contested airspaces, or areas without GPS or communications. By first testing in a virtual environment, LVC enables the autonomy to move rapidly and with confidence to a live vehicle.
Additionally, the APL team will develop CADE (Computer for Autonomy Development Environment), which will provide a modular high-performance computing environment to integrate TACE and autonomy processing onto multiple autonomous vehicles. The APL team will also develop an integration environment to allow offline and online development and integration of autonomous solutions to allow the rapid transition from software to live flight test.
AFWERX plans to conduct flight tests with fixed-wing uncrewed aerial vehicles and multi-rotor and vertical takeoff and landing vehicles at Eglin Air Force Base later this calendar year. As Autonomy Prime advances, APL will continue to develop technology and capabilities to expand the runtime assurance capabilities and LVC environments into new mission sets for new vehicles.
About Air Force Research Laboratory
The Air Force Research Laboratory (AFRL) is the sole organization leading the planning and execution of U.S. Air Force and U.S. Space Force science and technology programs. AFRL orchestrates a worldwide government, industry and academia coalition in the discovery, development and delivery of a wide range of revolutionary technology. AFRL provides leading-edge warfighting capabilities keeping air, space and cyberspace forces the world's best. AFRL employs 10,800 military, civilian and contractor personnel at 17 research sites, executing an annual $4 billion budget. For more information, visit www.afresearchlab.com.
About AFWERX
AFWERX is an Air Force Research Laboratory directorate that connects innovators across government, industry and academia. Through innovation and collaboration with our nation's top subject-matter experts, AFWERX harnesses the power of ingenuity of internal talent while expanding technology, talent and transition partnerships for rapid and affordable commercial and military capability. Additional information is available at www.afwerx.com.
About Johns Hopkins APL
The Applied Physics Laboratory, a not-for-profit division of The Johns Hopkins University, meets critical national challenges through the innovative application of science and technology. For more information, visit www.jhuapl.edu.