News
Master Inventor Miragliotta Taps into the Power of Teamwork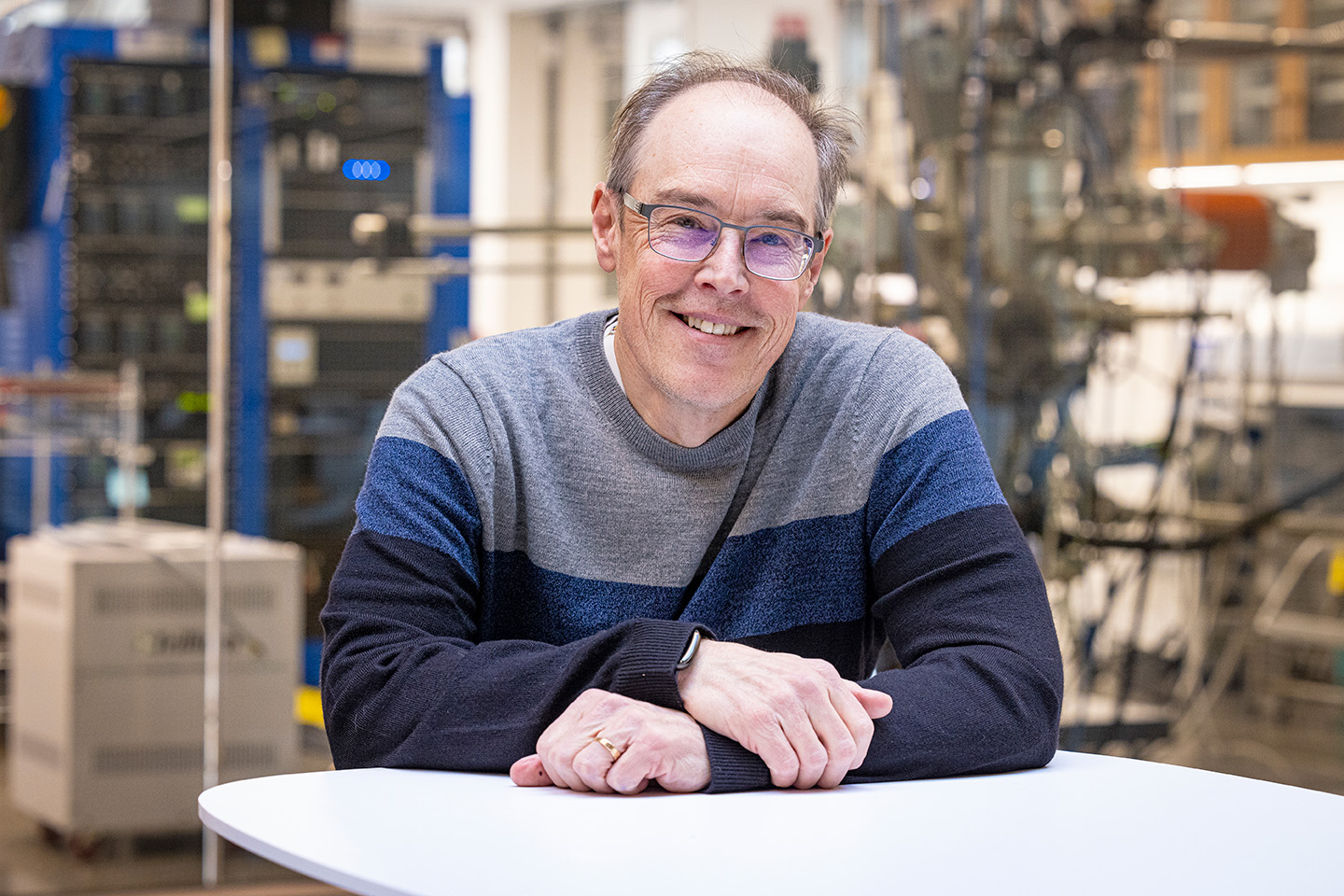 Joseph Miragliotta, a principal investigator and project manager, earned the designation as an APL Master Inventor in 2022.
Credit: Johns Hopkins APL
Thu, 05/11/2023 - 13:10
Amanda Mantiply
Joseph Miragliotta knows it sounds strange, but he says his inventions were driven by a desire for peer approval. In the world of science and technology, many might say they aim to solve problems or work on intriguing technology. While he certainly wants his work to make that kind of difference, Miragliotta also takes a more psychological perspective and believes that most inventors strive to have their work recognized as good, significant research.
As the latest Master Inventor at the Johns Hopkins Applied Physics Laboratory (APL) in Laurel, Maryland, Miragliotta should have no doubt that his peers acknowledge his contributions. The Master Inventor Award honors staff members who have demonstrated a career of innovation with 10 or more patents based on APL intellectual property. The Laboratory honored Miragliotta on April 25 at the annual APL Achievement Awards ceremony.
Miragliotta is a principal investigator and project manager in APL's Research and Exploratory Development Department (REDD) who often mentors young investigators. Since joining the Lab in the early 1990s, he has tackled a variety of challenges. His patents address diagnostics, protocols that were developed for the characterization of materials and, more recently, new optics and radar components.
In fact, Miragliotta noted that it is easy to feel overwhelmed by the sheer number of problems that APL researchers have the opportunity to tackle. He found success by focusing his attention on solving one problem at a time.
When he is tasked with solving a problem, he starts by scouring past research. "I go through the literature, identifying where there are gaps in a given technology and then get a pretty good idea for how to go about solving for that gap," said Miragliotta.
Then, he talks with others at the Lab and puts together a technical plan. "It's about bringing together as many people as possible who have a significant amount of knowledge about the problem," he said. "My role is to filter what I hear from all of those ideas and turn that into an actual test plan to make a technology better."
Miragliotta's first patent came from intellectual property to help solve a problem associated with a window on a missile. The window kept cracking under realistic operating conditions, and there wasn't a real understanding of how the problem arose. At the time, he was doing a fair amount of research associated with characterizing materials. The windows were glass-like materials that could be characterized with the diagnostic tools Miragliotta used. He characterized where the issues were and came up with a diagnostic protocol that was patented.
That patent, like so many others Miragliotta has since worked on, is a big benefit to the sponsor.
"The patents are really there to help make sure what we do for the government and for our sponsors protects them in terms of making sure the technology cannot be misused by anyone else," said Miragliotta. "The primary purpose of our patents is not necessarily to be licensed for commercial use but to be an inherently good thing for the sponsors we work with."
Even with all his accomplishments, Miragliotta is most excited about his current work with metasurface technology, which tries to squish 3D objects into a 2D world. The technology emerged about a decade ago, and he was one of the first investigators in REDD to work in this area. He helped build up a team at the Lab that is now driving metasurface technology forward.
Miragliotta's role is to take 3D optical components, like lenses in mirrors and prisms, and squeeze them into a 2D footprint. "It opens the door for future optical and imaging systems to be a fraction of the size and weight of what they currently are for applications such as video cameras," he explained. "We are pushing this technology to the forefront so that a generation from now, optical systems will be replaced with 2D analogs that are a lot smaller and less expensive."
Miragliotta recently applied metasurface technology to an imaging system to probe the Sun's corona.
"We're at a crossroads to see if metasurface technology is going to be an evolutionary change or a revolutionary change," said Miragliotta. "Within a decade we will know if we are going to replace conventional imaging systems into a nice, small footprint that is two orders of magnitude smaller."
Miragliotta said the recognition as a Master Inventor is humbling. "I don't think there is a single patent I have received that doesn't have at least half a dozen names associated with it," he said. "I'm just one player on a team for every patent I'm on. I recognize it could not have been done solely by me."
Miragliotta hopes that his patents motivate peers to put ideas forward because they could have the potential to be patented as a product or technology protocol. "Research is critically important, not just to our sponsors, but to future users of the technology," he said.
The Applied Physics Laboratory, a not-for-profit division of The Johns Hopkins University, meets critical national challenges through the innovative application of science and technology. For more information, visit www.jhuapl.edu.