Press Release
Fast Company Names Two Johns Hopkins APL Innovations as 'World Changing Ideas'
APL's Double Asteroid Redirection Test (DART) was named the winner in Fast Company's World Changing Ideas Awards experimental category.
Credit: NASA/Johns Hopkins APL/Steve Gribben
Tue, 05/02/2023 - 10:49
Two technology breakthroughs developed by the Johns Hopkins Applied Physics Laboratory (APL) in Laurel, Maryland, were honored with Fast Company magazine's 2023 World Changing Ideas awards.
The Double Asteroid Redirection Test (DART), which was designed, built and operated for NASA by APL, was named the winner in the experimental category, while the Laboratory's PFAS filtration and destruction methodology was recognized as one of nine finalists in the water category.
"The Laboratory is focused on protecting our planet from threats, whether from deep in space or here in our communities," said APL Director Ralph Semmel. "This year, among our many innovations, we demonstrated the ability to defend Earth from potentially catastrophic asteroid impacts, and we created a way to remove deadly chemicals that can poison soil and water systems. For more than eight decades, APL has been solving the most critical science and technology challenges facing our nation and the world, and awards like these are welcome acknowledgments of the impact of our work."
The winner of the experimental category, DART, was humanity's first mission to demonstrate an effective planetary defense technology. Launched in 2021 from Vandenberg Space Force Base in California atop a SpaceX Falcon 9 rocket, the DART spacecraft traveled for 10 months on its one-way trip to Dimorphos and its larger companion asteroid, Didymos.
DART's successful, autonomously guided collision with the asteroid Dimorphos on Sept. 26, 2022, changed the smaller asteroid's orbit around Didymos by 33 minutes, proving that kinetic impact could be a method to defend Earth from threatening celestial bodies.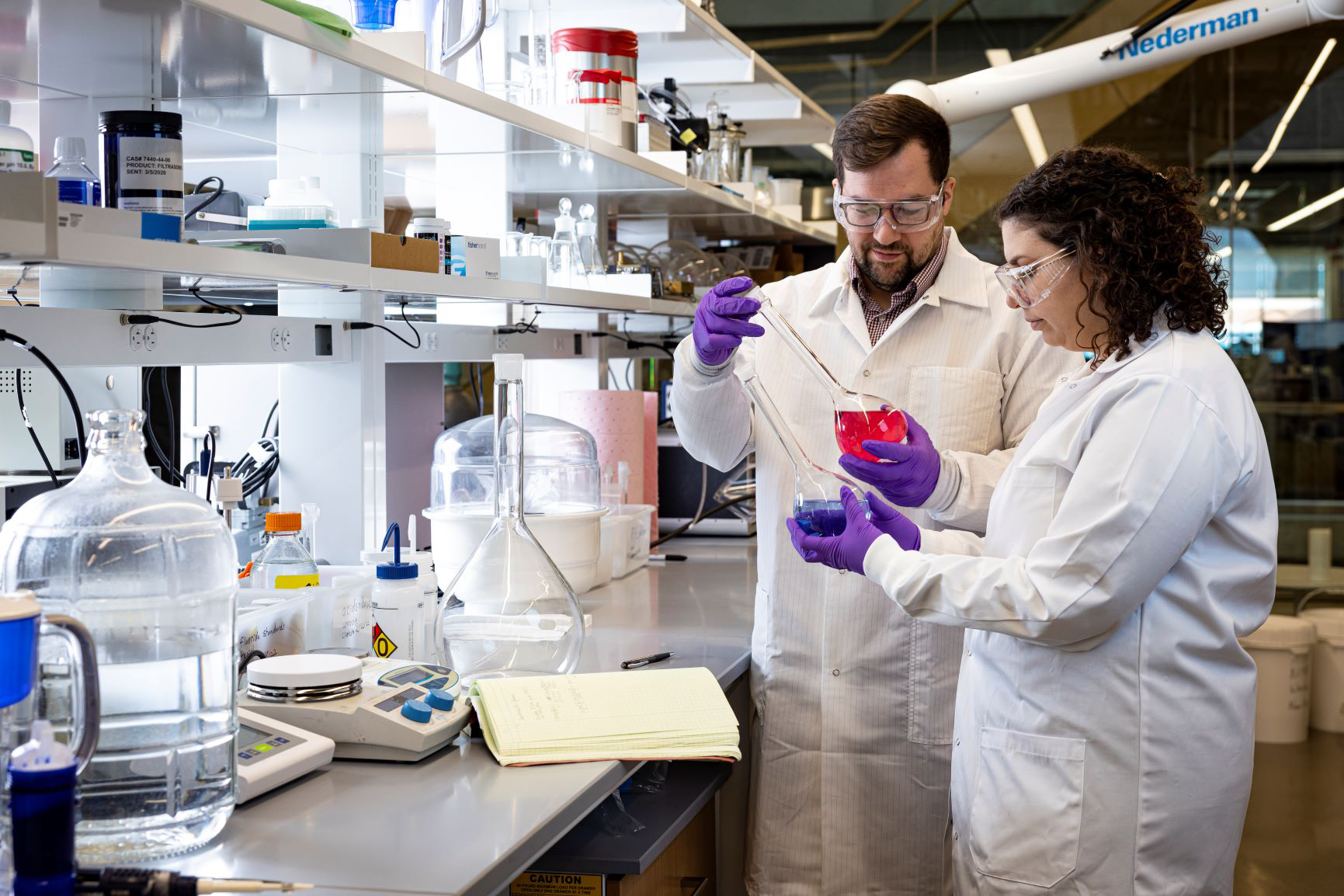 James Johnson (left) and Danielle Nachman (right) are lead researchers within APL's PFAS remediation portfolio. This research was named a finalist in Fast Company's World Changing Ideas water category.
Credit: Johns Hopkins APL/Craig Weiman
In the water category, APL's innovative work on breaking down perfluoroalkyl and polyfluoroalkyl substances, or PFAS, was named as a finalist. PFAS are fluorine-containing chemicals found in many household products, and are a major component in firefighting foams. Multiple studies have linked PFAS exposure to harmful health effects in humans and animals, and without a natural way to break them down, the chemicals persist in soil and contaminate the environment — including water.
In response, APL researchers have developed several technologies to capture and destroy these so-called "forever chemicals." In two 2022 studies, the APL team demonstrated an enhanced filtration technique to capture PFAS and an ecofriendly way to destroy them.
While most PFAS filtration and destruction methods on the market today are expensive and require high-energy input, APL's methods are designed to be cost-effective and operate at or near room temperature and without the use of harsh chemicals or environments. They are also very effective — these technologies are capturing and destroying more than 90% of dangerous EPA-identified PFAS in contaminated water.
A panel of Fast Company editors and reporters selected winners and finalists from a pool of more than 2,200 entries across urban design, education, nature, politics, technology, corporate social responsibility and more. The World Changing Ideas honor sustainable designs, innovative products, bold social initiatives and other creative projects that are changing the way we work, live and interact with the world.
These honors add to APL's honors from Fast Company. Three Lab projects earned recognition as World Changing Ideas in 2022. APL also took home No. 3 honors on the magazine's Most Innovative Space Companies list and has earned four consecutive placements on the Best Workplaces for Innovators list.
The Applied Physics Laboratory, a not-for-profit division of The Johns Hopkins University, meets critical national challenges through the innovative application of science and technology. For more information, visit www.jhuapl.edu.