Press Release
'Pathfinder' Mulé Honored for Missile Defense Contributions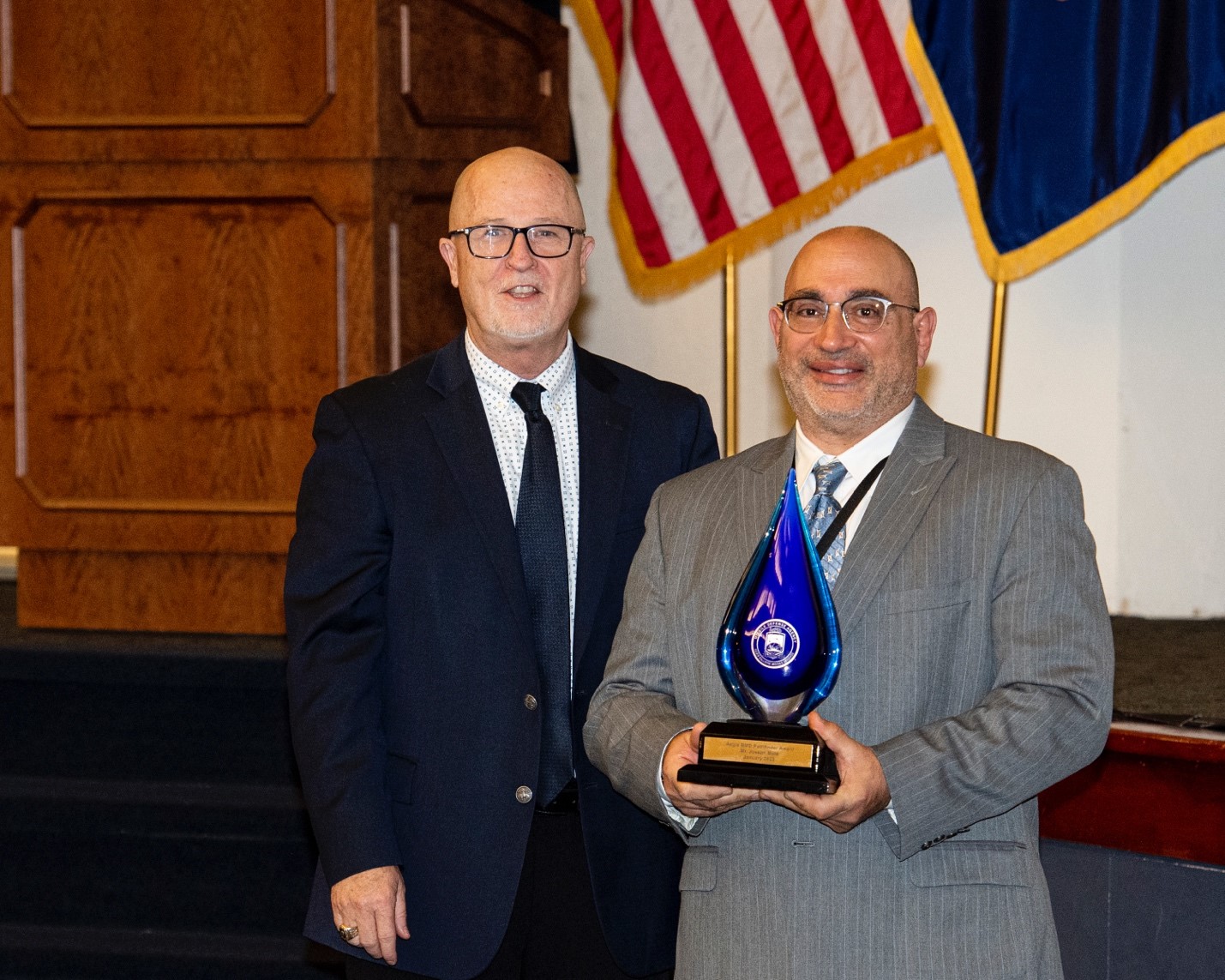 Joseph Mulé, right, is presented the 2023 Aegis Ballistic Missile Defense Pathfinder Award from Paul Mann, Program Executive, Sea-Based Weapon Systems, Missile Defense Agency.
Credit: Aegis BMD Program Office
Thu, 03/23/2023 - 14:34
Johns Hopkins Applied Physics Laboratory (APL) engineer Joseph Mulé was presented with the Missile Defense Agency's prestigious 2023 Aegis Ballistic Missile Defense (BMD) Pathfinder Award at a ceremony on Jan. 9 at Fort Belvoir, Virginia, in recognition of his outstanding contributions to the nation's missile defense programs.
Mulé has been with APL for 32 years and serves as chief engineer for targets and kinetic prototyping. He is the sixth APL staff member to receive the Pathfinder Award in the 17 years of its existence. The annual award honors individuals who have demonstrated leadership, technical excellence and innovation on Aegis BMD systems.
"I am truly honored to be a recipient of this award, and I am very humbled to be included on this list of distinguished pioneers who received this award before me," said Mulé during his acceptance speech. "These pioneers made huge impacts not only on this historic missile defense capability but on me personally and professionally. They were role models to me, showing by example how to be a leader and an engineer and how to persevere and resolve challenging issues. My gratitude to these Pathfinders is immense."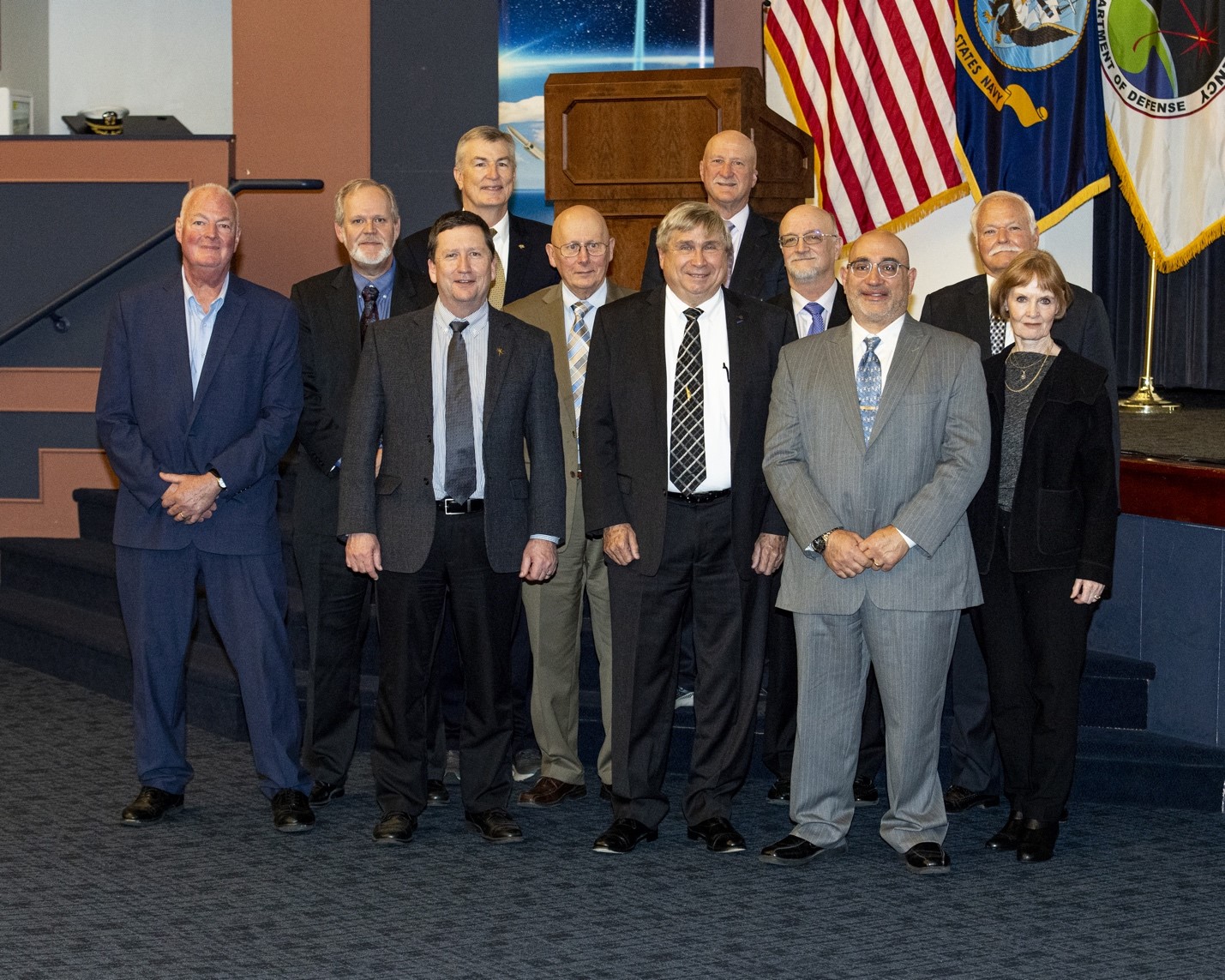 Group photo of some past and newly awarded Pathfinder recipients. From left to right: John Stetson; Mark Landis (APL); Robert Reichert (APL); John Hammerer, representing USS Lake Erie, Captain U.S. Navy (retired); Donald Mitchell (APL); Larry Rogers; Gary Sullins (APL); Eric Hedlund; Joseph Mulé (APL); Rear Admiral Wayne Hicks, U.S. Navy (retired); and Rear Admiral Kate Paige, U.S. Navy (retired).
Credit: Aegis BMD Program Office
Mulé served as test and evaluation technical lead and project manager during the formative period of Aegis BMD in the mid-1990s, when the program evolved and expanded from Terrier Lightweight Exo-Atmospheric Projectile (LEAP) to Aegis LEAP Intercept to Navy Theater Wide, and finally to Aegis BMD. His work coincided with the creation, evolution and consolidation of many disciplines necessary to design, plan and execute ballistic missile intercept missions — including significant target-related engineering activities.
Mulé became the founding supervisor of the APL test and evaluation group that organized many mission planning and target engineering disciplines. While in that role, he spearheaded the development of target prototypes using low-cost sounding rockets; this included active participation in the planning and execution of the associated flight tests.
Mulé's work on concepts for low-cost target prototypes and delivery systems continues; he also investigates using low-cost delivery systems to fly hypersonic interceptor prototype components.
"I am especially grateful to the many leaders, scientists and engineers at APL and those at partnering organizations who walked this path with me," he said. "They are the ones who made me fearless and who, over time, have paved new paths themselves. I want to acknowledge their leadership and contributions in that this honor also belongs to them as well."
The Applied Physics Laboratory, a not-for-profit division of The Johns Hopkins University, meets critical national challenges through the innovative application of science and technology. For more information, visit www.jhuapl.edu.