News
Intern on Johns Hopkins APL's Dragonfly Mission Shoots for the Moon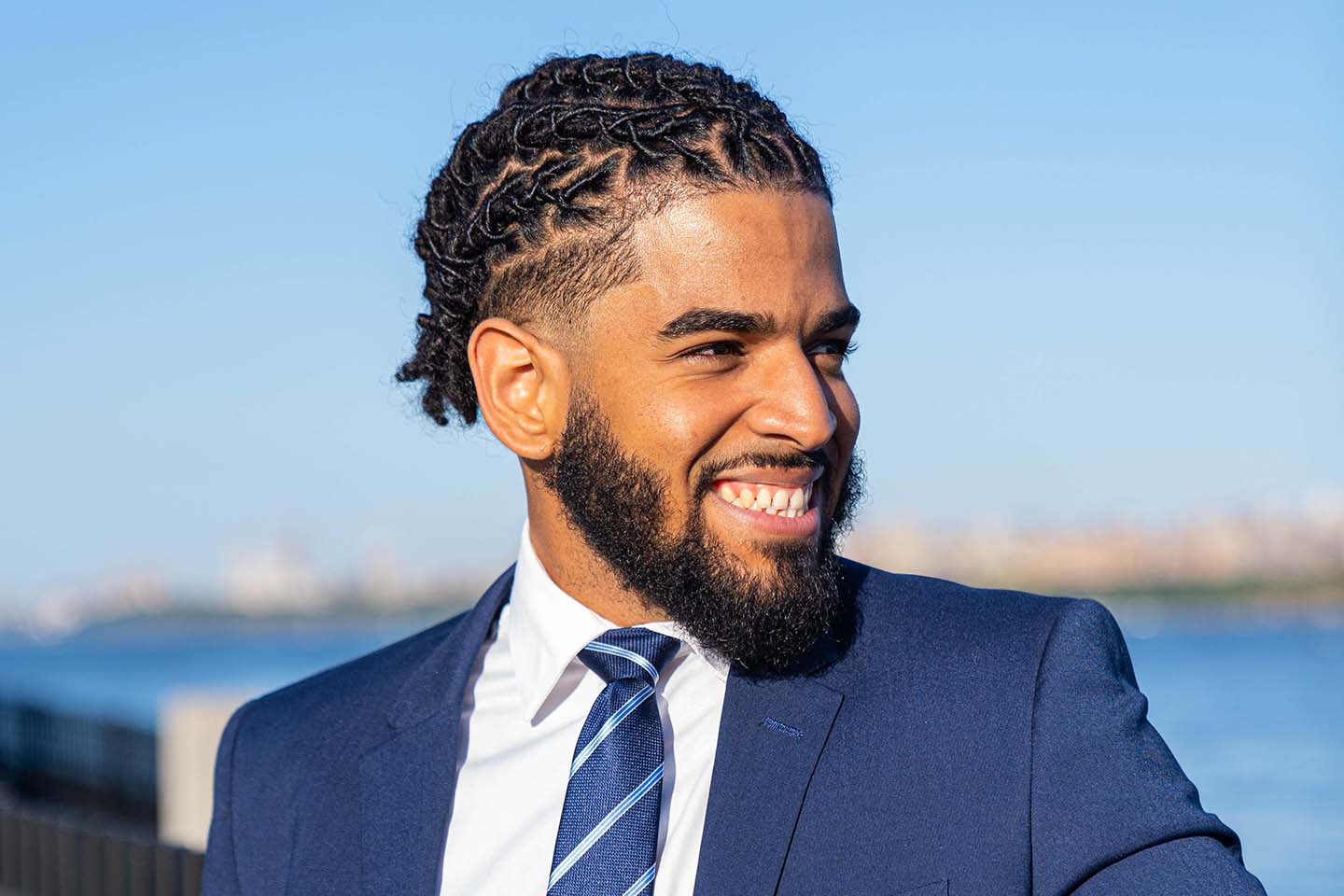 Will Suero Amparo, an intern at Johns Hopkins APL, doesn't believe that the sky is the limit. Through the Dragonfly Student & Early Career Investigator Program, Suero and other next-generation scientists and engineers have the opportunity to directly contribute to the mission.

Credit: Will Suero Amparo
Wed, 12/07/2022 - 15:05
Megan Phillips
Will Suero Amparo, an intern at the Johns Hopkins Applied Physics Laboratory (APL) in Laurel, Maryland, doesn't believe the sky is the limit.
"I envision myself on the Moon," he said.
Since he was a kid, Suero has dreamed of being an astronaut. In fact, for a class assignment in third grade, he created a puppet of Neil Armstrong, one of his role models. He recalls being mesmerized by Armstrong's accomplishment as the first person to step on the Moon.
"I've always had this fascination with space — what's out there," he said. "What we see is such a small percentage of what there actually is."
While that childhood dream of being an astronaut hasn't faded, today his attention has shifted to a different moon — Saturn's largest moon, Titan.
When he started working in APL's Space Exploration Sector in October 2021, Suero began working on Dragonfly, a mission that will send a rotorcraft lander to study the chemistry and habitability of Titan. Through the Dragonfly Student & Early Career Investigator Program, Suero and other next-generation scientists and engineers have the opportunity to directly contribute to the mission.
Suero represents APL while primarily working on-site at NASA's Goddard Space Flight Center with his mentor, Dragonfly Deputy Principal Investigator Melissa Trainer. There, Suero works side by side with the Dragonfly Mass Spectrometer (DraMS) scientists and engineers who seek to explore the chemical composition of samples that will be collected from Titan's surface once Dragonfly arrives in the 2030s.
DraMS, at its core, contains an ion trap mass spectrometer, which characterizes the chemical composition of materials by measuring the mass of ions generated from sampled materials. Suero specifically focuses on the Laser Desorption Mass Spectrometry (LDMS) mode of DraMS operation, which "zaps" heavy molecules with an ultraviolet laser to create ions that are directed to the ion trap for identification.
Suero will interface with DraMS partners in France who focus on the Gas Chromatography Mass Spectrometry (GCMS) mode of DraMS operation. They're investigating the complementarity between LDMS and GCMS to help characterize salt-rich samples that may exceed the threshold for otherwise successful analyses.
LDMS and GCMS essentially allow DraMS to examine different facets of sample compositions.
After graduating last spring from the New Jersey Institute of Technology (NJIT) with his bachelor's degree in biomedical engineering, Suero moved to Maryland for the summer, excited to get involved with more hands-on, in-person work within his internship program. With a passion for empowering others, he seeks to be a role model within the field of space exploration.
But he recently lost his own most important role model — his mother, Marlene. Suero says she'll always be an inspiration. "My mom has been everything for me," he shared, adding that he's grateful for the time he had with her and is driven to make her proud.
As the eldest of four, the loss has led to a tremendous transition. "In the wake of all that, I am taking such a big step becoming more of a parental figure for my siblings because they are all younger than me," he said. "That's something I take a lot of pride in. It's important to me to be there for those that need me."
Originally from the Dominican Republic, Suero moved to the U.S. when he was three years old.
"I see myself as a representative for people who may not always have access to this field," he said. "I want to give back to my community. I go back to the Dominican Republic sometimes and I see there aren't many opportunities in the field of space exploration."
It was while vacationing in the Dominican Republic that Suero first learned about the APL internship and was immediately drawn to the position. Once he read that he would work with resources, staff members and facilities from APL and NASA, he knew it was an opportunity he could not pass up.
"It definitely has been challenging, but I love it," he said. "I love everything I have been learning here and experiencing as well. I love meeting all the new people here and being able to connect with some amazing individuals."
As an APL intern, Suero shared that he appreciates the guidance and support he has received from experts within his field. "I feel like I do belong here. I have things I want to accomplish; I want to become better and learn as much as I can," he said.
In the fall, Suero returned to NJIT to begin his master's degree but continues to intern for APL remotely. Beyond his master's, Suero hopes to obtain his doctorate from Johns Hopkins University.
Suero has faced many obstacles, but he's motivated to see his space dreams come true — and those dreams have just gotten a little closer to reality. He offers this advice to other young professionals: "Definitely don't be afraid to step out of your comfort zone and literally shoot for the stars."
Whether it is the stars or Saturn's largest moon, his message is clear: "Aim high — you don't know where you will end up."
Learn more about APL's internship opportunities on the Lab's careers site.
The Applied Physics Laboratory, a not-for-profit division of The Johns Hopkins University, meets critical national challenges through the innovative application of science and technology. For more information, visit www.jhuapl.edu.