News
NASA and Johns Hopkins APL Partner to Give Students Real-World Space Mission Design Experience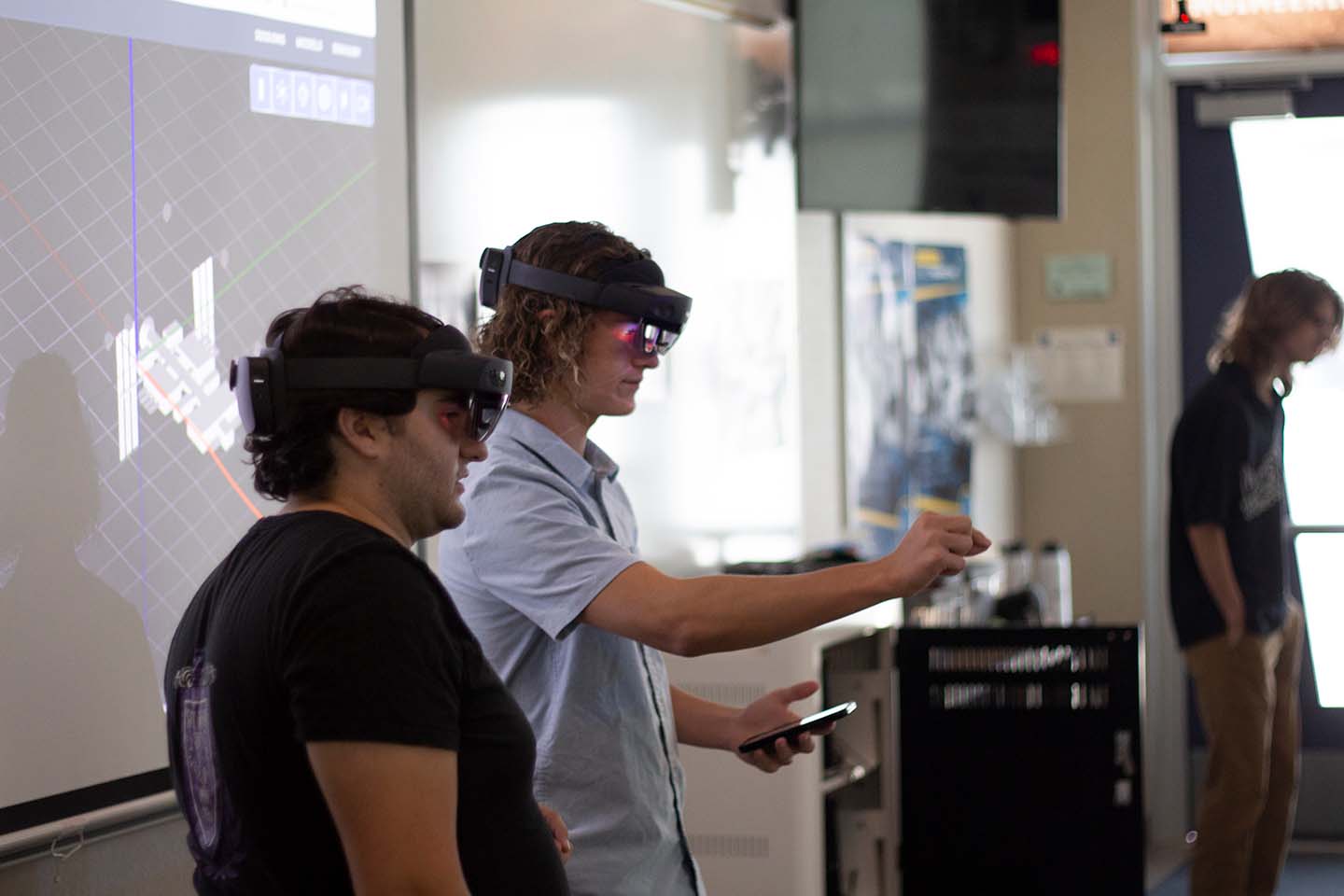 Shasta High School students present final mission designs to NASA engineers.
Credit: Shasta High School
Wed, 09/07/2022 - 11:59
Ashley Hume
Students at Shasta High School in Redding, California, recently had the opportunity to collaborate with NASA engineers to plan their own nuclear-powered space missions from the ground up. Through a pilot program run in partnership between NASA's Glenn Research Center and the Johns Hopkins Applied Physics Laboratory (APL), students worked virtually with NASA experts to develop concepts for new science missions that require nuclear power systems to reach the deep solar system.
APL in Laurel, Maryland, assisted with the development and implementation of the program, including providing support to students and teachers with the augmented reality technology that makes the program possible. It will set the stage for future programs at schools interested in giving students across the country more access to NASA while simultaneously supporting NASA's efforts to prepare a broader, more diverse pool of today's students to be tomorrow's workforce.
"Our goal is to inspire the next generation of explorers — including those who don't have access to NASA centers nearby — to pursue careers in space, technology and engineering," said Concha Reid, Deputy Program Manager for NASA's Radioisotope Power Systems (RPS) Program. "This pilot program gave the students the real-world mission-planning experience of working together and overcoming differences to achieve mission success."
Students from Shasta's Space Science and Engineering and Computer-Aided Drafting (CAD) classes worked together for two months to produce a comprehensive and realistic space mission that met the demands of the science, engineering and physical constraints of a nuclear-powered spacecraft.
"Many NASA missions visit some of the harshest, darkest, coldest locations in the solar system, and these missions would not be possible, or would be extremely limited, without the use of a nuclear 'battery,' called a radioisotope power system," said Dawn Turney, APL's RPS stakeholder engagement project manager. "Having students learn and get excited about radioisotope power systems and the missions that require them provides students with the knowledge and spark to perhaps one day join this very important career field."
Members of the RPS Program at Glenn in Cleveland, Ohio, met virtually with students throughout the project. They guided them through the mission planning process and helped them understand the complexities of space travel and the enabling power of RPS.
Shasta High School invested in cutting-edge technology for the program to enable students to collaborate with NASA, including Microsoft's HoloLens augmented reality headsets. Technical experts at APL coordinated the installation of spacecraft prototyping software on the headsets and trained the educators and students to use them to view and manipulate virtual 3D spacecraft models.
Students later loaded their own 3D spacecraft designs into the virtual environment so NASA engineers from across the country could provide feedback in real time, as if they were in the same room.
Teachers lauded the program, noting that working with NASA gave their students a deeper understanding of the vast complexity of space exploration and the importance of working as a team to accomplish a common goal.
"Projects like this allow students to take concepts they learned in class and apply them to solve problems," educator Bret Barnes said. "This project was truly relevant and pushed students to collaborate, problem solve and design a mission in a very short period of time."
Educator Brian Grigsby was especially taken by the students' response to the program. "The quality of work produced by students showed how invested every student was in the project," he said. "Many students involved recognized the importance of their work and how it will shape their future career choices…pursuing STEM related careers as a result."
For several NASA and APL experts involved in the program, the students' drive and investment in the project was both inspirational and heartening.
"To see high school students with a passion for STEM and space science makes me excited for the future," said Adam Fagan, the program's technical lead at APL. "It is quite clear that the educators at Shasta High School are thoroughly invested in leading these students toward STEM careers. Their commitment, and the commitment of other educators like them, will ensure that the STEM fields of study will continue to grow and advance with the next generation."
APL will continue to support the development and implementation of the program as NASA continues beta testing in the 2022-2023 school year.
The Applied Physics Laboratory, a not-for-profit division of The Johns Hopkins University, meets critical national challenges through the innovative application of science and technology. For more information, visit www.jhuapl.edu.