Press Release
APL Achievement Awards Celebrate Staff Members' Bold Innovations and Game-Changing Impact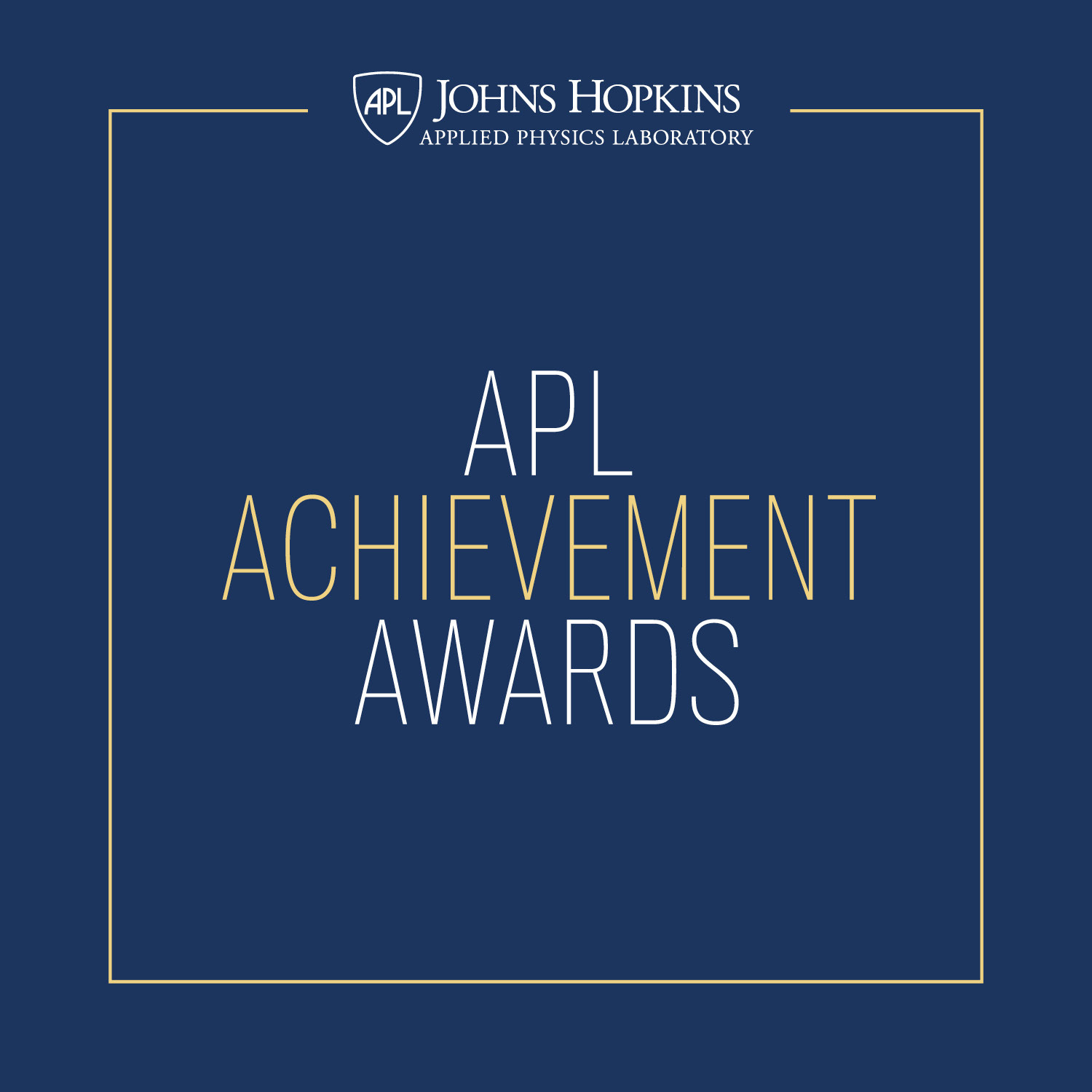 Johns Hopkins APL celebrated staff members' impact and achievements at the annual APL Achievement Awards ceremony, which was held earlier this year.
Credit: Johns Hopkins APL
Tue, 09/06/2022 - 14:56
Nearly 200 staff members were honored for some of the Johns Hopkins Applied Physics Laboratory's (APL) most exceptional work from 2021 during the Lab's annual Achievement Awards ceremony earlier this year. The virtual ceremony honored outstanding publications and notable projects, individuals and teams throughout the Lab from last year.
A record 824 staff members were nominated through 150 entries in 25 award categories. Ultimately, 178 staff members were recognized among 29 winning entries. The ceremony also included the debut of a new honor — the Analytical Achievement Award — recognizing analytic work that resulted in a critical contribution to a government decision-maker or program.
"APL is celebrating its 80th anniversary, recognizing eight decades of game-changing impact and bold innovations," said Jerry Krill, one of the ceremony's hosts and APL's assistant director for science and technology. "These awards are a way to recognize the incredible work our staff has done over the past year for APL and the nation."
Staff members received awards for outstanding work in areas such as publications, Independent Research and Development (IRAD) projects, Project Catalyst ideas, inventions and mission accomplishments.
The Enterprise Accomplishment Award, which recognizes projects with the greatest impact to APL, was awarded to staff members whose work led to an incredible achievement in 2021: expanding APL's footprint by opening three new buildings in six months, including a 263,000-square-foot state-of-the-art research facility.
The ceremony also included two Director's Awards, which honor accomplishments that occur outside the usual award categories: the "Boldies," for some of the boldest work at APL; and the Light the FUSE Award, which honors contributions that promote a positive, diverse and inclusive culture at the Lab.
2021 APL ACHIEVEMENT AWARD WINNERS
Publication Awards
Author's First Paper in a Peer-Reviewed Journal or Proceedings
Ryan Bull for "Optical Gravimetry Mass Measurement Performance for Small Body Flyby Missions," published in Planetary and Space Science.
Outstanding Paper in the Johns Hopkins APL Technical Digest
Eyal Bar-Kochba, David Blodgett, Michael Fitch, Scott Hendrickson, Carissa Rodriguez, Clara Scholl, Nicole Steiner and Jeremiah Wathen for "Optical Noninvasive Brain–Computer Interface Development: Challenges and Opportunities."
Outstanding Research Paper in an Externally Refereed Publication
Chuck Hebert, Andy Lennon, James Mastandrea, Sal Nimer, Drew Seker, Steve Storck, Morgan Trexler, Douglas Trigg and Gianna Valentino for "Controlled Shape-Morphing Metallic Components for Deployable Structures," published in the journal Materials & Design.
Outstanding Development Paper in an Externally Refereed Publication
Justin Atchison, Olivier Barnouin, Nancy Chabot, Andrew Cheng, Terik Daly, Carolyn Ernst, Andrew Rivkin and Angela Stickle for "The Double Asteroid Redirection Test (DART): Planetary Defense Investigations and Requirements," published in The Planetary Science Journal.
Outstanding Professional Book (three awards)
Larry Paxton and Yongliang Zhang for "Space Physics and Aeronomy" (a five-volume set), co-published by the American Geophysical Union and Wiley.
Eric Jansing for "Introduction to Synthetic Aperture Radar: Concepts and Practice," published by McGraw Hill.
Andrew Adams, Daniel Chew and Jason Uher for "Wireless Coexistence: Standards, Challenges, and Intelligent Solutions," published by Wiley.
Outstanding Special Publication
James Roberts for the book chapter "Endogenic Origin of the Martian Hemispheric Dichotomy," in the book Mars Geological Enigmas, published by Elsevier.
Outstanding Conference Publication Award
David Blodgett, Michael Fitch, Scott Hendrickson, Griffin Milsap, Vincent Pagan, Lafe Spietz and Jeremiah Wathen for "A 32-Channel Frequency-Domain fNIRS System Based on Silicon Photomultiplier Receivers," published in Proceedings of SPIE Volume 11629: Optical Techniques in Neurosurgery, Neurophotonics, and Optogenetics.
Publication Lifetime Achievement Award
R. W. Hart Prizes for Excellence in Independent Research and Development
Best IRAD Research Project
Ra'id Awadallah, Joseph Miragliotta, Korine Ohiri, Stergios Papadakis, David Shrekenhamer and Timothy Sleasman for Metasurfaces for Adaptive Frequency Shifting.
Best IRAD Development Project
Brian Anderson, Romina Nikoukar, Leonardo Regoli and Sarah Vines for MagGrad.
Invention Awards
Government Purpose Invention Award
Eric Adles, Chun-Huei Bair, Andrew Goers, William Irizarry-Cruz, Jay Komsa, Lindsey Marinello, Elad Siman-Tov and Justin Zobel for Time and Frequency Distribution Using Stabilized Fiber-Optic Links.
Invention of the Year Award
James Johnson, Jesse Ko, Nam Le, Danielle Schlesinger and Zhiyong Xia for Per- and Polyfluorinated Alkyl Substances (or PFAS) Removal by Magnetite Nanoparticle Catalyzed Fenton Reaction.
Mission Accomplishment Awards
Mission Accomplishment Award for a Current Challenge
Core team members Eric Adles, Donna Bush, Landon Garry, Reuben Johnston, Jonathan Labin, Helen Mitch, Gregory Moormann, Ron Schulze, Joshua H. Shrader and Hank Tillman for Deep Space Advanced Radar Concept Technical Demonstration.
Mission Accomplishment Award for an Emerging Challenge (two awards)
Principal contributors Angela Bates, Tri Freed, Chris Najmi, Brian Nyffenegger, Steve Quinn, John Schmidt, William Torruellas and Geoff Uy for Establishing a Glide-Phase Hypersonic Defense Capability.
Core team members Kevin Baldwin, Ben Baugher, Linda Frizzell-Makowski, Jennifer Mann, Robert Patterson, Craig Payne, Scott Peacock, Bill Sparrow and Radha Venkat for Long Range Anti-Submarine Warfare Surveillance on Autonomous Unmanned Surface Vessel.
Enterprise Accomplishment Award
Led by Kevin Ames, Amy Bulcavage, Jason Coffroad, Chris Gilligan, Josh Helt, Nicholas Laswell, Jimmy Patel, Ron Prietz Jr., Tom Topper and Rebecca Young for Successful Expansion of the APL Footprint, specifically the addition of 515,000 gross square feet of space from the three new buildings.
The Alvin R. Eaton Award
Ken Olson, for exceptional analytical work resulting in models and simulations that shaped the nature of strike missions, electronic warfare and air combat.
Project Catalyst Awards
Ignition Grant Prize
Wade Lewis, Griffin Milsap, Lynn Reggia and Blake Schreurs for Multifaceted Intentional Natural Drone Control.
Combustion Grant Prize
Andrew Murphy and Kevin Schultz for Demonstrating Operationally Relevant Quantum Sensing.
Propulsion Grant Year 3 Prize (three awards)
Team principals Joseph Angelo, Anissa Elayadi and Jason Spitaletta for Biosecurity and Health Screening.
Amanda Ernlund, Michael Moore, Briana Vecchio-Pagan and Tina Zudock for POSIES.
Michael Brupbacher, David Deglau, Michael Presley and Joe Scroggins for Solar Powered Rocket.
Director's Award for Special Achievements (two awards)
Team members Andrea Brown, Keith Caruso, Michael Kelly, Mark Mayr, Sandor Mester, Russell Popkin, Daniel Schwartz, Steve Tangen, Michael Thomas and Bill Tropf for developing a technology that closed an urgent Department of Defense capability gap.
Core team members Steve Caperna, Stephen DiBenedetto, Chris Garman, Andrew Jurik, Adam Martin, Jon Oben, Nick Pillitteri, Curtis Reybold, Doug Wenstrand and Jeana Yee for developing and deploying a set of capabilities incorporating signal detection, geolocation and cyber.
The "Boldies" (two awards)
Bumblebee Award
Ed Brouwers, Kyle Casterline, Chris DeMay, Khang Ngo, Preethy Raman, Tunde Sanni, Bobby Shearer, Steve VanDerwalker, Nicholas Watkins and Eddie White for developing a digital, agile, open and government-owned research and development testbed capability, known as the Colosseum.
Noble Prize
Joe Downs, Rahul Hingorani, Grace Hwang, Juan Ramirez, Elizabeth Reilly, Anshu Saksena, Kevin Schultz and Marisel Villafane-Delgado for Fourier-Analytic Theory of Emergence, through which they created and applied novel graph signal processing techniques to a range of APL challenges.
Light the FUSE Award
Leaders Natalie Anderson, Emily Camacho, Julia Eng, Ryan Pepito, Adjoa Poku, Rob Schrier, Arvin Siva, Emerson Smith and Willie Stewart for implementing a cutting-edge collaborative approach to delivering relevant and timely threat information to staff members.
APL Analytical Achievement Award
Core team members George Cancro, Erin Hahn, Sophia Jensen, Ian MacLeod, Christine Martin, Mike Moskowitz, Julie Obenauer-Motley, Freddy Obrecht, Lauren Shin and Mareena Snowden for their analysis of an autonomous weapon system.
The Applied Physics Laboratory, a not-for-profit division of The Johns Hopkins University, meets critical national challenges through the innovative application of science and technology. For more information, visit www.jhuapl.edu.