Press Release
Johnson Named Johns Hopkins APL Chief of Staff
Erik Johnson assumed the chief of staff role in January of this year.
Credit: Johns Hopkins APL
Tue, 05/03/2022 - 16:37
Erik Johnson has been named chief of staff at the Johns Hopkins Applied Physics Laboratory (APL) in Laurel, Maryland. He succeeds Ron Luman, who retired in January after more than 43 years of pivotal contributions to the Laboratory and the nation.
Johnson, who served as deputy chief of staff from September 2021 through Luman's retirement, has been an APL staff member for more than two decades. A former managing executive in APL's Force Projection Sector (FPS), Johnson is highly regarded for his expertise in nuclear weapons security and undersea warfare, as well as his strong leadership and organizational management skills.
"Erik is emblematic of what we seek to be at APL," said Director Ralph Semmel. "He has dedicated himself to our nation — as a Navy officer, engineer and executive — and to guiding the Laboratory and ensuring that staff members thrive. His experience, thoughtfulness and leadership will make him an outstanding chief of staff."
As chief of staff, Johnson is a key member of the Laboratory's front office and sets the strategic decision agenda for APL's Executive Council, which is responsible for Labwide strategy and policy. He also helps guide APL's strategic investments. For the past two years, the chief of staff has also led the Lab's pandemic response, carefully monitoring developments and working closely with APL's Environmental Health and Safety team, and others, to adjust policies and protocols as needed.
"I am honored to step into this role," Johnson said. "Merle Tuve, the Lab's first director, was very clear that it's our job to help the nation's warfighters and work to provide them the technologies and systems they need to carry out their missions more effectively and efficiently. That focus on mission and the end user — whether warfighter, first responder or NASA scientist — is a critical part of what makes the Laboratory such a special place."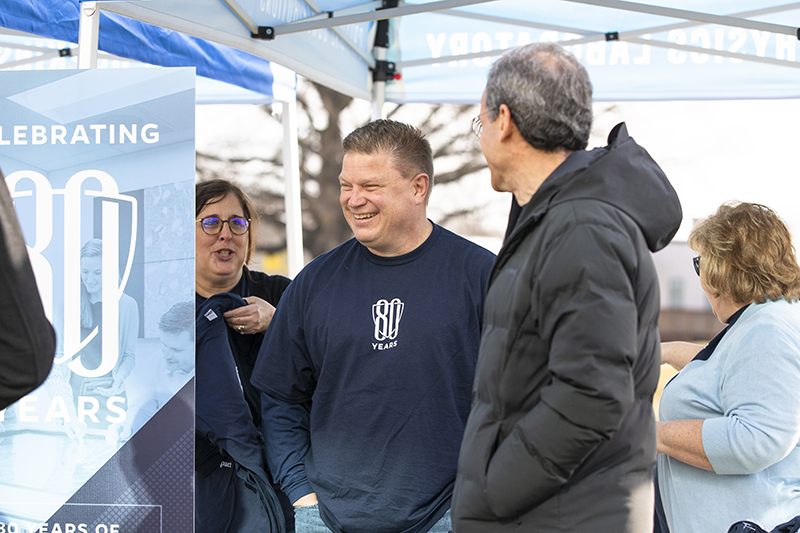 In his tenure, Johnson has seen the Lab's contributions, campus and staffing expand as new mission areas were established in response to national needs. He credits Semmel and senior leadership with developing the Laboratory's strategy-driven approach, as well as transforming approaches to fostering innovation. Johnson now hopes to help position APL to meet the next 20 years of national needs.
"The magnitude and scope of the technology breakthroughs our sponsors and warfighters need in this evolving national security environment are daunting," Johnson said. "That puts it on us to answer the call and respond to those challenges."
Johnson had an early start in performing under pressure as an assistant weapons officer on the submarine USS Wyoming (SSBN 742 BLUE). During his time in the Navy, he received training in submarine operations and tactics and was given unique leadership opportunities. It is his submarine background and subject-matter expertise, more so than his degree in aerospace engineering from North Carolina State University, that Johnson credits with landing him his first job at APL as an operations analyst. He also earned his master's in business administration from Johns Hopkins University.
During Johnson's tenure as FPS managing executive, the sector dramatically increased its system prototyping activities and grew capabilities in critically important areas, such as artificial intelligence, machine learning, autonomy, hypersonics, digital engineering and reentry systems. In addition, Johnson championed new leadership-development initiatives to bolster and prepare a pipeline of strong technical, line and program leaders within the sector.
Johnson officially began as chief of staff at the end of January, when Luman retired. Luman joined APL as a mathematician in the Strategic Systems Department, where he spent his early career developing submarine navigation, deployment and reentry system error models and accuracy assessments of the Trident II strategic deterrence system. After serving a two-year assignment as the technical advisor to the commander, Submarine Force, U.S. Pacific Fleet, he returned to the Lab to lead critical studies and initiatives related to national technology challenges, such as mine warfare, ballistic missile defense and infocentric operations.
Luman was appointed National Security Analysis Department head in 2004 and was named the Laboratory's assistant director for strategy in 2010, before serving as APL's chief of staff from 2013 to 2022.
The Applied Physics Laboratory, a not-for-profit division of The Johns Hopkins University, meets critical national challenges through the innovative application of science and technology. For more information, visit www.jhuapl.edu.