News
Johns Hopkins APL's Andre Douglas Selected to Join 2021 NASA Astronaut Class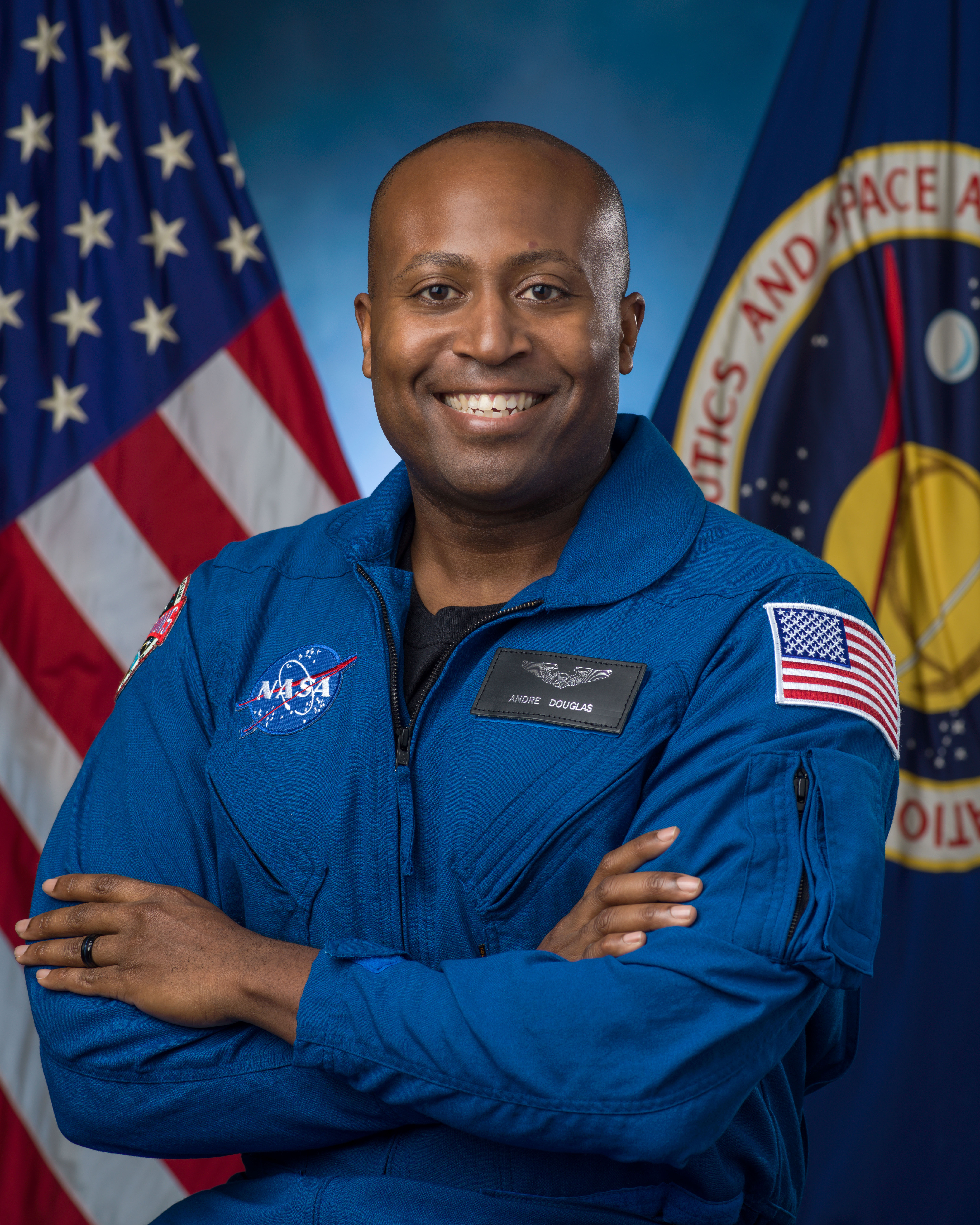 Andre Douglas, who wore multiple hats during his APL tenure as a naval architect, mechanical engineer, systems engineer and project manager for various land, sea and space projects, is one of 10 new NASA astronaut candidates chosen from a field of more than 12,000 applicants.
Credit: NASA
Thu, 12/23/2021 - 16:52
Nicole Choi
Andre Douglas, a systems engineer at the Johns Hopkins Applied Physics Laboratory (APL) in Laurel, Maryland, was selected by NASA to join the 2021 astronaut candidate class. He will report for duty in January to begin two years of training.
Douglas, who wore multiple hats during his APL tenure as a naval architect, mechanical engineer, systems engineer and project manager for various land, sea and space projects, is one of 10 new NASA astronaut candidates chosen from a field of more than 12,000 applicants.
"Andre exemplifies APL's values," said APL Director Ralph Semmel. "He has leveraged his wide expertise to tackle incredibly complex challenges, and he consistently strives for game-changing impact. We look forward to following him on his journey as a NASA astronaut."
Douglas is the second APL staff member to make an astronaut candidate class. Christina Koch, who was with the Lab from 2007 to 2009, was selected to join the NASA astronaut class in 2013, and eventually broke the world record for the longest single spaceflight by a woman in 2019.
Douglas served in the Coast Guard for seven years as a naval architect, salvage engineer, damage control assistant and officer of the deck. During his service, he mentored children and teens in science and technology as part of the FIRST (For Inspiration and Recognition of Science and Technology) Robotics program. Attending a mentor meeting at APL was Douglas' introduction to the Laboratory.
"When I walked around the campus, I saw all the displays showcasing APL's wide-ranging work, from ships to satellites," said Douglas, who, at the time, was preparing to leave the Coast Guard and noted APL as the next place for him. "When I got out of the service, I saw the APL logo on a job fair advertisement. I went to that job fair just to learn more about the Lab."
Brian Munoz, a talent acquisition manager in APL's Talent Services Department, met Douglas at a job fair and told him that APL could use his skills as a naval architect. Joining the Lab in 2015 changed Douglas' career trajectory.
Wide-Ranging Expertise
"As soon as I got to APL, I was like a kid in a candy store," said Douglas, who was initially a mechanical engineer focusing on ocean systems and engineering in the Lab's Force Projection Sector (FPS). "The Lab has its hands in everything. You can explore just about any domain you want here. And the fact that you're encouraged to work with cross-domain teams is so valuable."
That was also the first year for the Lab's set of three internal funding opportunities called Project Catalyst, through which Douglas became involved in a space-based project and developed a formative connection.
"In 2017, I was part of a team exploring synthetic aperture radar techniques to create a flexible intelligence, surveillance and reconnaissance system," Douglas said. "And the team lead, Michael Nord, suggested I serve as the team's systems engineer." That comment made by Nord, a remote sensing scientist in APL's Asymmetric Operations Sector, inspired Douglas to begin his doctorate in systems engineering the following year.
While his work the last seven years has spanned mechanical engineering technical leadership for FPS and systems engineering for the Lab's Space Exploration Sector, Douglas most recently contributed to NASA's first planetary defense mission, the APL-led Double Asteroid Redirection Test (DART), as part of the team that facilitated the spacecraft's safe-mode operations.
"APL is beyond excited about Andre joining NASA's 2021 astronaut candidate class," said Jason Kalirai, APL's mission area executive for Civil Space. "As witnessed through his work ethic, deep and varied expertise, and marked devotion to teamwork, Andre has always striven to maximize his full potential. We eagerly await the time when Andre will address challenges in space as deftly as he has addressed challenges here on Earth."
A Singular Vision
Training to become an astronaut is an important step to help Douglas achieve his larger mission: to explore the unknown and make discoveries that can benefit humankind. Explorations at the frontier, though, also come with complex challenges that are found at the intersection of multiple domains. The best way to prepare is to diversify one's expertise, he said.
"I always like to think of this analogy: when we train artificial intelligence, we're always saying we need to train it with more, varying data so it can operate better in unpredictable environments," Douglas explained. "That's essentially what I've been trying to do by gaining different skills and exposure to different fields."
Douglas' academic background spans naval architecture, electrical and computer engineering and systems engineering. He earned two master's degrees from the University of Michigan: one in mechanical engineering and another in naval architecture and marine engineering. He holds a third master's in electrical and computer engineering from Johns Hopkins University, and, most recently, he received his doctorate in systems engineering from George Washington University.
Douglas views this once-in-a-lifetime opportunity as the ultimate challenge. The next two years of training, which falls into five major categories, will prepare Douglas and his cohort to lean on the expertise each has built over their lifetimes to advance a greater, broader mission.
Watch a Q&A with Douglas and read more about his wide-ranging accomplishments.
The Applied Physics Laboratory, a not-for-profit division of The Johns Hopkins University, meets critical national challenges through the innovative application of science and technology. For more information, visit www.jhuapl.edu.