Press Release
Johns Hopkins APL's Mary Lasky Honored for Dedication and Contributions to Disaster Resilience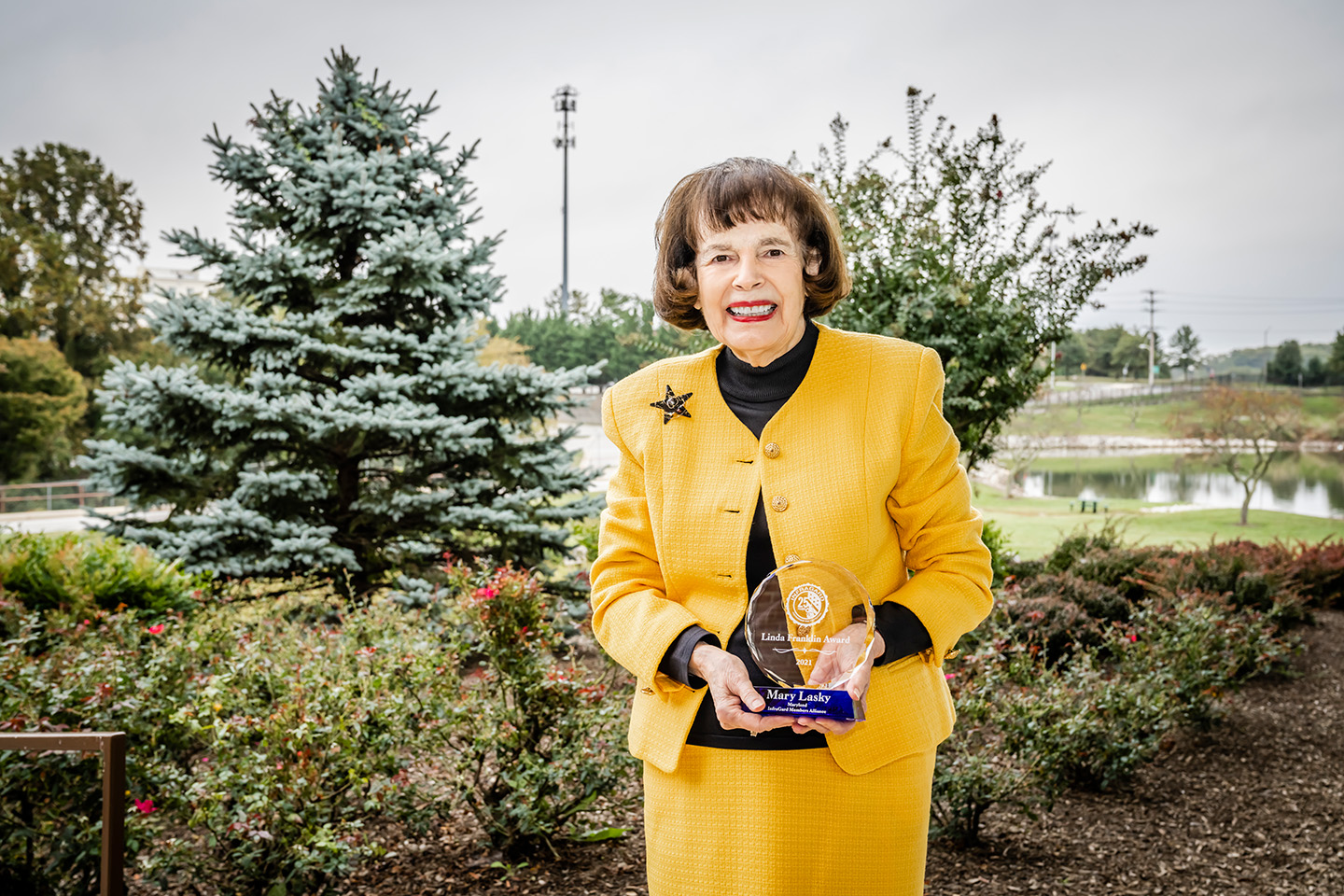 To commemorate Mary Lasky's devotion and service to APL, a blue spruce tree was planted in her honor upon her retirement in 2012. The tree can be found next to the Lab's Kossiakoff Center.
Credit: Johns Hopkins APL/Craig Weiman
Fri, 11/12/2021 - 13:05
Mary Lasky of the Johns Hopkins Applied Physics Laboratory (APL) in Laurel, Maryland, has been presented with the Linda Franklin National Achievement Memorial Award, the highest honor bestowed on volunteers of InfraGard, a nonprofit organization dedicated to strengthening and protecting the nation's critical infrastructure through a public-private partnership with the Federal Bureau of Investigation.
Named after former FBI employee Linda Franklin, who spent countless hours to help establish InfraGard, the award was presented to Lasky for her dedication and significant contributions to the advancement of the organization and its ideals.
"It's very humbling that the organization would give this national award to me," Lasky said. "I'm just thrilled, and I feel very honored."
Lasky, who has been an employee at APL for over 50 years, began her career in information technology and served as APL's business continuity program manager in the Lab's Business, Construction and Facilities Department (BCFD). Since retiring in 2012, she has been temp-on-call as a business continuity advisor and member of the Lab's Incident Command System (ICS) team, which is responsible for planning for and returning the Lab to normal operations in an emergency. Having dealt with disaster recovery in IT, Lasky became a trusted advisor in business continuity after the Sept. 11, 2001, terrorist attacks.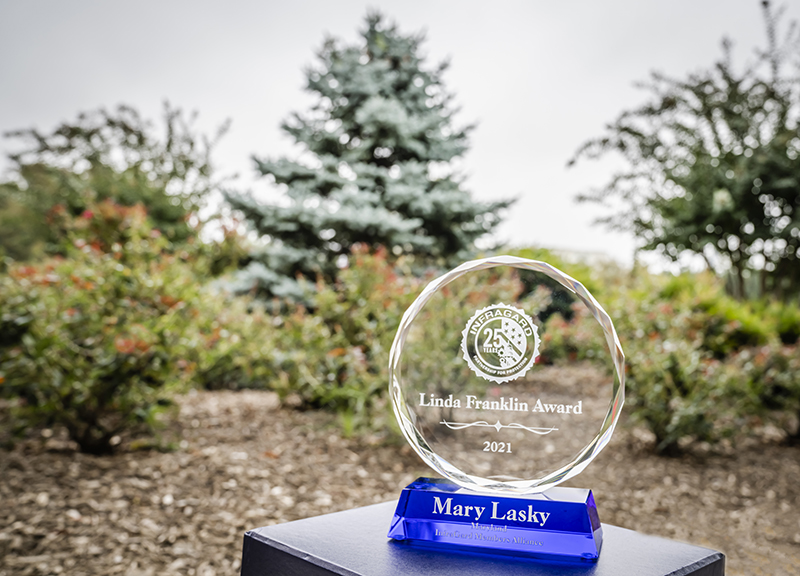 "APL leadership turned to Mary during that time to enhance our continuity planning and emergency preparedness programs," said BCFD Head and Chief Financial Officer Nick Langhauser. "Through her interest and dedicated efforts, she not only guided APL's readiness but also became nationally recognized for her expertise. This award from InfraGard highlights her achievements in disaster resilience over the last 20 years."
Lasky began volunteering with InfraGard in 2011, and for the last 10 years has led its National Disaster Resilience Council (NDRC), first as vice chair and then as chair beginning in 2017. A cross-sector council composed of over 2,000 InfraGard members, NDRC aims to prepare for disasters that could affect the nation's 16 critical infrastructures — systems or assets essential for a functional society — making them resilient in the face of catastrophe.
Lasky served as lead editor and author of NDRC's "Powering Through: Building Critical Infrastructure Resilience," a management handbook for local and national leaders tasked with addressing vulnerabilities and identifying prevention opportunities in critical infrastructure. The handbook was sent as a resource to every member of Congress earlier this year as lawmakers work on the Infrastructure Investment and Jobs Act. Lasky also served as lead editor and author of NDRC's "Powering Through: From Fragile Infrastructures to Community Resilience."
Lasky's most recent work with InfraGard involved organizing NDRC's 10th annual summit. She partnered with APL's virtual events team and Communications Department to host this year's virtual summit, which featured a keynote speech from George Baker, professor emeritus of applied science at James Madison University who recently retired from the National Security Council Resilience Directorate. Presentations were also given by APL Senior Fellow Paul Stockton, Senator Gary Peters, Representative Rob Wittman, and various industry and academic leaders.
The impact of the NDRC and Lasky's leadership is evident at APL and throughout Howard County, Maryland, as Lasky plays the role of a conduit, passing down insights and resources gathered at the national level to the local level and vice versa.
"I became involved with InfraGard when I learned the organization was doing an exercise to figure out what would happen to the nation if there was an electromagnetic pulse from a nuclear high-altitude explosion," Lasky said, referring to tabletop exercises that pose disaster scenarios to guide contingency plans. "I was already working on an exercise that asked, 'What happens if there is a nuclear explosion in the local area?'"
For the past five years, Lasky has guided the NDRC through Earth Ex, the world's largest resilience exercise in history that garners participation from corporate and government sectors in more than 40 nations. Three years ago, she initiated APL's participation in the exercise.
Lasky has also built a reputation for her ability to distill pages of complex information into actionable steps.
"When it comes to business continuity, you create great, big plans," Lasky said. "The ICS team created a pandemic plan for the Lab that was over 100 pages long, making it difficult to read in times of emergency. So, I created a one-page document that detailed what each part of the Lab would do to ensure APL could carry out its services during the pandemic."
In 2018, she was recognized as Howard County's Volunteer of the Year for her work and leadership, creating such plans for Grassroots Crisis Intervention Center and Community Emergency Response Network, organizations for which she has served as president. Lasky has also spoken about the one-page plans at various national InfraGard meetings.
"I have worked with Mary for a number of years now, and I continue to be impressed by her calm yet persistent, forceful drive," said Brian Donohue, Lasky's successor as APL's business continuity program manager. "She simultaneously wears down obstacles and builds foundations for positive change. This recognition from InfraGard is most well deserved."
The Applied Physics Laboratory, a not-for-profit division of The Johns Hopkins University, meets critical national challenges through the innovative application of science and technology. For more information, visit www.jhuapl.edu.