Press Release
A Father's Advice Drives Master Inventor George Coles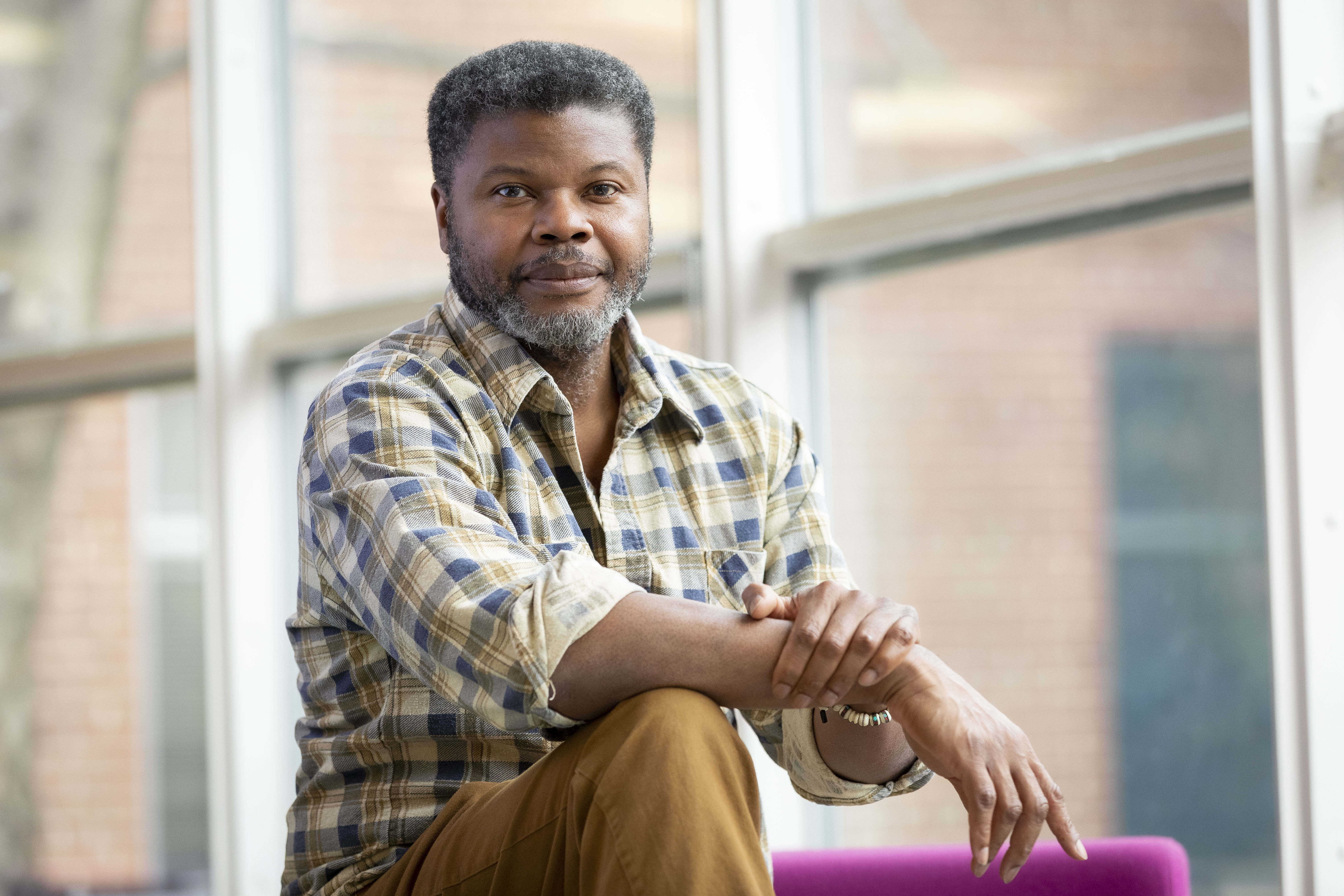 George Coles Jr., 2020 Master Inventor
Credit: Johns Hopkins APL/Ed Whitman
Tue, 07/13/2021 - 10:29
Growing up, George Coles Jr. often heard from his father — a shoemaker and repairman — "If you use it, you need to know how to fix it."
That directive has informed Coles' professional work, except he has taken it a step further. He has excelled not only at fixing things but also at making them better, more efficient. It's no wonder, then, that after two decades at the Johns Hopkins Applied Physics Laboratory (APL) in Laurel, Maryland, he has fixed enough things to secure more than 10 patents, a feat that has earned him the designation of APL Master Inventor.
The Master Inventor Award recognizes staff members who have demonstrated a career of innovation with 10 or more patents based on APL intellectual property. Coles, along with two other colleagues in APL's Research and Exploratory Development Department (REDD) — David Blodgett and Jennifer Sample — was honored April 27 at the annual APL Achievement Awards ceremony.
Coles is a biomedical engineer by training, but his 11 patents touch on a variety of disciplines, most in the health care field. One of his earliest patents was for a drug delivery system that modifies stents — the medical devices inserted into a blocked passageway, such as a blood vessel, to keep it open and prevent heart attacks. Conventional stenting therapy is successful for millions of Americans who suffer heart attacks each year. But, in about 5% of cases, the stent causes a clot that results in a massive, and often fatal, heart attack. Coles' stent design delivers medicine from the stent to eliminate the clot and restore normal blood flow in seconds.
This patent grew from a conversation with a doctor who was frustrated over the inability to predict the risks of these sudden blood clots. Coles said he had an idea, based on work he had done as a commissioned officer with the National Oceanic and Atmospheric Administration. The physician was skeptical, but APL provided Coles with seed funding to prove his concept. "It tested out," Coles said. "And that led to six years of funded work, a patent, several opportunities for people trying to license it, and a good friendship."
His innovations have often stemmed from casual conversations. When he talks with physicians about their challenges, Coles says he starts very simple. Often, they are so close to the issue — too familiar with the problem and the procedures — that they might miss something. So, he starts from an elementary understanding, with no assumptions about how things should or shouldn't be. When you do that, he said, "you start seeing opportunities for solutions."
Coles draws heavily on his background in microelectromechanical systems to help find solutions to the challenge at hand. Several of his patents stemmed from his work developing a removable middle ear implant sensor.
Of the various types of surgeries to treat hearing loss, some involve installing prosthetic implants into the patient's middle ear. Surgeons "had no way to evaluate how well they had positioned [the implant] and if the device was working while they were in surgery," he said. "They would have to evaluate after surgery and then do a revision later, which means another surgery. And I'm like, 'Wow, there has to be a better way than this.'"
Coles said he examined the device and wondered, "Why can't we use a piece of electric material that gives us stress values and then determine what the frequency is so you can figure out how well the person is hearing while they are on the [operating] table?" He partnered with another APL researcher, Dawnielle Farrar-Gaines, and developed the device.
One of his patented technologies — a stem cell bioreactor to treat heart disease — has been licensed to form a start-up company. Patents are important, he said, because they shine a light on APL's critical contributions and innovations.
However, patents aside, he considers all of APL's work important. "Each one of us is a rung in a ladder, and we are constantly stepping on rungs that represent goals that weren't achieved; but what it did was give us information to move forward," he said. "So, a lot of our work will serve as rungs for other people, and there's nothing negative about that."
Coles has worked on many such projects that have not yet led to patents, such as his efforts to develop a device to reduce blindness in poor and rural areas. He's also on a team working to create better treatments for spinal cord injuries. However, he is most proud of a project that did lead to a patent: a shunt that could measure the intracranial pressure in the brains of children suffering from hydrocephalus, noting that the symptoms for shunt failure look much like a cold or flu. Coles came up with a way to modify an off-the-shelf shunt that leverages ultrasound imaging to obtain the intracranial pressure, helping physicians quickly determine if a shunt is failing, without radiation or invasive procedures.
After two decades as a researcher and innovator, Coles recently took on a new role at APL — as a section supervisor in REDD's Advanced Electrical Fabrication Group. He leads a team of 10 researchers and engineers who apply microelectronic technology to imaginative applications in optical, fluid, sensing, mechanical and other nonelectronic ways.
"Initially, the most fulfilling thing for me at the Lab was to problem solve — to be that researcher, to be that technician, that person that helped figure out other people's problems — but more recently, as the section supervisor, I'm looking at it differently and I'm surprised," he said. "I see that I can actually be more of a value-add by helping other people grow. I can add 10% improvement on myself, but what if I do that across several people? That's a greater improvement, a greater value-add to the Lab and to other people's careers."
Coles is honored by the recognition as a Master Inventor, he said, but takes it in stride. "To be totally honest, I just saw myself doing what I was enjoying and lucky that I was getting paid to do [it]," he said. "I didn't see it as work. So, I feel very honored to be considered a Master Inventor and hopefully, I can work with other people so that they can achieve the same thing."
The Applied Physics Laboratory, a not-for-profit division of The Johns Hopkins University, meets critical national challenges through the innovative application of science and technology. For more information, visit www.jhuapl.edu.