Press Release
DART Mission Heats Up, Enters Environmental Testing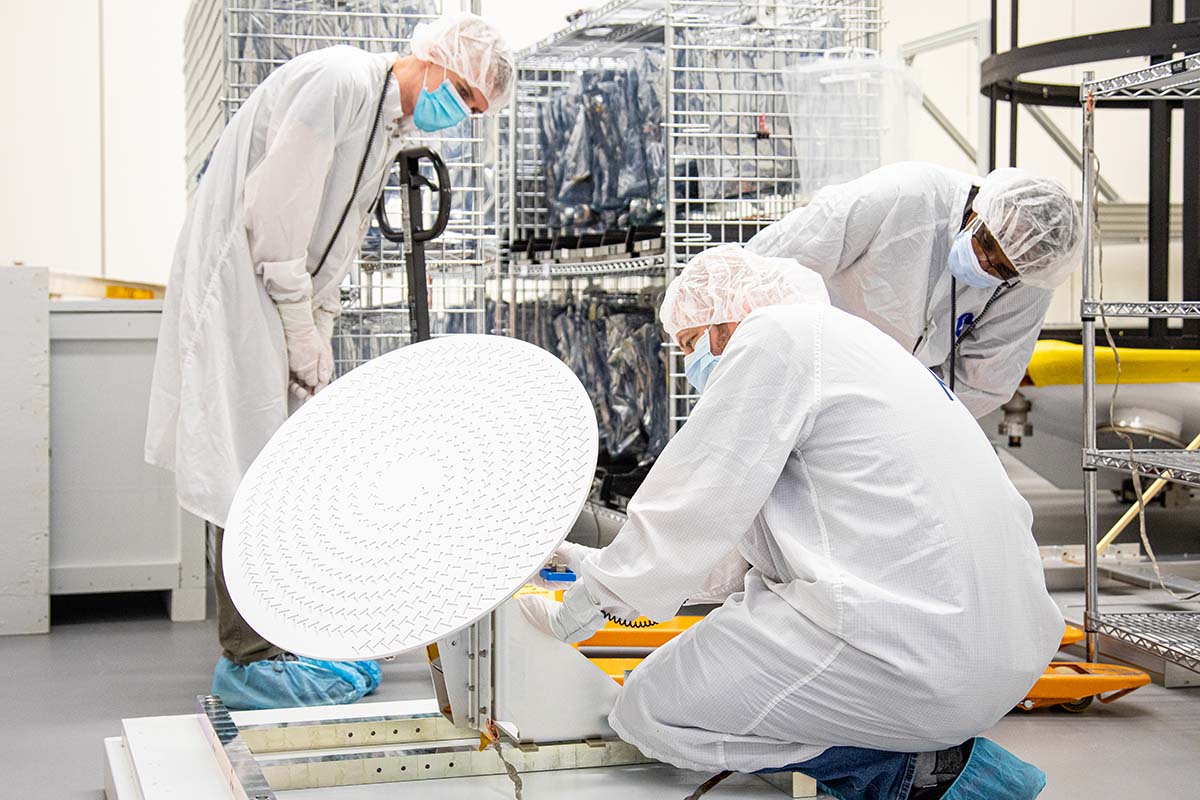 DART team members (from left) John Schellhase, Emory Toomey and Lloyd Ellis of APL inspect the radial line slot array (RLSA) antenna before installing it on the spacecraft.
Credit: NASA/Johns Hopkins APL/Ed Whitman
Tue, 02/09/2021 - 14:41
A months-long integration and testing phase culminated with a successful review and the start of space-environment testing for the Double Asteroid Redirection Test (DART).
NASA's first flight mission for planetary defense, DART seeks to test and validate a method to protect Earth in case of an asteroid impact threat. The mission aims to shift an asteroid's orbit through kinetic impact — specifically, by smashing a spacecraft into the smaller member of the binary asteroid system Didymos.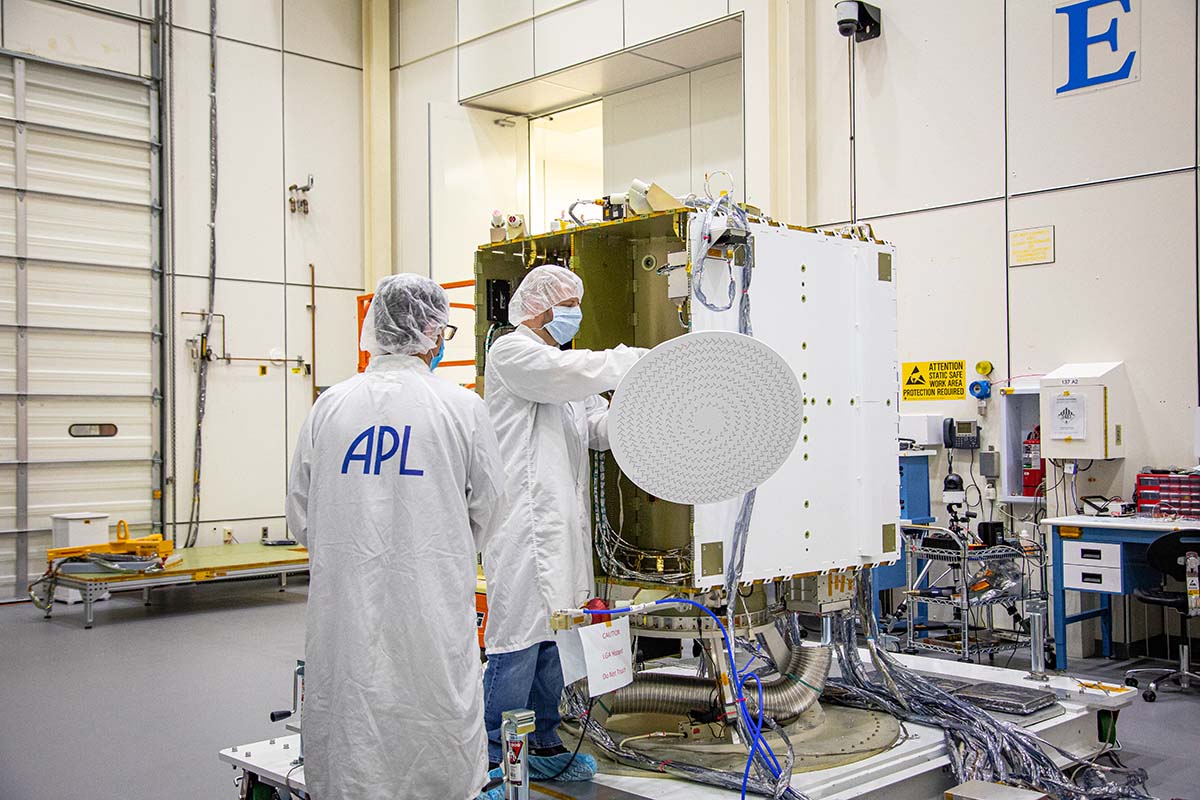 The RLSA is a low-cost, high-gain antenna that enables high-efficiency communications in a compact form. From left, APL's Steve Wenrich and Emory Toomey finalize the installation of the RLSA on the DART spacecraft.
Credit: NASA/Johns Hopkins APL/Ed Whitman
In its Pre-Environmental Review (PER), held Jan. 7, 8 and 11, the DART team presented a comprehensive overview of the mission to a panel of NASA and APL experts and independent evaluators at the Johns Hopkins Applied Physics Laboratory (APL) in Laurel, Maryland. APL, which is building and managing the mission for NASA, shared the latest status on DART planning as well as spacecraft testing and development. The panel congratulated the DART team for its progress, especially its work in the midst of a pandemic.
"We've worked very hard to get to this critical point in the mission, and we have a great idea of spacecraft performance going into our environmental tests," said APL's Elena Adams, DART mission systems engineer.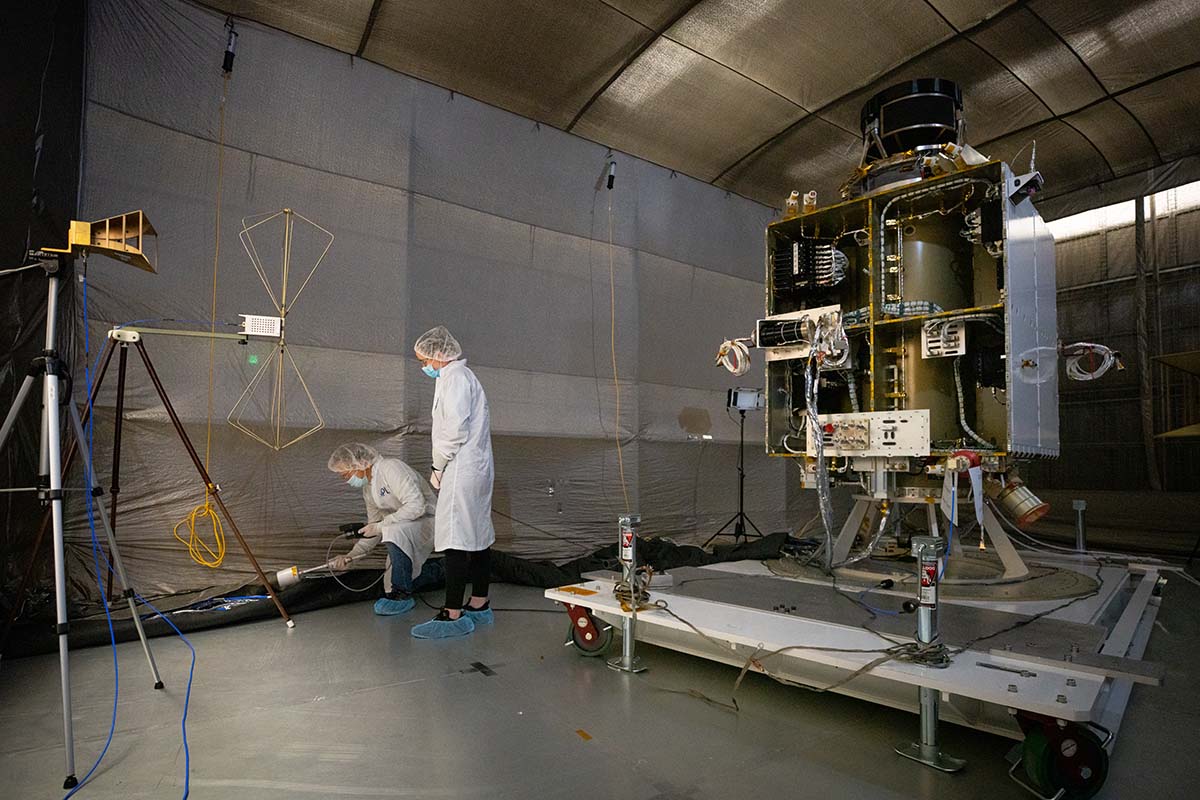 The DART spacecraft undergoes electromagnetic interference testing; from left, APL's Alan Busbey performs measurements with Jackie Kilheffer overseeing the process.
Credit: NASA/Johns Hopkins APL/Ed Whitman
With PER complete, the mission received the green light to move forward with environmental testing. The DART spacecraft was moved into an APL thermal vacuum chamber, where it will spend the next month being subjected to extreme temperatures in preparation for the conditions it will face in space.
"We have an experienced team that is confident with the spacecraft's ability to withstand the rigors of testing in the next month," said Ed Reynolds, DART project manager at APL.
After thermal testing wraps up in early spring, the spacecraft will be equipped with lightweight Roll-Out Solar Arrays and its lone instrument, the Didymos Reconnaissance and Asteroid Camera for Optical navigation (DRACO), for additional vibration and shock testing. DART is scheduled to launch later this year on a SpaceX Falcon 9 rocket from Vandenberg Air Force Base in California.
Learn more about the DART mission here.
The Applied Physics Laboratory, a not-for-profit division of The Johns Hopkins University, meets critical national challenges through the innovative application of science and technology. For more information, visit www.jhuapl.edu.