Press Release
Johns Hopkins APL Goes Virtual to Honor 2019's Top Innovation and Staff Achievements
Tue, 09/29/2020 - 09:30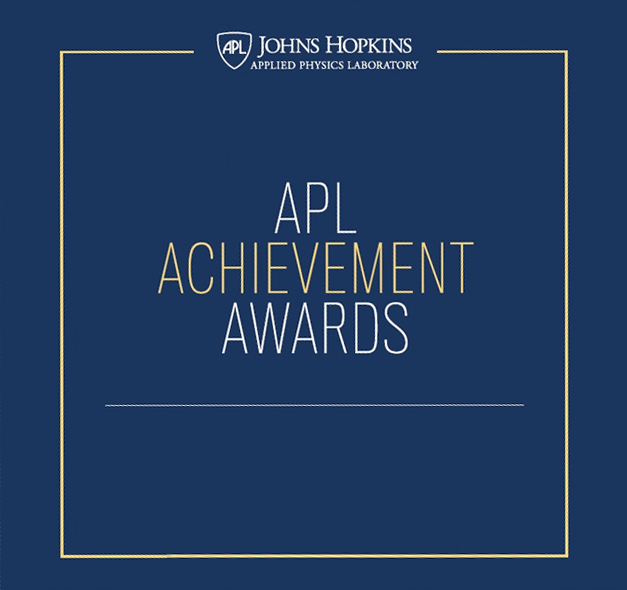 This year's APL Achievement Awards ceremony, held on Tuesday, Sept. 8, via ZoomGov, highlighted the technical, innovative achievements of staff members from 2019 — including a platform developed by an all-female team that incorporates and delivers drugs to prevent or halt Type 1 diabetes, which was named the Invention of the Year. This year's ceremony also highlighted the Lab's creativity in developing a compelling and interactive format for staff members to enjoy safely from the comfort of their homes.
In all, 485 APL staff members were nominated in 114 entries for 23 awards, and a record 131 staff members were recognized for their accomplishments. Those award winners represented a small portion of the critical contributions APL made for the nation in 2019, and highlighted a few outstanding examples of the Lab's world-class expertise and game-changing impact.
"A record 131 staff members were recognized for winning entries," said Jerry Krill, APL's assistant director for science and technology. "Thanks to all of our innovative staff members who are dedicated to making critical contributions and, to quote our centennial vision, 'exemplifying what is means to be a trusted research and development laboratory.'"
2019 APL Achievement Award Winners
Invention of the Year
Xiomara Calderon-Colon, Julie Patrone and Olivia Tiburzi, for creating a new, biocompatible, stable lipid nanoparticle platform that incorporates and delivers drugs that prevent or halt Type 1 diabetes, an autoimmune disease. Because the platform can incorporate a wide range of molecules and drugs, and control their release at targeted sites, the team expects to see similar beneficial effects with other autoimmune disorders.
Government Purpose Innovation Award
Matthew Bichay, Michelle Bowser, James Cahill, Anthony Castellani, David Colbert, Travis Heslop, Michael Kelbaugh, Cathy Krynick, Jeremy Tosh and Derrick Treichler, for developing a project that designed, built and demonstrated an advanced prototype for Aegis ballistic missile defense mission planning. The work facilitates optimization of ship positioning and weapon system configuration to carry out the critical ballistic missile defense mission.
Bumblebee Award
Jennifer McKneely, Mika Ayenson and Pat Allen, for creating a way to measure brain activity in a quest to identify actions of a cyber defender that cause the greatest frustration, delay and confusion on the part of a cyber adversary. The effort, if successful, will lead to identifying the techniques that best shift the cyber advantage toward defenders.
Noble Prize
Luke Currano, Michael Jin, Collin Timm and Kurtis Winkler, for attempting to leverage the natural life processes of plants to create a power source. Although they were not successful, their research led them to possible ways to improve the plant microbial fuel cell system approach in the future.
Ignition Grant Prize for Creativity and Potential Impact
Dan Berman, Craig Howser and Tom Mehoke, for experimenting with state-of-the-art deep-learning methods to predict influenza virus evolution.
Combustion Grant Prize for High Risk, High Impact Technical Ideas
Grace Hwang, Jared Markowitz, David Maxson and Kevin Schultz, for creating a foundation for a novel architecture to represent the adaptation of knowledge, thus enabling rapid machine learning in changing environments.
Year 3 Propulsion Grant Awards
Nate Boggs, Seneca Bessling, Sarah Grady, Evan Lloyd and Kaitlin Lovett, for creating a new approach to surveillance and exfiltration of information by using a listening device devoid of electronics.
Josh Higginson, Paige Nardozzo, Sarah Popkin, Justin Smith and Gary Worrell, for developing a way to enable multiple flight tests of hypersonic payloads per day with a reusable launch vehicle.
Mission Accomplishment for Current Challenge
Teck Choo, Bob Erlandson, Angela Hodge, John Landshof, Mike Norkus, Emma Rainey, Chris Regan and Walid Saleh, for developing program that provides the Ballistic Missile Defense System with a battle damage assessment capability from space. It comprises a network of small sensors that collect the energy signature of the impact between a threat ballistic missile and an interceptor.
Mission Accomplishment for Emerging Challenge (Tie)
Yunus Agamawi, Nathaniel Dordai, Barry Hannah, James Liu, Dana McKinney, Derek Miller, Michael Patterson, Donna Rodney, Steve G. Sherman and Chris Steen, for creating an effort that will greatly reduce the time to generate mission data for the Conventional Prompt Strike weapon system.
Nate Boggs, Chris Bradburne, Liz Corson, Brian Damit, Audrey Fischer, Sarah Grady, Connor Sage, Kathy Santos, Jen Therkorn and Kathleen Verratti, for developing a project to significantly strengthen the nation's bio-detection posture and establish a new critical area in bio-detection, prompting the community to view biothreat mitigation more progressively.
The Alvin R. Eaton Award
Peter Sharer, the chief engineer in the Space Exploration Sector, for his critical contributions to the Department of Defense and the intelligence community in the fields of space domain awareness, counter-space operations, and space security and defense on numerous highly classified programs with APL sponsors.
Director's Award for Special Achievements (Tie)
Chris Cooke, Christopher Dohopolski, Matthew Fifer, Andrea Jensenius, Johnathan Pino, Francesco Tenore, Margaret Thompson and Brock Wester, for their collaboration with Johns Hopkins Medicine on a system that allows a human to control two of APL's modular prosthetic limbs while perceiving sensory feedback when the mechanical fingers touch objects in the environment. These advances have significantly pushed the boundaries of what is possible in rehabilitation after high spinal cord injury.
Joseph DiLosa, Christopher Garman, Elise Green, Patrick Hock, Mitch Malone, Michael Montgomery, Jonathan Oben, Kush Patel, Alpha Wurie and Darrell Zinn, for their development of a classified system that responded to an urgent operational need and grew into a suite of capabilities that are in near-constant operation in support of national security.
Master Inventor
Earned by two staff members this year, Morgan Trexler and Jeff Maranchi, in recognition of their 10 issued U.S. patents while employed at APL.
Publication Awards
Author's First Paper in Journal or Proceedings
Gregory Quiroz, for "Robust quantum control for adiabatic quantum computation" published in the Physical Review.
Outstanding Paper in the Johns Hopkins APL Technical Digest (The Walter G. Berl Award)
Kristen Fretz, Melissa Jones, Sanae Kubota and Clayton Smith, for "Integrating Reliability Engineering with Fault Management to Create Resilient Space Systems."
Outstanding Research Paper in an Externally Refereed Journal Publication
Kevin Schultz, for "Exponential families for Bayesian Quantum Process Tomography" published in Physical Review.
Outstanding Development Paper in an Externally Refereed Publication
Ra'id Awadallah, Timothy Sleasman and Andrew Strikwerda, for "Sub-Wavelength Focusing in Inhomogeneous Media with a Metasurface Near Field Plate," published in the Sensors journal.
Outstanding Professional Book (Tie)
Ralph Lorenz, for "Exploring Planetary Climate: A History of Scientific Discovery on Earth, Mars, Venus and Titan," published by Cambridge University Press.
Feng Ouyang, for "Digital Communications for Practicing Engineers," published by IEEE.
Outstanding Special Publication (Tie)
Stacy Hill and Jim Spall, for "Stationarity and Convergence of the Metropolis-Hastings Algorithm: Insights into Theoretical Aspects," published by IEEE Control Systems Magazine.
Brett Denevi and Carolyn Ernst, for "The Geologic History of Mercury," published in the book "Mercury: The View after MESSENGER."
Outstanding Conference Paper
William Walton and David Porter, for "Towards CNN-Based Registration of Craniocaudal and Mediolateral Oblique 2-D X-ray Mammographic Images," in the conference proceedings of the IEEE Engineering in Medicine and Biology Society.
Lifetime Achievement Publication Award
Tony Lui and Ralph McNutt, for their lifetime achievement through a substantial body of publications that are significant in terms of peer recognition, prizes, citation frequency or influence in the innovation ecosystem.
R. W. Hart Prizes For Excellence In Independent Research And Development
Best IRAD Research Project
Deep Learning for Enhanced Spectrum Situational Awareness, with principal participants Andrew Adams, Kyle Casterline, Matt Kinsey, Ryan Sawyer and Miller Wilt.
Best IRAD Development Project
Sample Preparation for Organic Analyses, with Christopher Bradburne, Kathleen Craft, Ashley Kilhefner, Korine Ohiri, Jennifer Skerritt, Tessa VanVolkenburg and Kathleen Verratti.
The Applied Physics Laboratory, a not-for-profit division of The Johns Hopkins University, meets critical national challenges through the innovative application of science and technology. For more information, visit www.jhuapl.edu.