Press Release
Johns Hopkins APL-Developed Health Surveillance Tool Augments Nation's COVID-19 Response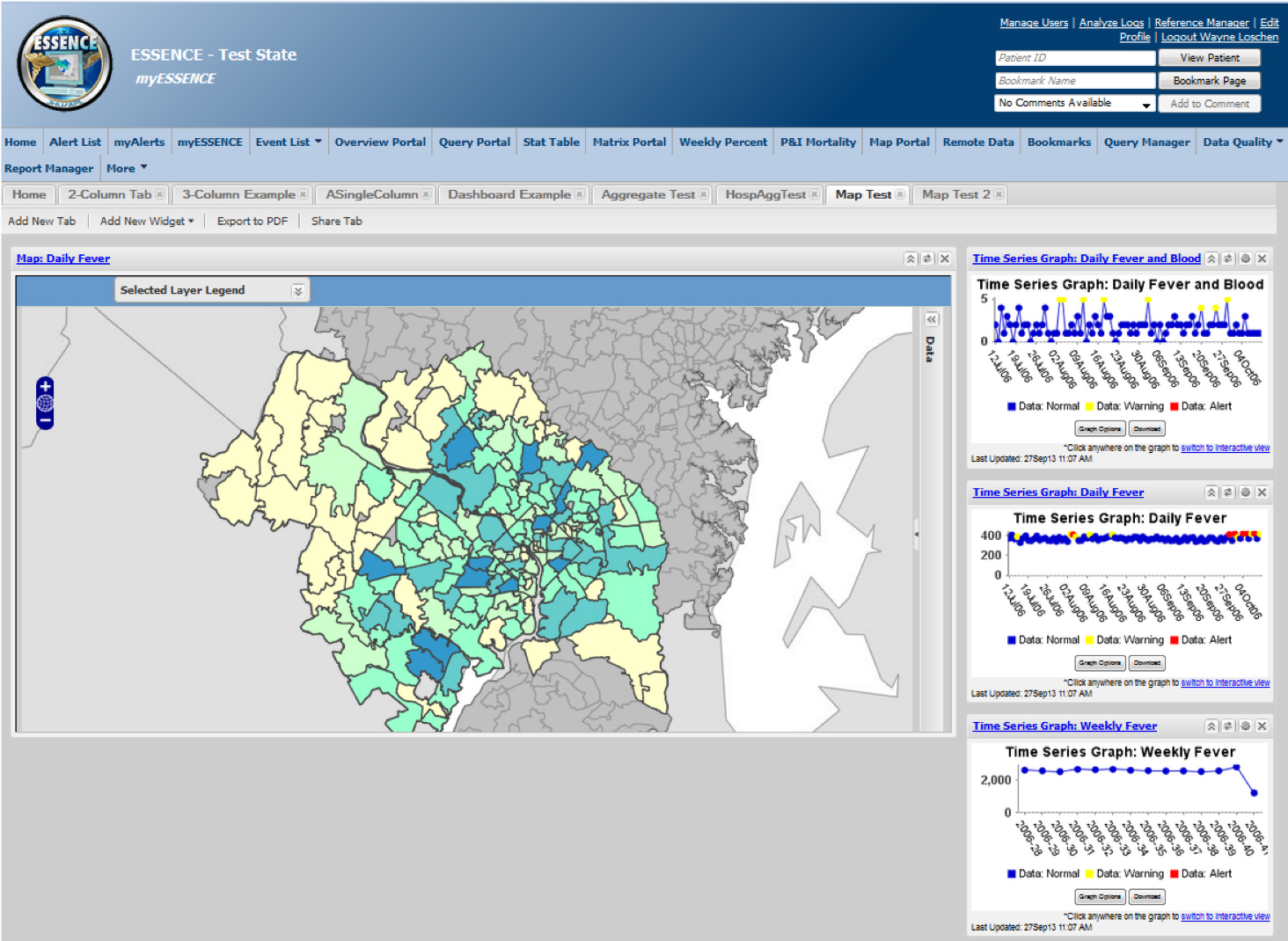 A myESSENCE dashboard example using simulated data. myESSENCE dashboards allow operators to create a user-defined set of Time Series, GIS Maps, Data Tables, Algorithm Alerts, and Informational Text Blocks to create an easy-to-view, centralized dashboard to monitor an event or situation.
Credit: Johns Hopkins APL
Wed, 03/25/2020 - 12:57
As the world grapples with the novel coronavirus pandemic, COVID-19, and the United States works to ramp up testing and mitigation capabilities, a public health electronic surveillance tool developed by the Johns Hopkins Applied Physics Laboratory in Laurel, Maryland, is helping to fill gaps by tracking the virus' spread symptomatically.
Twenty-one local and state public health departments, along with the Centers for Disease Control and Prevention and the Department of Defense, are currently employing the Electronic Surveillance System for the Early Notification of Community-based Epidemics, or ESSENCE, to monitor trends, look for flashpoints and spot possible COVID-19 cases for intervention.
Local governments are able to use this data to help advise them in taking measures to increase social distancing and arrest the spread of the virus, such as the stay-at-home and shelter-in-place orders currently enacted in multiple states nationwide, the closings of schools and nonessential businesses, and strict limits on gatherings of any kind.
Currently, the CDC is tracking 70% or more of all hospital visits in the country, with more than 4.25 billion records received and processed by the ESSENCE system and algorithms. The CDC version alone encompasses more than 2,000 users throughout the country, but many state and local jurisdictions also have their own installations of the application and are heavily using the system to track the virus' spread.
"Especially in light of the fact that laboratory testing is behind, our system is being used to augment those tests," explained Wayne Loschen, a software engineer in APL's Research and Exploratory Development Department and the technical lead on ESSENCE. "We are able to then load in the test results and overlay that data as well."
ESSENCE, which APL began developing in 1997 and has continued to modify since, is a disease surveillance system that helps users clean and process large amounts of health-related data. The system's algorithms then analyze that data to search for anomalies that might indicate an outbreak.
ESSENCE includes data such as emergency room and urgent care visits, as well as why those visits occurred, along with other gathered information. Users, like public health epidemiologists and infection control practitioners, can then perform queries to search for combinations of signs of symptoms that may indicate a surge.
The tool is used across the country at all times, but Loschen said there has been a definite recent spike as a result of the spreading coronavirus. That rise, however, is not the first he's seen in his 20-plus years working on the technology. In fact, Loschen said, usage on ESSENCE spikes almost any time there's an epidemic of a medical nature — including previous heavy usage periods due to SARS, MERS, Ebola and H1N1 — or regionally for high-level events, such as the Super Bowl or a presidential inauguration.
ESSENCE is also used to monitor the health of disaster-affected populations for outbreaks of infectious diseases, such as respiratory and gastrointestinal illness, as well as influenza and mosquito-borne illness.
"The recent spike, due to COVID-19, is a bit more intense because of the ramifications of this particular disease," Loschen said. "In particular, social media and its impact is evident in the datasets right now, as a combination of worried-well and worried-sick patients visit ERs. It's our job to help epidemiologists sift through that data."
While ESSENCE and this technology are not new, APL continues to enhance it to better enable all jurisdictions to optimize performance. A current focus is finding ways for upscaling with additional hardware to meet surges in demand, adding new capabilities to support some of the higher-impacted areas, like Washington state, and allowing users to build dashboards that aid presentation of the data to leadership for decision-making.
"In the last 20 years, APL has revolutionized electronic disease surveillance," said Sheri Lewis, the manager of APL's Health Protection and Assurance program area. "ESSENCE has fundamentally changed the way public health professionals access and utilize data in monitoring established patterns of disease progression in their community. We are able to see its profound impact in critical moments like this one, and we are continuously improving it to best serve public health."
The Laboratory is also engaged in the Johns Hopkins University COVID-19 response through data analytics efforts in aiding the Center of Excellence for Influenza Research and Surveillance (CEIRS) for sequencing of COVID-19 samples at Johns Hopkins Hospital, and assistance in data cleaning and processing, as well as assurance, with Johns Hopkins University's COVID-19 dashboard, which is in use around the world.
For more information, please visit https://www.cdc.gov/nssp/news.html.
The Applied Physics Laboratory, a not-for-profit division of The Johns Hopkins University, meets critical national challenges through the innovative application of science and technology. For more information, visit www.jhuapl.edu.