Press Release
APL's Air and Missile Defense Sector Sponsors Charity "Book Battle" to Support Local Children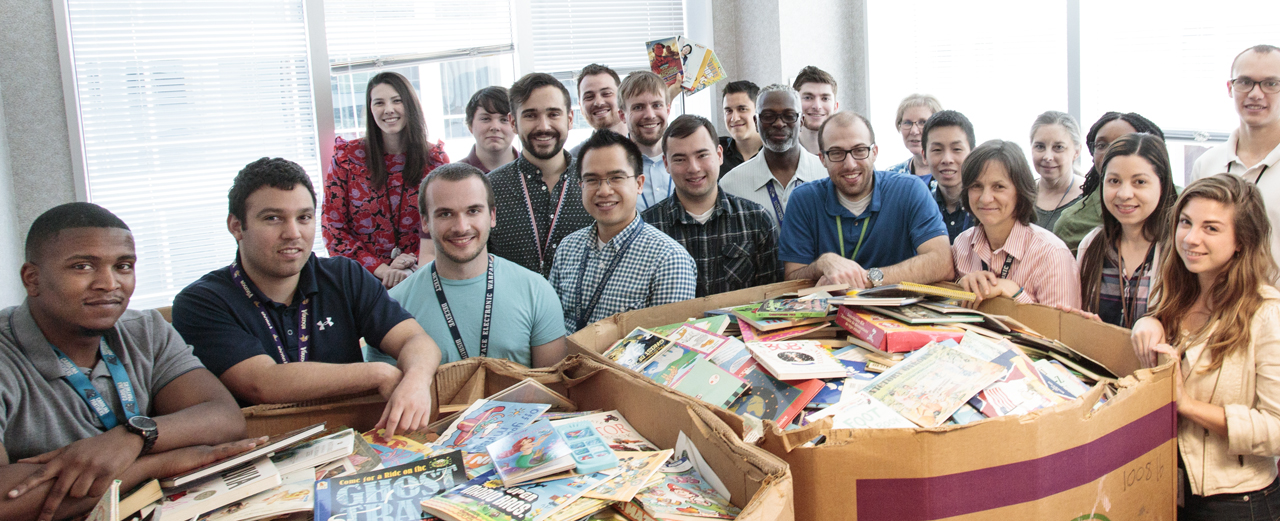 Wed, 05/30/2018 - 16:00
Staff members from the Air and Missile Defense Sector (AMDS) at the Johns Hopkins Applied Physics Laboratory (APL) in Laurel, Maryland, have collected more than 15,000 books for children living below the poverty line in the local area. AMDS organized the book collection in partnership with the United Way of Central Maryland, and created a friendly competition dubbed the "Book Battle," to encourage participation.
"A core element of the sector's leadership statement is 'Championing Others,' and as such, AMDS has begun the tradition of tackling a large-scale charity need every year," explained Anthony Tripoli, an organizer of the event. "This year we set our sights on collecting books for children from kindergarten through high school, the vast majority of whom would not otherwise have books in their homes over the summer."
Organizers encouraged staff members to begin collecting books, with the idea that the group donating the largest number would be recognized. But, then they added a competitive twist — a final "book battle" during which groups could scheme to lower the scores of other teams. Twenty-five groups participated in the team-building event.
The event was fun for all involved, but the real reward was learning the impact that the exercise would have on the local community. All of the books are going to three different Title 1 schools, where a staggering ninety-eight percent of the school population is at or below the poverty line. "It was alarming to hear from the United Way reps that the vast majority of the kids they serve through their summer supplies program would otherwise have had have no books at all. This fact has allowed me to fully realize the impact that these books will have on the kids and teachers at these schools," said team member Julian Alford, who coordinated the initiative with United Way representatives to align with their existing charity efforts.
AMDS Head Mike White, who joined in the event, expressed his appreciation and pride. "Leadership comes in many forms with none more important than embracing the desire to help those less fortunate. I could not be more proud of our team and the impact we are having on the community," he said.
The Applied Physics Laboratory, a not-for-profit division of The Johns Hopkins University, meets critical national challenges through the innovative application of science and technology. For more information, visit www.jhuapl.edu.