Press Release
APL Monitoring Instrument Rides into Space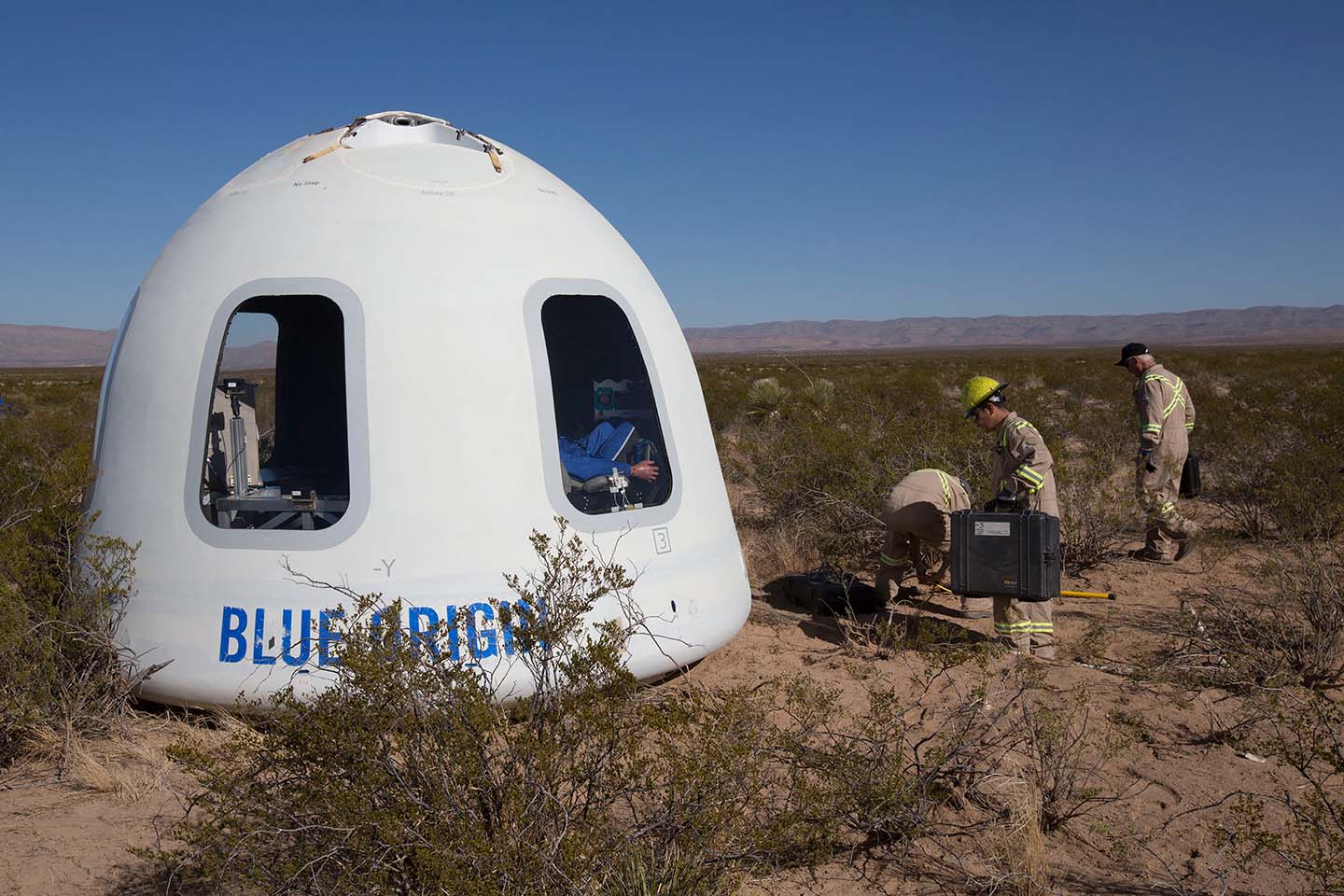 The Blue Origin New Shepard capsule is checked out after touchdown in West Texas on Dec. 12. The capsule carried 12 payloads — including APL's JANUS platform — and an instrumented test dummy, visible in one of the windows.
Credit: Blue Origin
'JANUS' Research Platform Flies on Blue Origin Suborbital Capsule
Wed, 12/13/2017 - 08:00
The newest realm of space travel is closer to home than many think, but still shrouded in mystery. And while Earth's upper atmosphere may soon be a destination for tourists, scientists from the Johns Hopkins University Applied Physics Laboratory (APL) in Laurel, Maryland, are blazing a research trail in this "suborbital" region with the launch of an instrument to study flight conditions 60 miles above ground.
The JANUS integration and monitoring platform flew on Blue Origin's New Shepard space vehicle on Dec. 12. The device, about the size of a car battery, will provide researchers with a look at suborbital conditions from inside a crew capsule.
H. Todd Smith, the JANUS principal investigator at APL, said knowing more about the vibrational, microgravity and thermal conditions is a critical first step toward taking advantage of commercial, low-cost access to space. After a 12-minute flight and reaching an altitude of 61 miles, the instrument was retrieved with the New Shepherd crew capsule, which landed safely at Blue Origin's West Texas launch site. APL researchers will analyze the data over the next month.
"This data will enable future payloads designed to make accurate scientific observations from spacecraft near Earth," Smith said. "Ultimately, our payload will serve as an integration platform for scientific research and instrument development activities."
Scientists hope commercial spacecraft designed for tourism may also provide access to space for research, instrument development, technology demonstrations and education. These new human-tended and untended vehicles will initially travel to altitudes above 60 miles — just about 100 kilometers, or about a quarter of the distance to the orbiting International Space Station — at costs much lower and with higher frequency than current research rockets.
APL is establishing a foothold in the burgeoning field of suborbital space research, with at least five expected scientific research and technology demonstration missions on commercial spacecraft beginning in early 2018.
"It's exciting for APL to be a leader in enabling and exploiting the scientific and engineering capabilities that are emerging as our nation develops its commercial space fleet," said Mike Ryschkewitsch, head of APL's Space Exploration Sector. "The barriers of high costs and long waits are being removed, creating previously unimaginable opportunities."
The Applied Physics Laboratory, a not-for-profit division of The Johns Hopkins University, meets critical national challenges through the innovative application of science and technology. For more information, visit www.jhuapl.edu.