Press Release
Johns Hopkins APL College Prep Program Earns Howard County Volunteer of the Year Honors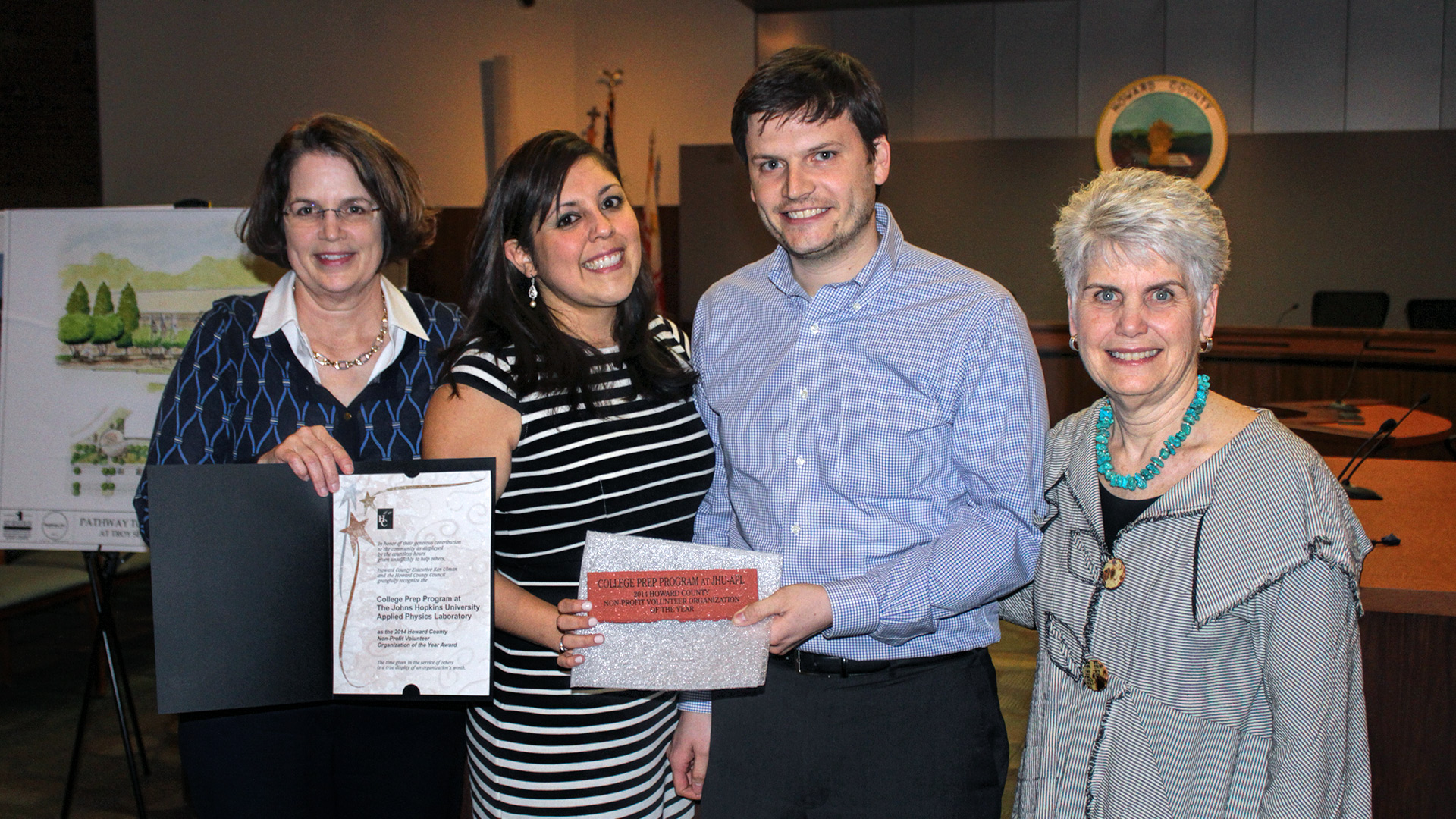 Howard County Council members Courtney Watson (far left) and Mary Kay Sigaty (far right) congratulate Karla and Will Gray Roncal, founders of the College Prep Program at APL
Mon, 04/07/2014 - 15:46
The all-volunteer College Prep Program at the Johns Hopkins University Applied Physics Laboratory received Howard County's Volunteer of the Year Award honors at a ceremony held April 2 at the county's George Howard Building.
The award, which honors outstanding volunteer efforts by individuals, nonprofits and government agencies, was presented to Will and Karla Gray Roncal, a husband and wife team who co-lead the program at APL. They were recognized in the nonprofit organization and government agencies category.
During the awards ceremony, County Council Vice Chair Courtney Watson lauded the couple's selfless efforts and dedication to help underserved students reach their educational goals. "I am proud to have the chance to recognize the College Prep Program at the Johns Hopkins Applied Physics Lab as a Volunteer of the Year Award winner. It is an impressive all-volunteer initiative and one that has positively impacted the lives of many students."
The program began in 2009 when the Gray Roncals, both engineers at APL, partnered with the APL MESA office to pilot a program to support 14 young people who had the desire and academic potential to reach college but lacked the opportunity or resources to do so.
Today, CPP recruits students who need help to pursue their dream of a college degree, especially those from socioeconomically vulnerable backgrounds or who may be the first in their families to aspire to college and are interested in science, technology, engineering and math (STEM) careers. They spend all of their summer Saturdays practicing for the SAT, developing a prospective school list, filling out applications and writing essays, and building their interview skills. They visit universities from New York to Washington, D.C. With their families, they learn about and access public and private financial aid resources.
The program recently served its 100th student, and last year's program included 90 volunteers who dedicated more than 4,500 hours to help students. Since its inception in 2009, volunteers, primarily APL staff and families, have contributed more than 14,000 hours of their time to the program. Mentors commit to supporting and guiding their students through high school graduation and throughout their college journeys.
"This award should really go to all of our volunteers who make the program possible," said Will Gray Roncal. "Through their dedication, we are able to give more individualized attention to each student, and the more volunteers we have, the more students we can reach. An important part of the program is one-on-one attention and personalized relationships that we build over time."
"All of us at APL are impressed and inspired by Will and Karla's passion and dedication to this volunteer effort, and we are extremely proud of what they have accomplished with their students," said Ralph Semmel, director of APL.
Semmel has served as a volunteer mock interviewer in the program and has also served as keynote speaker at CPP graduations. His wife, Esta Glazer, is a volunteer mentor in the program and the person who nominated the program for this honor.
CPP is offered in partnership with the APL STEM Program Management Office which works to engage students in hands-on applications of science and math concepts. All CPP graduates either have graduated from college, are in college, or are on track to apply to college during their senior year of high school. Those who are in college are excelling, boasting an average GPA of 3.3.
For more information about the College Prep Program at APL, click here.
Learn more about the College Prep Program's impact.
The Applied Physics Laboratory, a not-for-profit division of The Johns Hopkins University, meets critical national challenges through the innovative application of science and technology. For more information, visit www.jhuapl.edu.