Press Release
Mission Complete: APL-Operated Midcourse Space Experiment Ends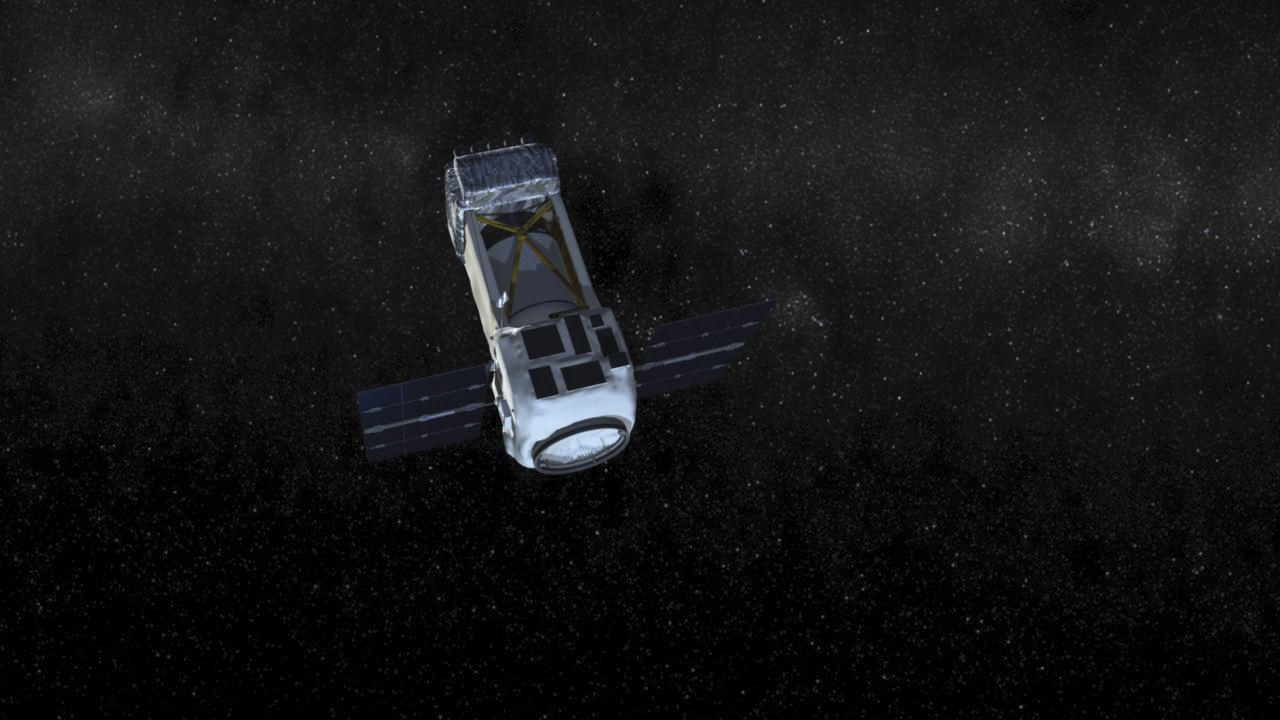 MSX spacecraft
An artist's concept of the MSX spacecraft.
Credit: NASA/The Johns Hopkins University Applied Physics Laboratory
Wed, 07/16/2008 - 12:41
After more than 12 years of successful operations and contributions to two diverse defense missions, the APL-built and -operated Midcourse Space Experiment (MSX) satellite is retiring. Having operated well beyond its designed four-year life span, ground crews from APL and the Air Force shut the spacecraft down on July 10, turning off transmitters and draining its batteries, and are verifying the spacecraft's inoperable status this week.
In January, several of the spacecraft's remaining operational systems began to fail, rendering it too "sick" to continue, says MSX Program Manager Glen Baer, of The Johns Hopkins University Applied Physics Laboratory (APL) Space Department. Its remaining horizon sensor failed; the attitude processor, used since launch to safely "drive" the spacecraft, locked up and didn't recover. While switching to the other attitude processor - no trivial task, says Baer - the battery nearly froze and then a gyro failed, as expected.
Shutting a spacecraft down isn't an overnight process. "Through July 10, we verified various Air Force regulatory processes and procedures used to disable the spacecraft," Baer says. "Using MSX's Space-Based Visible [SBV] sensor, we also collected data to test some theories and concepts for the Space-Based Surveillance System Pathfinder, the follow-on to the SBV sensor for detecting and tracking deep-space objects."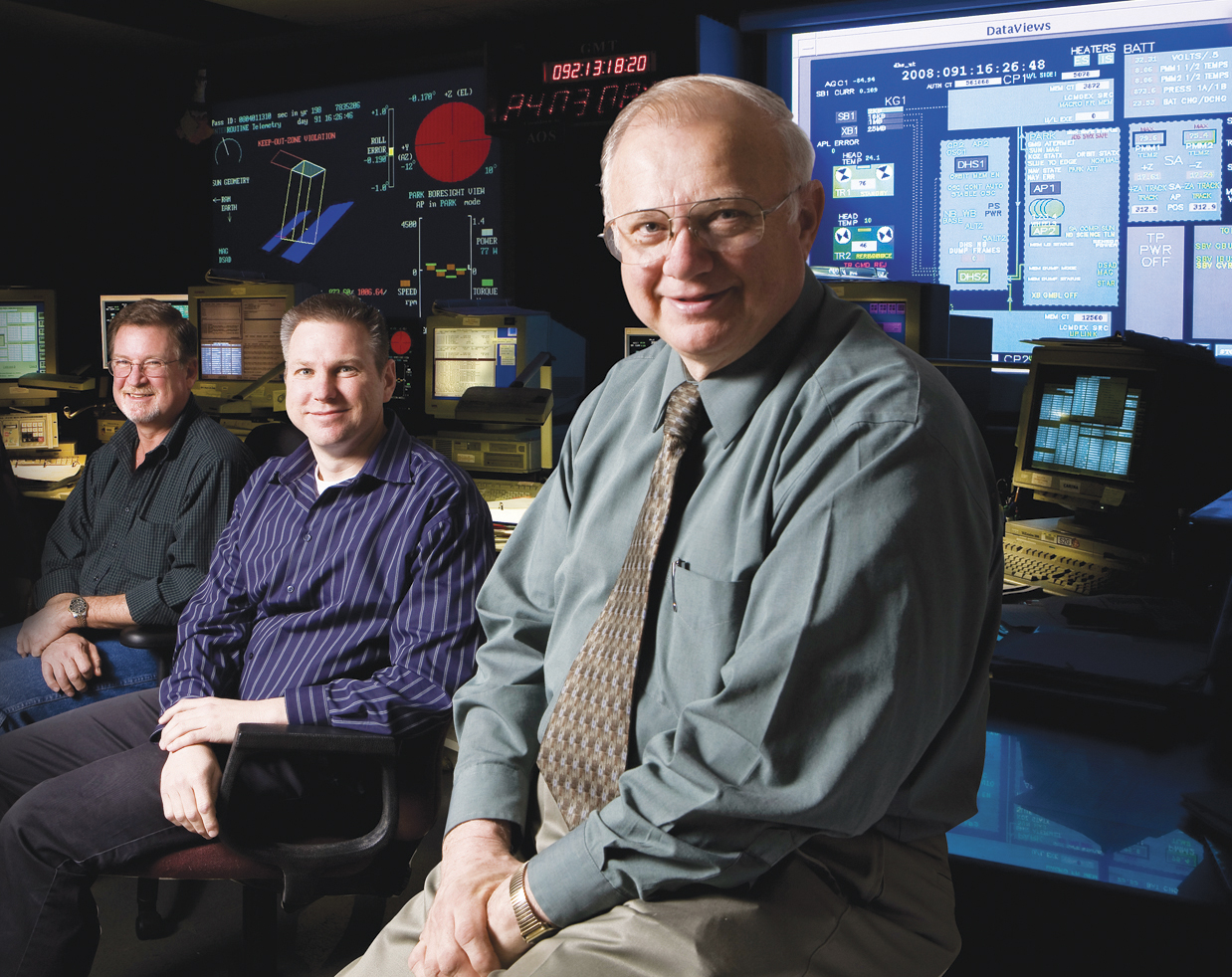 MSX team members overseeing the satellite's final maneuvers in the mission operations center at The Johns Hopkins University Applied Physics Laboratory (APL) are (from left) space specialists Richard Reinders and Mike Norkus, and Program Manager Glen Baer.
Credit: NASA/The Johns Hopkins University Applied Physics Laboratory
A Lifetime of Contributions
At 18 feet long, about the size of a small school bus, MSX is APL's largest spacecraft. It has served two government sponsors, making critical contributions to both national security and space science missions.
Built for the (then) Ballistic Missile Defense Organization (BMDO), MSX was launched from Vandenberg Air Force Base, Calif., in 1996 - the first space-based platform to track missiles in their midcourse flight - and collected vital data for designing missile defense systems.
Additionally, MSX's sensors gathered readings of the Earth's atmospheric composition, captured images of comets and galaxies and flew untouched through a Leonid meteor shower. And the spacecraft made history during space shuttle observations when APL's Alice Bowman commanded MSX while Lt. Col. Eileen Collins piloted NASA's craft - the first time two women were at the helm of each spacecraft at the same time.
After completing BMDO's mission, the spacecraft was transferred to Air Force Space Command in October 2000, becoming the Air Force's first operational space-based sensor to track and monitor objects in orbit around Earth. Operations were conducted via a successful partnership with Schriever Air Force Base with its 1st and 7th Space Operational squadrons providing all Air Force Satellite Control Network connectivity and some vehicle commanding, and APL providing primary mission ops. The Lab's mission ops team modified its operations to support a fivefold increase in data collection.
"I've come to understand the MSX program's value from a perspective few can appreciate," says Duane Deal, APL's National Security Space Business Area executive, a former Space Control Center operator and former commander of the Cheyenne Mountain Operations Center. "As our only space-based asset, MSX played a unique and invaluable role tracking thousands of objects in Earth orbit while filling a vital niche in our space situational awareness portfolio.
"Now at APL, I see first-hand the people and effort involved in building and operating this remarkable spacecraft," says Deal. "MSX is truly a testament to APL's innovation and effectiveness in meeting the nation's challenges. I'd say the government got an 'APL bargain' operating the satellite for 12 years on a four-year program. That's impressive by anyone's standards."
One Last Surprise
Although operations have ceased, MSX could spark the curiosity of future generations. "With no fuel on board, by design, its trajectory can't be changed to force its reentry into the atmosphere," Baer says. "It'll take approximately 200 years for it to reenter and burn up in our atmosphere. I can imagine our grandchildren's great-grandchildren seeing a fiery ball streak across the sky and wondering what MSX was all about."
After seeing the mission from concept to completion, Baer - serving as MSX's first mission ops lead and then as its second program manager - has mixed emotions about the mission's end. "I'm proud to have been part of such a successful mission," he says. "It's a bittersweet ending, and feels like I'm losing a close friend, but I'm looking forward to new challenges."
The Applied Physics Laboratory, a division of the Johns Hopkins University, meets critical national challenges through the innovative application of science and technology. For more information, http://www.jhuapl.edu.