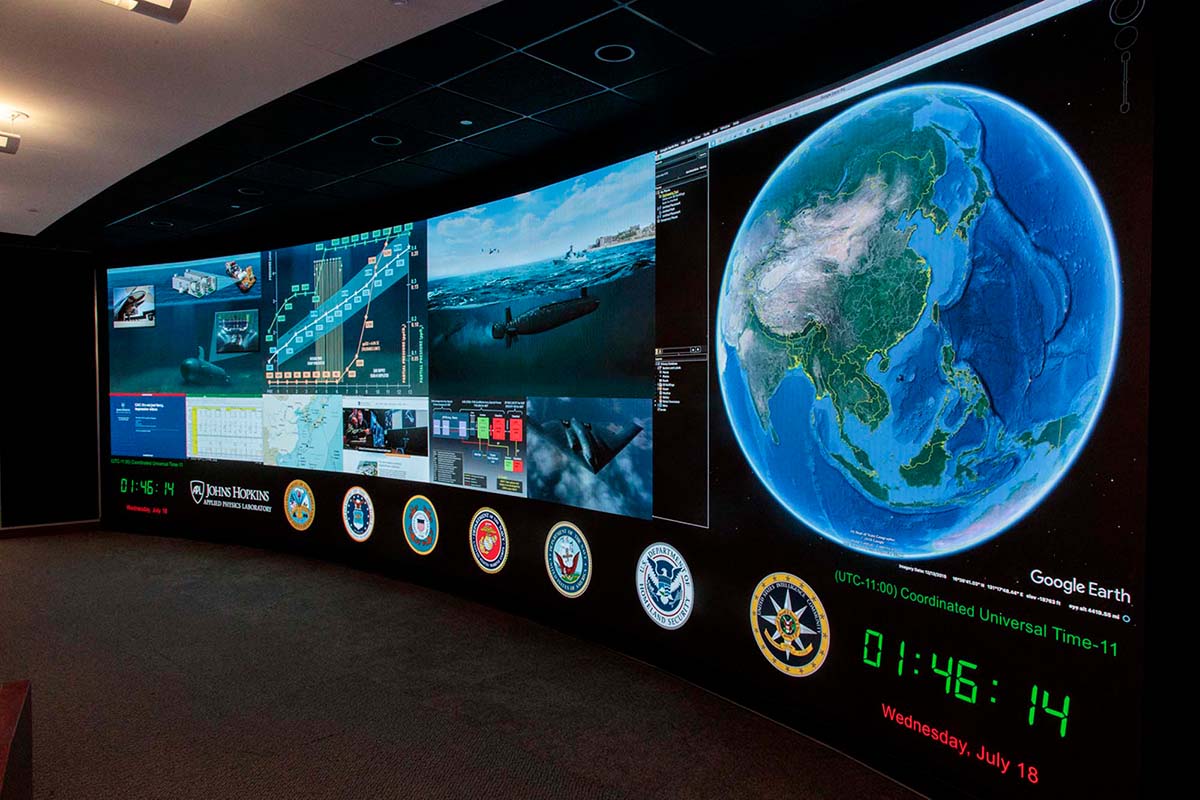 Mission Area
National Security Analysis
Shaping Tomorrow's Solutions to National Security Challenges
Johns Hopkins APL's National Security Analysis Mission Area combines innovative technical knowledge and operational analysis to create emerging capability solutions to national security challenges, thereby ensuring our nation's preeminence in the 21st century. 
Our analysis and concept development inform senior decision-makers across the government and operational commanders on national policy, technology, acquisition, exercises and experimentation, and complex current and future operations. In addition to shaping decisions across the national security spectrum, our work often involves maturing technology, creatively employing technology in new ways, and even rapidly demonstrating capabilities in partnership with the rest of the Laboratory, external partners, and the government.
To enable this vision, the National Security Analysis Mission Area is organized into two primary program areas:
The Emerging Capabilities and Challenges Program Area (JEC) supports the executive branch of the government, including senior leaders, the intelligence 

community, the Office of the Secretary of Defense, Joint Staff, and Military Services, providing top government officials with fact-based analysis of pressing gaps, challenges, and opportunities to advance our national security superiority. Analysts use detailed, mission-focused analysis to provide technical feasibility and military utility assessments of new systems or innovative applications of existing systems.

The analysis includes operationally relevant concerns, such as multi-mission constraints, cross-domain coordinated operations, deployment timelines, and end-to-end effects chains, and is designed to help senior leaders in the program budget and acquisition process. Projects can be quick turn, supporting emerging senior leader questions and concerns, or longer-term study efforts supporting advanced capability concept exploration, analysis of alternatives, acquisition, development and testing, and sustainment.

Focus areas include policy and strategy, intelligence, and capability and capacity. In policy and strategy, analysis is conducted to help inform policy, strategy, and international norm development. For intelligence, the goal is to conduct analyses that help uncover future challenges and potential opportunities today. The capability and capacity focus area is aligned to shape the capability, design, and capacity of the future force.

The Innovative Operational Concepts Program Area (JOC) leads technology-infused operational analyses in support of operating forces and combatant commanders.

Focus areas include posture and readiness, operational planning and exercises, and technology-infused operations. In posture and readiness, JOC works to redefine proficiency to align with operational needs and determine how technology can be leveraged most effectively to meet training and readiness requirements. For operational planning and exercises, JOC leverages technology and operations research expertise to reconstruct and analyze exercises, mission rehearsals, and real-world events to shape operational plans and support innovative multi-domain operations. JOC's technology-infused operations work links current and emerging technologies to operations across all domains and provides operators with rigorous, objective analyses to support decision-making at the tactical, operational, and strategic levels.
 
Publications

Our national security analysis publications represent the highest standards of Johns Hopkins APL's technical knowledge and operational analysis. Our work examines current and past events to deliver critical insights and solutions to national security challenges.
Highlights
Ensuring Resilient Enabling Capabilities in Denied Environments

On behalf of the Office of the Secretary of Defense, APL is merging technical capabilities with acquisition strategy to mitigate adversary threats to command, control, communications, computers, intelligence, surveillance, and reconnaissance (C4ISR) in the maritime, terrestrial, air, space, and cyber domains.

Learn more about Ensuring Resilient Enabling Capabilities in Denied Environments

Shaping the Joint Future Operating Environment

On behalf of the chairman of the Joint Chiefs of Staff, APL led development of the Joint Future Operating Environment, which lays the foundation for force development across the services.

Learn more about Shaping the Joint Future Operating Environment

Countering Anti-Access, Area-Denial Threats

APL is an established, critical partner of the Office of the Secretary of Defense Strategic Capabilities Office, which provides lower-cost, strategic alternatives for shaping and countering emerging threats.

Learn more about Countering Anti-Access, Area-Denial Threats