Press Release
DART Team Earns Smithsonian Michael Collins Trophy for Successful Planetary Defense Test Mission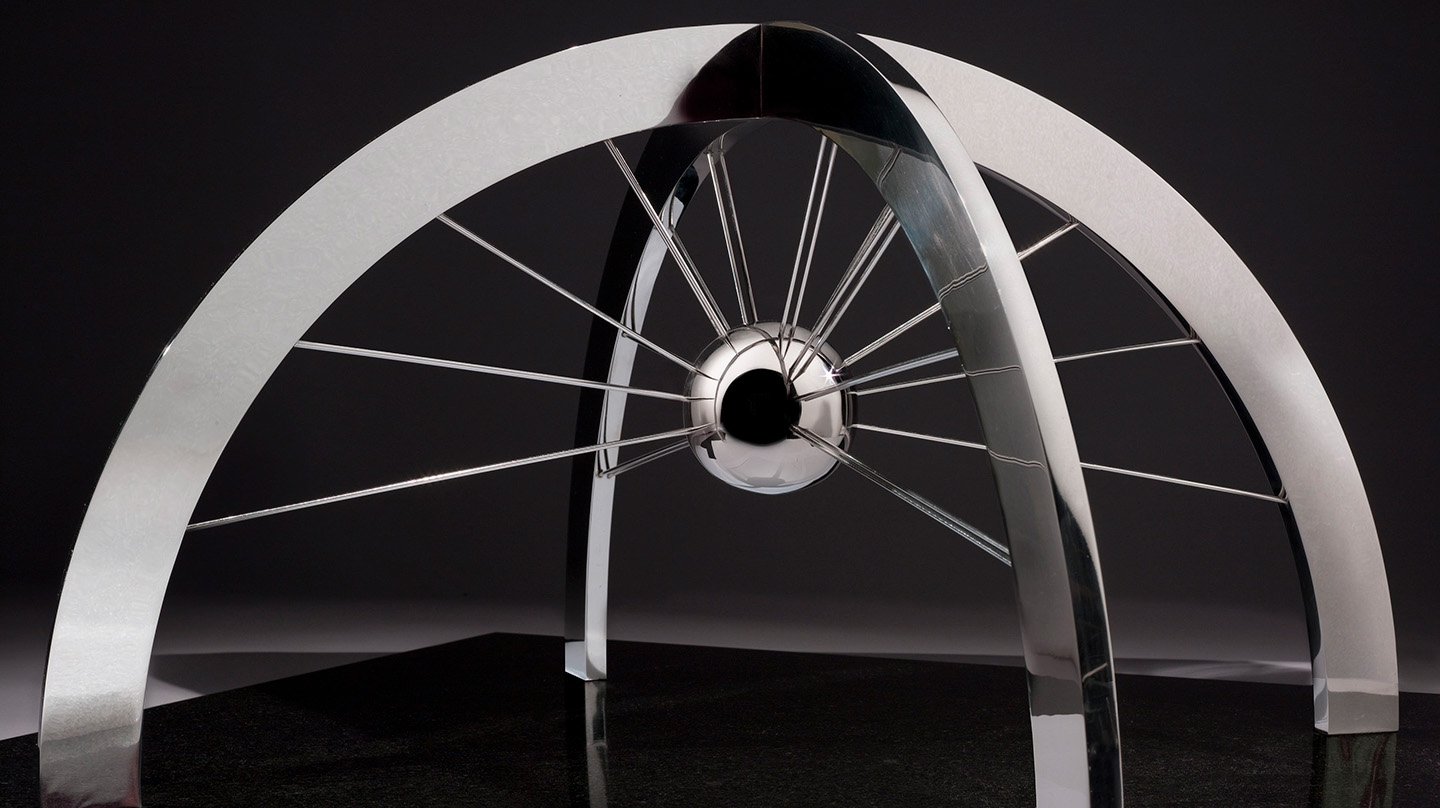 The National Air and Space Museum presents the Michael Collins Trophy each year in recognition of both past and present achievements involving the management or execution of a scientific or technological project, a distinguished career of service in air and space technology, or a significant contribution in chronicling the history of air and space technology. Recipients are presented with a trophy that is a scaled-down version of the "Web of Space" sculpture, created by John Safer of Washington, DC, and donated to the museum.
Credit: Smithsonian Institution
Tue, 11/07/2023 - 15:33
The Smithsonian National Air and Space Museum will present its prestigious Michael Collins Trophy for Current Achievement to NASA's Double Asteroid Redirection Test (DART) team, for its work to develop and execute the first-ever planetary defense test mission. 
Specifically, the award honors the team at the Johns Hopkins Applied Physics Laboratory (APL) in Laurel, Maryland, and NASA's Planetary Defense Coordination Office (PDCO) for outstanding achievements in the fields of aerospace science and technology. Designed, built and operated by APL for NASA's PDCO, which oversees the agency's ongoing efforts in planetary defense, DART was humanity's first mission to intentionally move a celestial object, impacting the asteroid Dimorphos on Sept. 26, 2022. DART's collision with Dimorphos changed the asteroid's orbit period around its companion asteroid, Didymos, by 33 minutes.
"DART represents a significant technological milestone in world history, proving our commitment and capability to safeguarding Earth from hazards from space," said Bobby Braun, Head of the Space Exploration Sector at APL.  "The groundbreaking success of this mission was made possible by the dedicated efforts of a global team. Together, we've shown that when science, technology, and teamwork align, we can achieve incredible outcomes for the benefit of humanity."
"Our planetary defense objective is to find any potential asteroid impact many years to decades before it could happen so that, if ever necessary, the object could be deflected with technology tested by DART," said Lindley Johnson, planetary defense officer at NASA Headquarters. "The DART team was an international collaboration of planetary defenders who turned the kinetic impact concept of asteroid deflection into reality. Their efforts have taken a giant leap forward for humanity's ability to address the asteroid impact hazard."
The National Air and Space Museum awards its Michael Collins Trophy yearly for both current and lifetime achievements. The DART mission has earned the former, joining astronaut Peggy Whitson, who will collect the 2024 Lifetime Achievement Award for her distinguished space career.
Since 1985, the organization has been recognizing extraordinary accomplishments in aeronautics and spaceflight, and it selected DART for its "extraordinary technological advancements and new scientific breakthroughs in space science."
Launched in November 2021 from Vandenberg Space Force Base in California atop a SpaceX Falcon 9 rocket, DART embarked on a 10-month journey to Dimorphos. The historic mission showcased the world's first planetary defense technology demonstration in action, globally livestreaming the moment when the DART spacecraft intentionally collided with its target asteroid.
Scientists worldwide monitored the aftermath through telescopes and radar facilities to assess the impact on Dimorphos' orbit around Didymos. Where pre-impact projections estimated a range of possible deflections, the postimpact observations revealed a significant deflection of the target asteroid at the high end of those projections, a promising result for applying the technique if the world ever needs it.
Images captured by DART's onboard Didymos Reconnaissance and Asteroid Camera for Optical navigation (DRACO) and the Italian Space Agency's ride-along Light Italian CubeSat for Imaging of Asteroids (LICIACube), complemented by observations from ground-based telescopes as well as NASA's James Webb Space Telescope, Hubble Space Telescope and the Lucy spacecraft, provided critical data. These observations allowed scientists to analyze Dimorphos' surface composition, the amount and speed of material ejected by the collision, and the distribution of particle sizes within the ensuing dust cloud. Scientists on the mission confirmed in four subsequent papers published in the journal Nature, the effectiveness of the kinetic impactor technique in altering asteroid trajectories. Look back at all of DART's milestones and science successes in the year since impact.
More information about the Michael Collins Trophy and a complete list of past winners is available on the Smithsonian National Air and Space Museum website. Previous APL winners of the award include members of the New Horizons team (2016); Stamatios (Tom) Krimigis, scientist and APL Space Exploration Sector head emeritus (2015); Norm Augustine, APL Board of Managers member (2014); space scientist James Van Allen (2006); and the Near Earth Asteroid Rendezvous (NEAR) team (2001).
The DART team will accept the award on March 21, 2024, at the museum's Steven F. Udvar-Hazy Center in Chantilly, Virginia.
The Applied Physics Laboratory, a not-for-profit division of The Johns Hopkins University, meets critical national challenges through the innovative application of science and technology. For more information, visit www.jhuapl.edu.