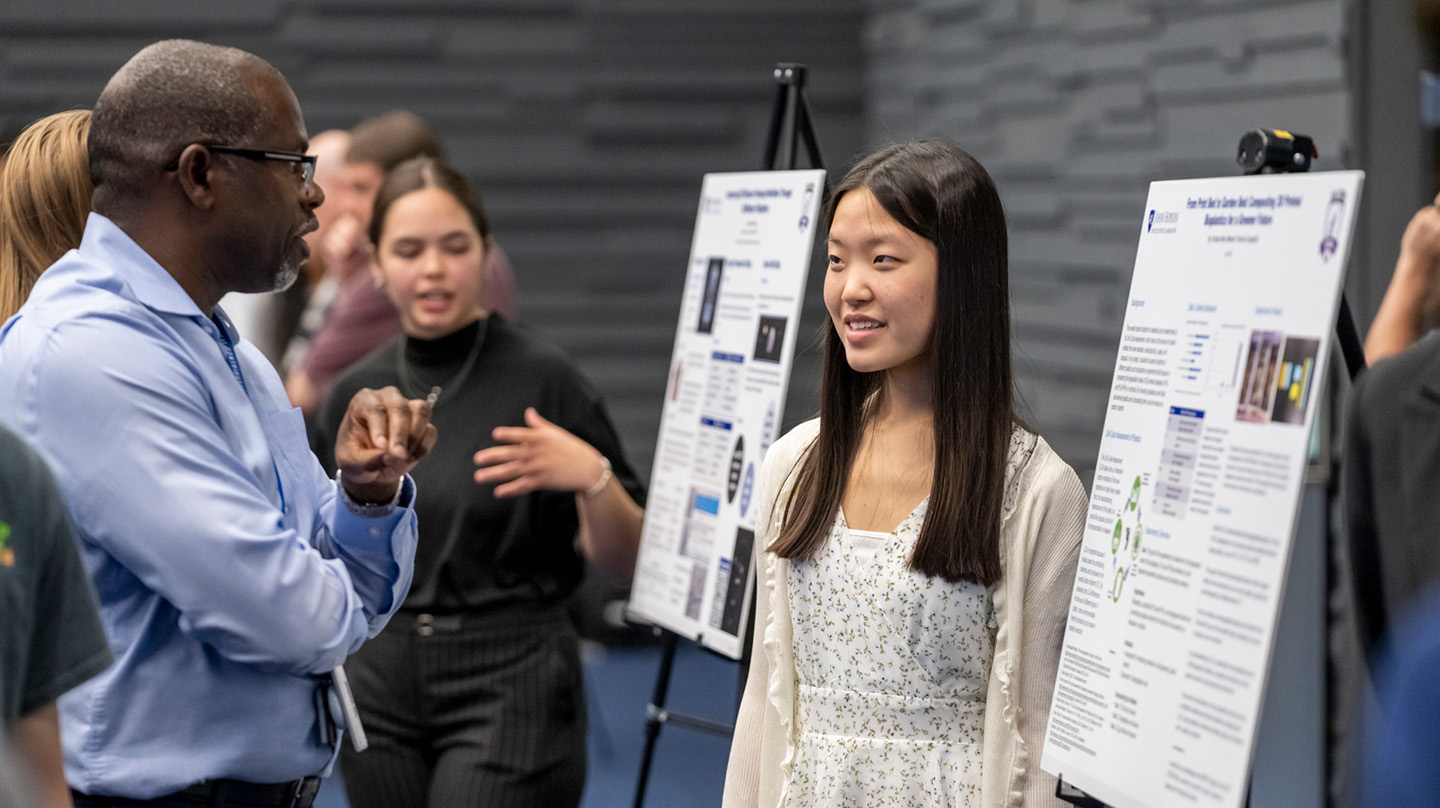 A summer 2023 ASPIRE intern presents a poster about her work at the annual showcase event
Credit: Johns Hopkins APL/Craig Weiman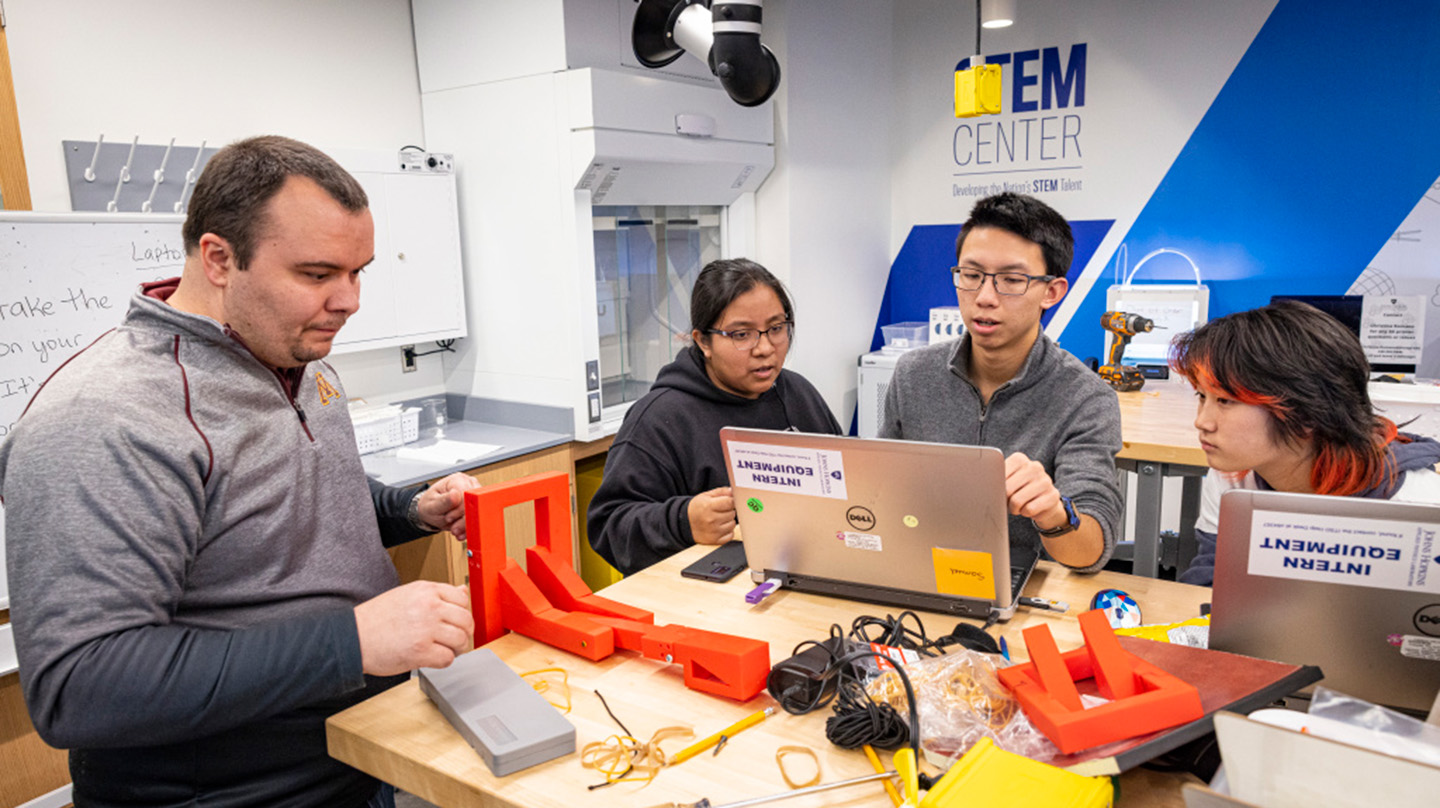 APL STEM Academy students work with a staff member at a SOLIDWORKS workshop in 2022
Credit: Johns Hopkins APL/Ed Whitman
The Landscape of APL STEM
Since APL created its STEM Program Management Office in 2011, Carr and his team have focused on developing a portfolio of new and existing educational programs into a pipeline that serves students from early elementary school through the end of high school.
"Research shows us that we need to expose students to careers in STEM early on, so that they can see themselves as a STEM professional," Carr said. "We also want to make sure that they are confident and have a well-developed STEM identity so that they can be effective in these fields."
APL's Math, Engineering, Science Achievement (MESA) after-school program starts in third grade and runs through grade 12 to capture students early. The Laboratory's STEM Academy, an enrichment course, provides more options for students in grades 8 through 12. APL also offers hands-on internships for students in grades 11 and 12 through APL's Student Program to Inspire, Relate and Enrich (ASPIRE).
The team has seen success funneling students through the pipeline, with more than 100 students from each program enrolling in the next-level program over the past five years.
"With APL STEM, I was able to go from thinking I could be an engineer to really believing it and working toward that goal with the knowledge I was gaining in the programs," said Tytan Taliaferro, an alumnus of the MESA and ASPIRE programs who now works as a software engineer in APL's Force Projection Sector. "I already had aspirations to work in a STEM field after MESA, but by participating in ASPIRE, I was able to see what my future career would look like. It helped me get more comfortable with coding, completely changing my trajectory from aspiring bio-engineer to software engineer."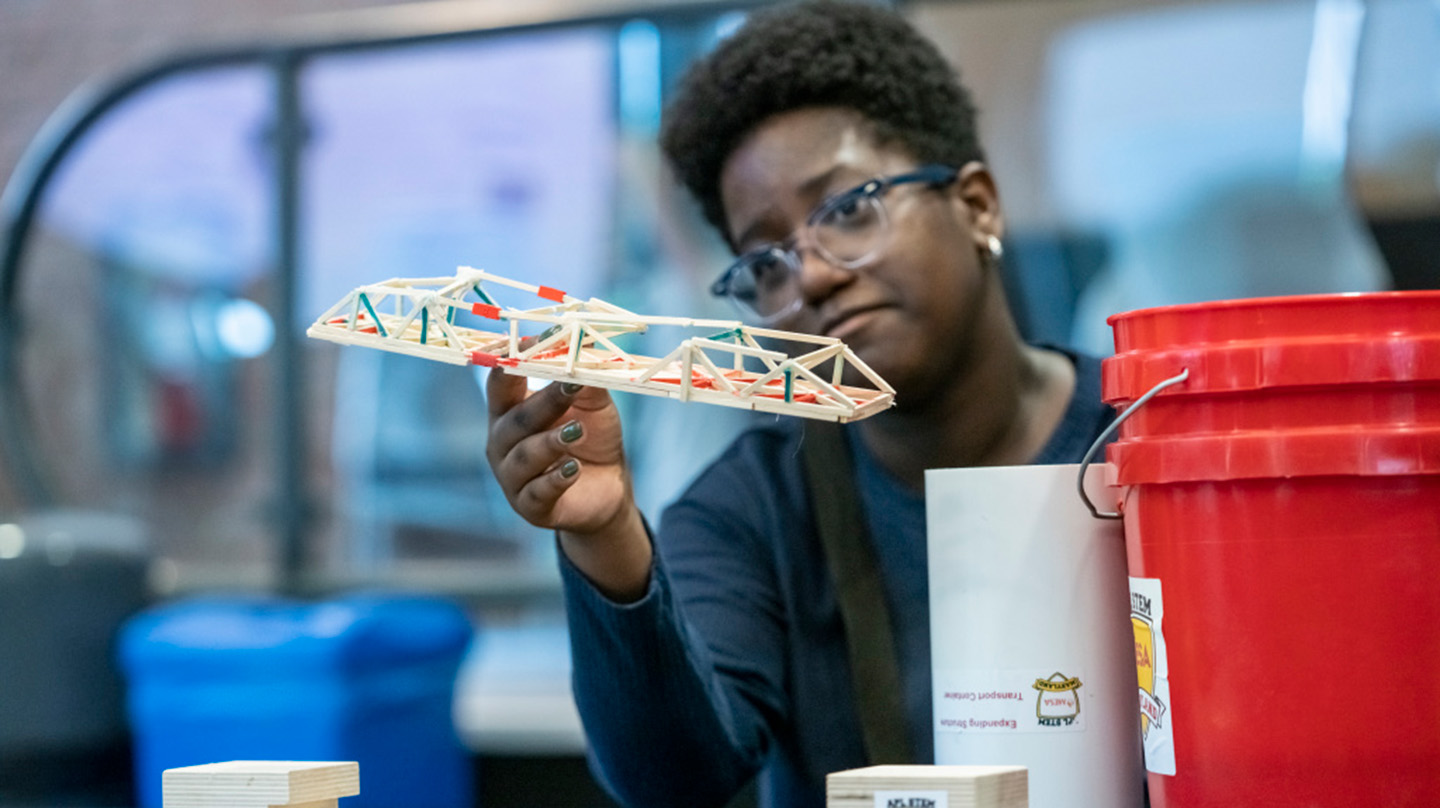 A MESA student builds a structure during the Statewide MESA Showcase and Awards Ceremony at APL in May 2023
Credit: Johns Hopkins APL/Craig Weiman
Focus on Diversity and Inclusion
"There's an immense need for STEM professionals to keep the U.S. competitive in fields like health care, science, technology and defense," Carr said. "We need to make sure everyone feels like they can participate in these fields, including those in communities that have previously been marginalized and underrepresented."
Making sure that those communities are represented in APL's STEM programs has been a key goal.
MESA's goal, in particular, is to increase the number of diverse college and career-ready students in the nation, starting from a young age.
"Beginning our pipeline by focusing on women, minorities and historically underrepresented populations through MESA sets the tone for the entire APL STEM portfolio of programs," Carr said.
In fact, 66% of participants in APL's MESA program are from minority backgrounds, and 51% are female. This trend continues in APL's STEM Academy, where 72% of students are from minority backgrounds and 53% are female. Finally, 67% of ASPIRE interns are from minority backgrounds, and 47% are female.
"We're constantly paying attention to the barriers that typically exist for those populations and trying to make sure we are lowering or eliminating those obstacles," Carr said. "By doing that, we have the outcomes that we see for minority and female participation in our programs."
Carr also credits some success to the hundreds of APL staff volunteers who teach courses or mentor students. In 2022, more than 640 staff members participated in APL STEM programs.
Still, he stressed that APL STEM's work is never done. The team is always seeking to better understand the impact of its work and find ways to improve its programs and reach more students. In coming years, Carr hopes to conduct a long-term study to determine how many students from APL STEM programs attend college and major in STEM fields.
"I don't feel like we can ever rest on our success," Carr said. "There are always things we can improve, so we have to make sure we continue to evolve with the needs of our students."