Press Release
NASA Advances CubeSat Mission to Study Earth's Magnetosphere and Aurora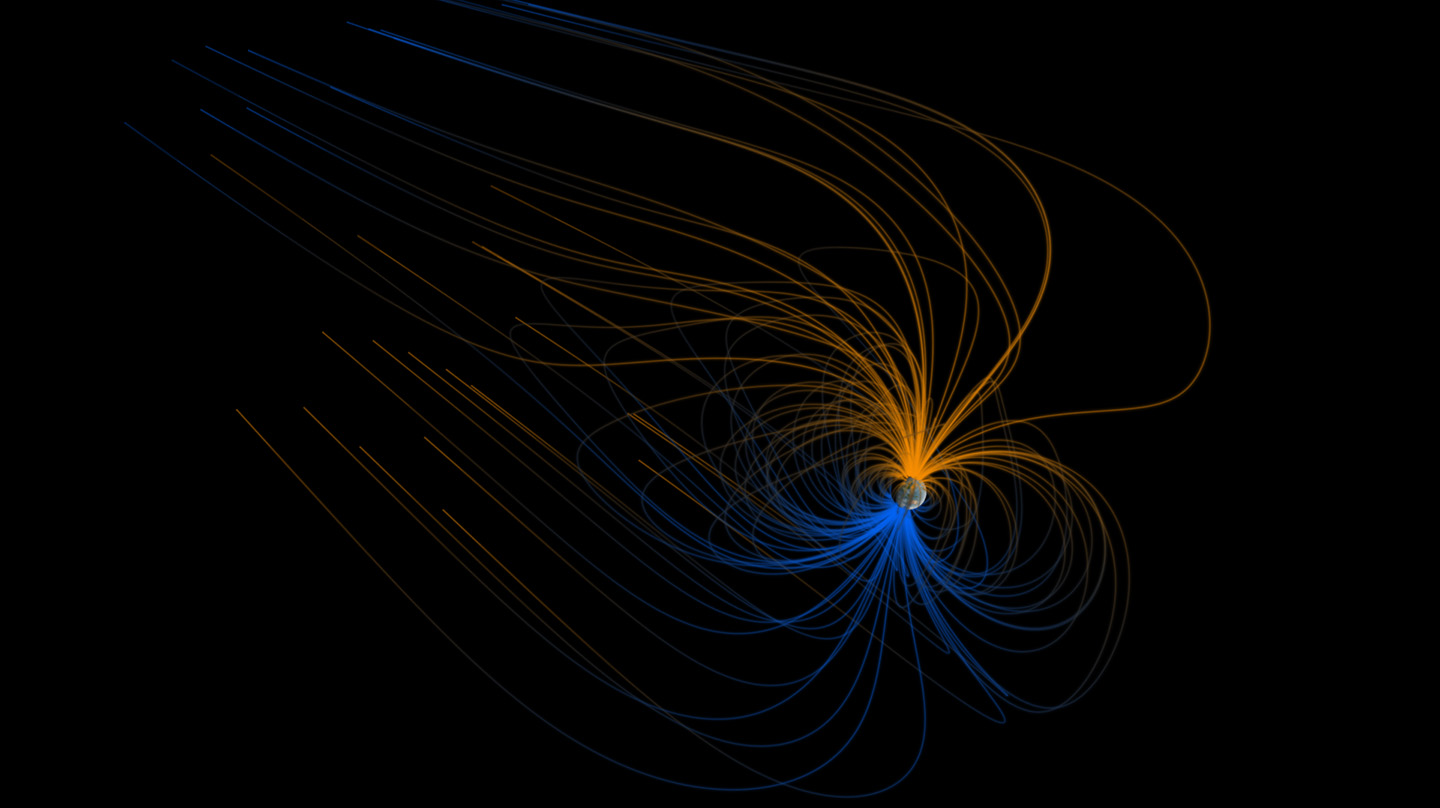 A scientific visualization of the magnetic field lines that make up Earth's magnetosphere. Interactions with particles emanating from the Sun squish the magnetic field on the Sun-facing side and elongate it on the dark side into a magnetotail.
Credit: NASA/Goddard Space Flight Center/Greg Shirah/Tom Bridgman
Tue, 10/03/2023 - 17:11
NASA announced Sept. 29 the selection of four mission concepts for further consideration as part of its Heliophysics Small Explorers (SMEX) program. Among those advanced is a CubeSat constellation called CINEMA, short for Cross-Scale Investigation of Earth's Magnetotail and Aurora.
Led by Robyn Millan, a professor in the Department of Physics and Astronomy at Dartmouth, with significant input and support from the Johns Hopkins Applied Physics Laboratory (APL) in Laurel, Maryland, CINEMA aims to tackle outstanding questions about Earth's magnetosphere, particularly about its tadpole-like tail that stretches more than 3.9 million miles (6.3 million kilometers) behind the planet thanks to the Sun's solar wind.
Much like stretching back a planetary-sized sling, Earth's magnetotail stores massive amounts of energy that it regularly releases, sending energy and particles careening toward the planet's atmosphere to generate spectacular auroral shows like the Northern Lights. Sometimes, this release is gradual and steady. Other times, it's sudden and explosive. Exactly when and how the tail decides to release the stored energy is still a mystery.
"CINEMA would let us delve into Earth's magnetotail, giving us a chance to learn much more about when and how it decides to explosively release stored energy," said APL space physicist Sasha Ukhorskiy, part of the CINEMA team.
Using a constellation of nine identical CubeSats, CINEMA will orbit Earth from pole to pole, measuring energetic particles in a range of energy values as they come down to Earth from the magnetotail. It will essentially capture the magnetotail's footprint, thus revealing its evolution.
"Earth's magnetosphere is among the most dynamic systems studied in heliophysics," Millan said. "With its constellation, CINEMA would be the first mission to provide a cross-scale view of Earth's magnetotail and aurora. I'm looking forward to continuing working with such a fantastic team!"
Each CubeSat will accomplish this with a three-instrument suite, including two that APL would develop: an energetic particle detector called PARSEL and a magnetometer called MAGNET (short for Magnetometer Network). The Lab would also contribute the spacecraft computer hardware for collecting and analyzing instrument data. 
"We're excited about NASA's selection of CINEMA and this great opportunity to work with partners to bring APL's deep expertise to another heliophysics mission," said APL Space Formulation Mission Area Executive Jason Kalirai. "Studying the Sun and its impact on Earth is one of APL's overarching strategic focus areas, and this mission concept is an excellent addition to the Laboratory's portfolio of work researching space weather and its effects." 
NASA plans to make its final SMEX mission selection in late 2024.
The Applied Physics Laboratory, a not-for-profit division of The Johns Hopkins University, meets critical national challenges through the innovative application of science and technology. For more information, visit www.jhuapl.edu.