News
Johns Hopkins APL, SAIS Showcase Specialized Facilities for Space Force Program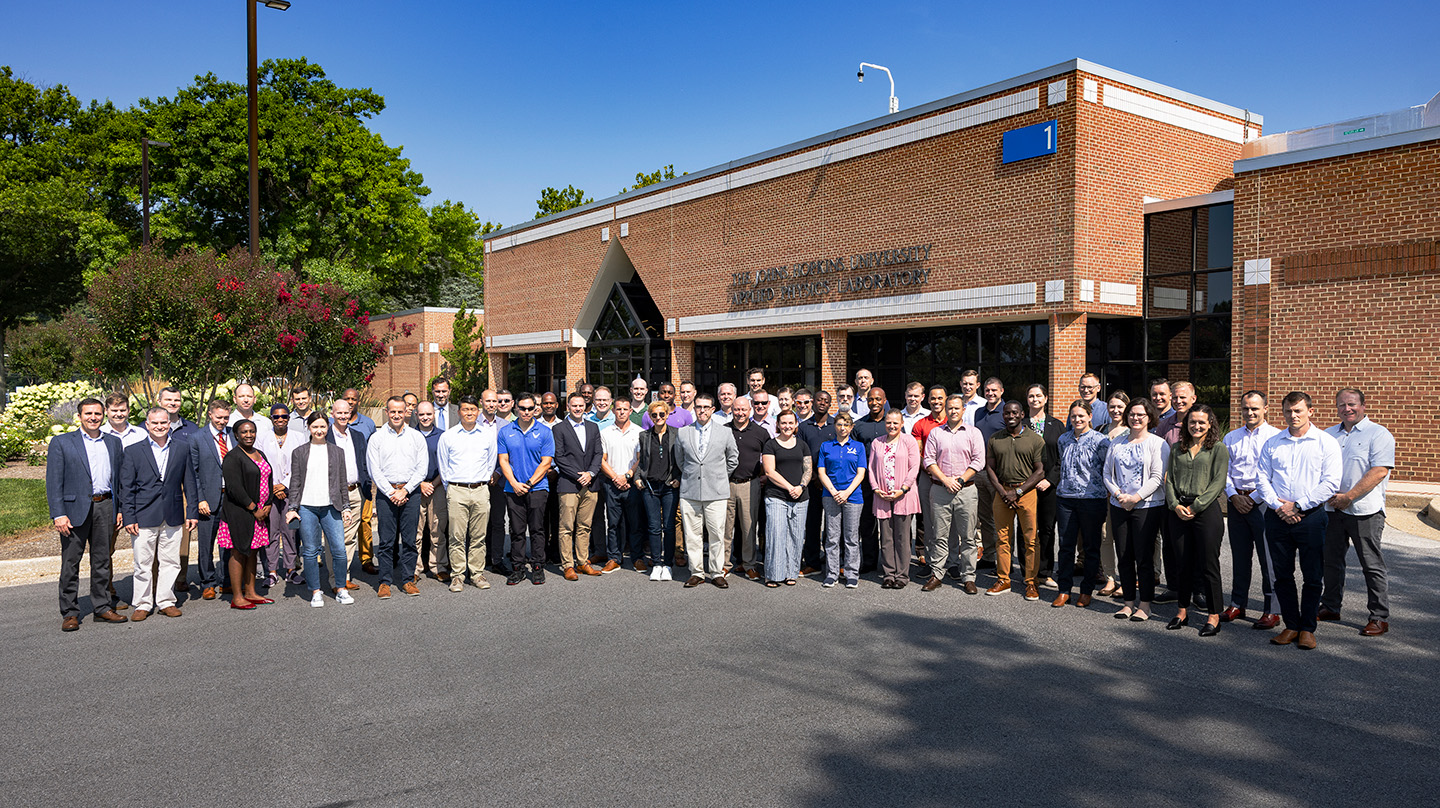 The JHU School of Advanced International Studies (SAIS) and Space Force personnel pose for a photo before a tour of APL.
Credit: Johns Hopkins APL/Ed Whitman
Wed, 08/23/2023 - 13:21
Erin Copland
A group of U.S. Space Force faculty and the incoming inaugural cohort of Schriever and West Space Scholars toured the Johns Hopkins Applied Physics Laboratory (APL) on July 28 as a part of the Space Force's Professional Military Education (PME) program, an ongoing partnership between the Space Force and Johns Hopkins University (JHU).
Last year, the Space Force tapped the JHU School of Advanced International Studies (SAIS) to implement the USSF PME program, which is intended to promote the professional development of top Space Force leadership candidates, as well as joint force, interagency and international partners.
APL is collaborating with SAIS to offer classified research opportunities to the Space Force in national security space, technology and policy. APL is providing the candidates with state-of-the-art facilities for collaboration on world-class research and development projects, as well as access to specialized and highly classified facilities for work related to their national security missions.
"It was a privilege to welcome the inaugural class of Guardians, Airmen, Soldiers, Sailors and Marines to the Space Force's developmental education program through [SAIS]," Chief of Space Operations Gen. Chance Saltzman posted about the program in July. "Educating leaders through this model will prove critical in forging a purpose-built Space Force."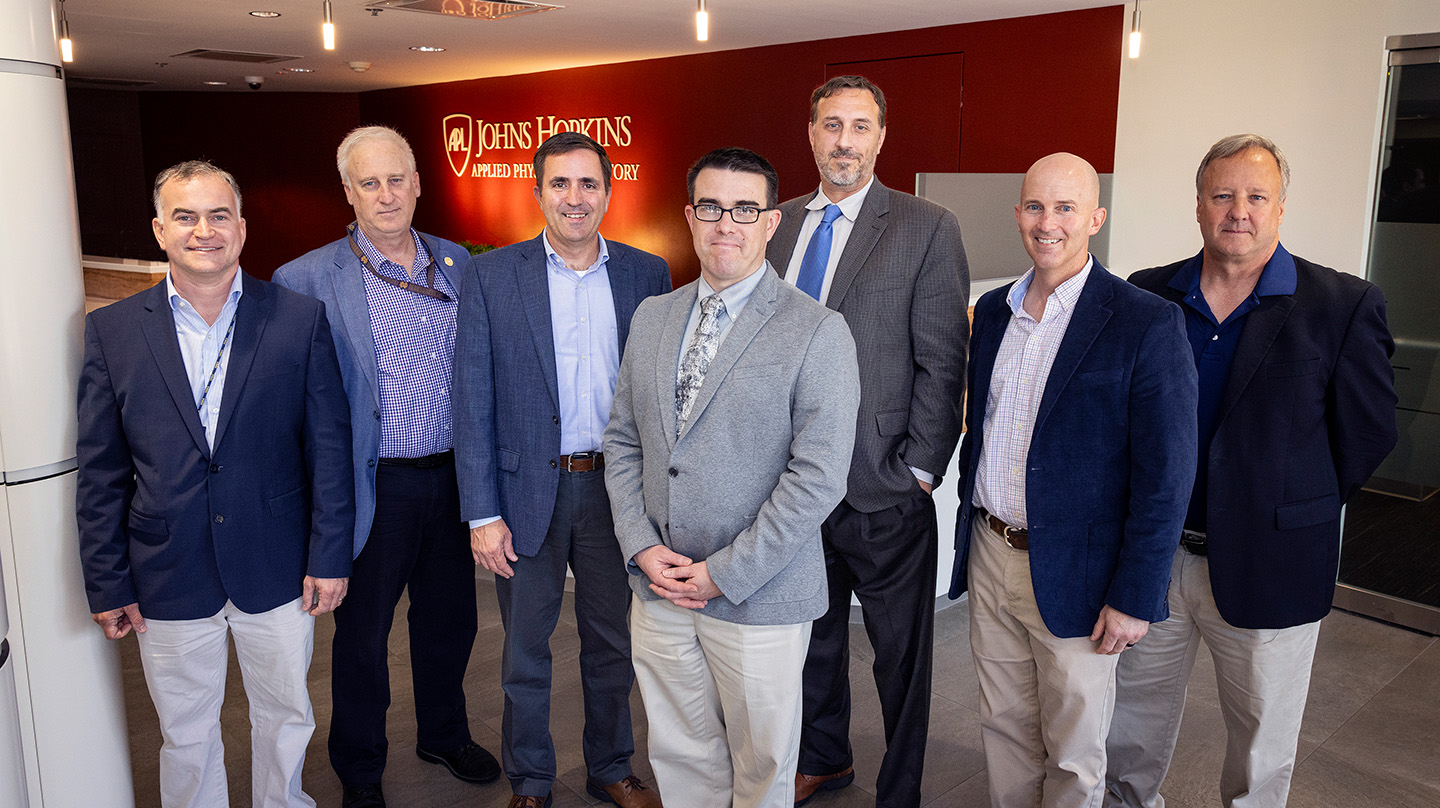 Program leaders from Space Force, APL and SAIS also joined the tour, including, from left, Nicholas Rotunda, Patrick Stadter, Patrick Binning, Col. Kirk Johnson, Greg Miller, Col. Stacy Godshall and Kirk Shawhan.
Credit: Johns Hopkins APL/Ed Whitman
This program allows Space Force Guardians and other students to graduate with a Master of International Public Policy degree while studying at the SAIS campus in Washington, D.C. Program candidates are able to undertake classified research opportunities at APL and take advantage of space-based STEM (science, technology, engineering and math) electives from the Johns Hopkins Whiting School of Engineering, allowing them to choose the coursework most relevant for their desired career objectives and learning outcomes.
The goal of the APL tour was for the candidates to learn more about APL and the Whiting School and to hear about opportunities for collaborative research. During the tour, candidates received a briefing from Patrick Binning, National Security Space mission area executive at APL, providing an overview of the Laboratory's work and partnership with the Space Force. Binning noted that the tour was just one event of many planned to foster the partnership between the Space Force and APL.
"You are all members now of the JHU family," Binning told the candidates. "Here at APL, our purpose is to provide critical contributions to critical challenges. Through this partnership, you will have the instruments of American innovation at your fingertips in your role as leaders in your respective branches."
The Applied Physics Laboratory, a not-for-profit division of The Johns Hopkins University, meets critical national challenges through the innovative application of science and technology. For more information, visit www.jhuapl.edu.